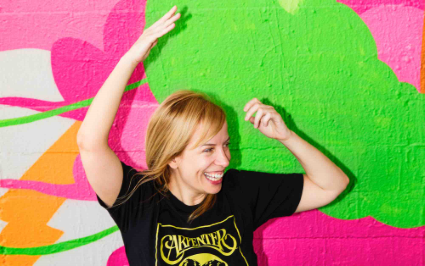 Morgane Lhote, long-term Stereolab keyboardist during the band's pivotal years, releases solo material under the moniker Hologram Teen. Her new single 'Marsangst/Hex These Rules' drops July 1 via Happy Robots Records. I have great memories of Stereolab in the 90's, when some of the best trance-inducing dance music was handcrafted and performed live. If you are like me, you'll be excited to read about Stereolab's beginnings and listen to her new creations. Hologram Teen seemingly presents the imagined soundtrack to an ecstatic video game with explosions around every corner.
Rachel: What are some key differences you see about the music-making landscape while in Stereolab compared to today.
Morgane: Music-making is so much more organic nowadays compared to the 1990s as DAWs have become increasingly popular and cheaper to buy. Basically anyone can do music now, without having to go into a studio and play live with others. You can also collaborate with people all over the world, trading stems back and forth. Pretty amazing really. Also the music business has completely shifted, record labels have been hit hard, with self-distribution a viable or even preferable option. This gives smaller and indie acts much more visibility.
Rachel: Given that everyone can access thousands of looped beats and learn Ableton within hours, how does this affect music being created now?
Morgane: It's the best thing that has happened to music in a long long time. It's opened the door to so much creativity and has been a great equalizer, enabling anyone with a home computer to make music and get their tracks out there. Buying Ableton Live 9 three years ago pretty much changed my life. I was dabbling with Garage Band and Cubase but all of a sudden it was like: "What do you mean?! I can do this on my own, write my own string and bass parts, program the drums and bass, mess around with weird samples and end up with a finished product?!". It was so liberating and gave me the confidence to start my solo project.
Rachel: Who are your influences?
Morgane: I'm not a music snob. I'll listen to and sample anything. But some bands and people consistently inspire me and give me that extra push to write new songs: Air, Django Django, John Carpenter, MF Doom, The Beach Boys, Dillard & Clark, Beach House, Goblin, Ennio Morricone, Luke Vibert, Serge Gainsbourg, Pharaohs, and Jorge Ben, amongst others.
Rachel: What inspired you to start making music?
Morgane: I've been into music since I was a toddler. As a kid, I love nothing more than sit on the floor in my room and listen to my music collection, spanning from Supertramp to the Grease Soundtrack to Guy Béart. It was like a refuge, looking at the covers and imagining the stories related to the songs I was hearing. Nothing much has changed since to be quite honest. Around 13, I really got into new wave, especially the B-52's and starting teaching myself electric guitar by copying Ricky Wilson's lines. I was taking drum lessons before that and also taught myself bass. It was so much fun and a natural progression, I had already made up my mind back then that I would be a musician and that was that.
Rachel: How did you get involved with Stereolab?
Morgane: When I was 19, my parents went on holidays and left me alone for the summer in our Paris flat. Of course I had a party. Since Paris is so small, all musicians knew each other, so a bunch of people came, including Thomas and Guy-Man from Daft Punk (in a band called Darlin at the time) and also Tim and Laetitia. It was super casual. I was chatting about music with Tim, who was super friendly. A year later, I quit college and moved to London to make it big in the music biz. At the time, I played guitar and wanted to start my own indie band. A few months later, I bumped into Tim and told him my plan. He seemed interested to know what instrument I play. I went round to jam with Laetitia, who wanted to start her own project and play guitar. She asked if I played keyboards as Stereolab was looking for a keyboard player and Tim was interested in me joining. I did not, but they gave me a month to learn the instrument and 30 of their songs. This is what I did for eight hours a day for a whole month non-stop. It was super intense but well worth the effort.
Rachel: How do you create music as Hologram Teen?
Morgane: I usually select a sample I like (ranging from vocals to any interesting sound) pitch it up or down and program a basic drum loop around it. Then I add the bass and keys. Otherwise, I write a basic rhythm section, kick, snare, and bass and build other parts inspired by those sections.
Rachel: Do you have a day job? Does this affect your music?
Morgane: I'm very lucky. I have two jobs that combine my other passions: films and video games. I've been working for Netflix for almost 7 years (I was a film student in London in my thirties). I watch all kinds of movies and input data on them in our in-house database, which gets converted into user recommendations. Amazing job. I also work full-time as a video game tester at Disney Interactive's localization department. I'm very happy work-wise. Both my jobs influence my music as I'm very story orientated and a big fan of soundtracks. I think of songs almost as a scenario unfolding. Watching so many movies really helps me see the correlation between sound and image and also discover obscure scores I wouldn't have heard of otherwise. I also love video game music, especially Japanese releases, where production values are phenomenal. The Final Fantasy X soundtrack by Nobuo Uematsu, Masashi Hamauzu, and Junya Nakano is a beautiful album.
Popular in the Community