"I'm sorry you're feeling so isolated, my dear. And I'm sorry you've been the only one to speak up publicly," Brown wrote in a series of tweets on Saturday.
The actor's words concern the objections Munn raised about the hiring of Steven Wilder Striegel to appear in a scene in the film. Striegel is a registered sex offender and served six months in prison after pleading guilty to allegations that he exchanged inappropriate emails with a 14-year-old girl.
Munn insisted his scene be cut for the film, saying that neither she nor her castmates were told about Striegel's criminal background. The scene was cut. But Munn told Vanity Fair that the backlash she's gotten for being vocal about Striegel has made her "kind of feel like I'm the one going to jail."
"I didn't go to jail, I didn't put this guy on our set. I had this scene deleted. Thank God, honestly, that there is social media. It's the fans and news outlets that's confirming it to me that what I did was the right thing," she told the publication.
"If I didn't have that feedback, I'd kind of go a little crazy thinking, 'Why am I being treated like this?' That's not OK, to feel like the bad guy."
Director Shane Black was aware of Striegel's crime, but last week said he only recently learned new details about it. "It has sadly become clear to me that I was misled by a friend I really wanted to believe was telling me the truth when he described the circumstances of his conviction," Black said in a statement. "I believe strongly in giving people second chances ― but sometimes you discover that chance is not as warranted as you may have hoped."
In an interview with The Hollywood Reporter's Video Lounge at the Toronto International Film Festival on Saturday, Munn sat alongside just one fellow castmate ― 11-year-old Jacob Tremblay ― and talked about how "lonely" it is to have been the one to say something about Striegel.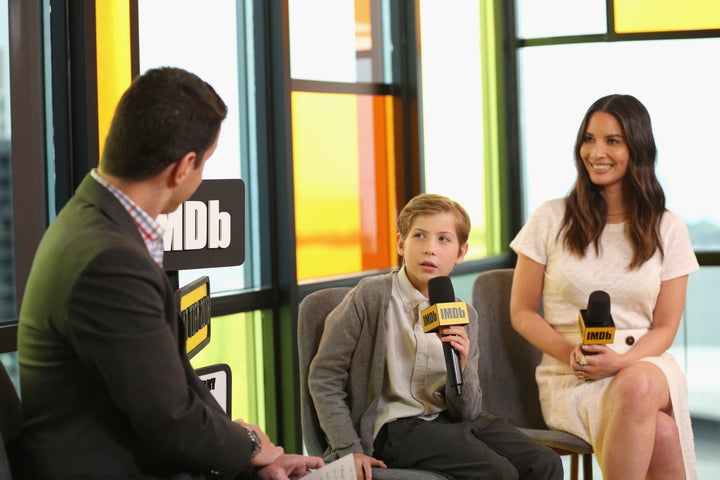 "I do feel like I've been treated by some people like I'm the one who went to jail or I'm the one who put this guy on our set," Munn said.
"When I'm being asked about it, I don't know how to lie about it. … It's a very lonely feeling to be sitting here by myself when I should be here with the rest of the cast."
Brown's tweets in support of Munn addressed the idea of redemption in the age of the Me Too movement and also the importance of directors providing their cast with necessary information. 
"We all have the right to know who we're working with! And when someone has been convicted of a crime of a sexual nature involving a child, we have the right to say it's not okay! Our studio was not given that opportunity, and neither was our cast," Brown said.
"Especially [Olivia Munn] who was the only member of the principal cast who had to work with him. I so appreciate that you 'didn't leave well enough alone,' & again, I'm sorry you feel isolated in taking action."
Brown then thanked the studio for cutting the scene and told Munn: "I hope you don't feel quite so alone. You did the right thing."
Key's representative responded to the controversy in a statement to The Hollywood Reporter on Sunday, defending the actor's absence from the discussion with Munn and Tremblay: "His last interview was scheduled after lunch, which he completed. He was always departing (the festival) early so he could be home to spend the Jewish holiday with his wife. Furthermore, Keegan reached out to Olivia privately last week to let her know how proud he was of her and echoed that sentiment in many interviews since then."
Munn doubled down her beliefs on social media, tweeting on Thursday, "The #MeToo movement called out abusers. But they're not the only ones in the wrong."  
"From what I'm experiencing, I think they'd prefer I not show up. It would make everyone breathe easier. Also, I worked really hard on this film, as did the rest of the cast and crew. Now that the scene is deleted I think audiences will love it."
Munn also tweeted that her mother taught her to stand up and say "'That's not okay' Even if you find yourself standing alone, speak up."
"Even if people get mad at you, speak up. It's not our job to stay silent so that others can stay comfortable. Use your voice to shape the world or others will shape it for us."
REAL LIFE. REAL NEWS. REAL VOICES.
Help us tell more of the stories that matter from voices that too often remain unheard.
BEFORE YOU GO
PHOTO GALLERY
Olivia Munn