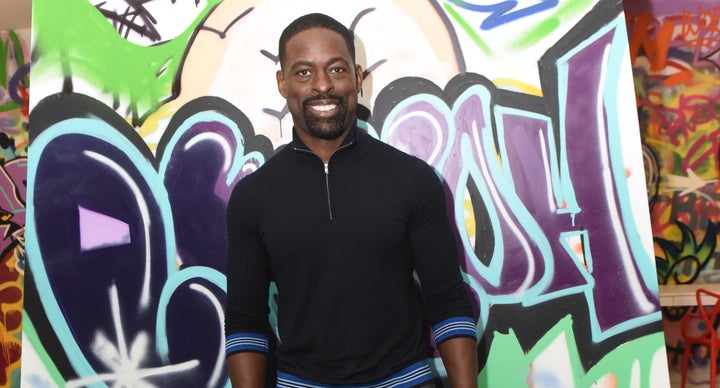 NEW YORK ― Sterling K. Brown brightens up a room as soon as he enters one. And Tuesday was no exception.
The actor, who's coming off two historic award show wins, was on hand Tuesday in Harlem, New York, to help launch a new arts and mentoring hub for at-risk youth. It's part of an initiative with Clorox and Thrive Collective, an organization that helps bring arts education and mentorship to low-income communities throughout New York City.
Brown was all smiles. So were the kids who met him in that space.
I met with Brown to discuss the partnership and his roles in the hit TV series "This Is Us" and in the box office smash "Black Panther."
Warning: This story contains spoilers for "Black Panther."
This is a beautiful space. Why was it important for you to get involved in this particular project?
Being a dad and having two boys it's important for me to raise them with certain sorts of values. I want them to take responsibility for their space. I want them to be kind and resilient human beings. It's really interesting, the research that Clorox has done shows that taking ownership of your space and providing something that's clean will make you more productive. There are also ties to show that it also makes you more empathetic … And when you grow up to be an adult you feel a sense of responsibility to your community. So cleaning is not just an end unto itself. Cleaning is the beginning.
[Clorox has] used that paradigm to create this wonderful space through Thrive Collective — this youth arts center. Just a couple of months ago it was a run-down school, and now they've created a space where kids can express themselves ― visually, artistically … There's over 400 schools that Thrive Collective works with that have lost their arts funding in New York City, primarily [its] inner-city areas. So when you take those things away from kids it makes it seem that imagination is not something that should be prized or important. As an actor myself, my imagination, without it, you couldn't do what I do.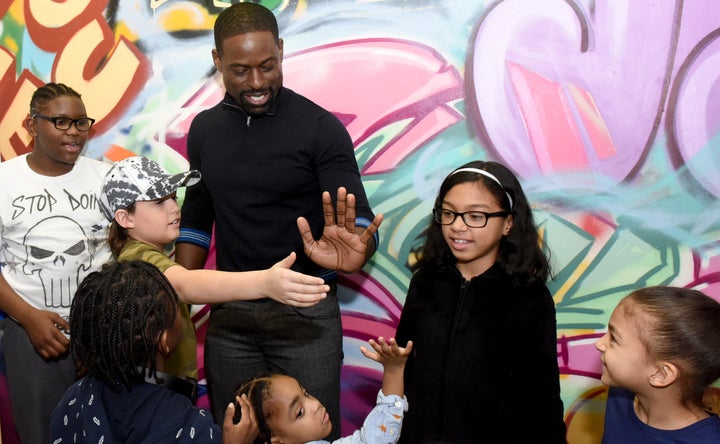 This is about mentorship as well. Who were some of your mentors growing up or one person who stands out to you?
That's a good question. There's a woman by the name of Barbara Bull who was my high school adviser. In eighth grade, she was my algebra teacher. And I asked her, "Mrs. Bull, where did you go to school?" And she said, "I went to Stanford University." I said, "Well, that's where I will go." And she said, "It's hard to get in." I said, "OK, that's where I want to go." And that's where I wound up going.
She taught me about investing in the stock market. She would come to all my plays — sometimes when other family members weren't able to be there. I would hang out in her room and do my homework. In between football practice and play rehearsal, I would go to Mrs. Bull's room because she would always be there. So, she is a second mother to me. I haven't seen her in awhile, but I love you Mrs. Bull. I hope to see you soon.
"This Is Us" returns this evening. Last time we saw you, we saw an older Randall. What is it like stepping into an older self on the show?
It is interesting. One thing I learned about myself. I didn't like seeing fat older Randall. They gave me a belly pooch. Look, I'm a pretty easy, go-lucky kind of guy. And they gave me this belly thing, and I was like, "What is this? This does not belong to me. Take this back!" They were like, "We need something different. We need to make sure that people recognize [the older Randall]."
It's nice to know that our show and our creator has the imagination to say we could go anywhere. As long as we have a family member, this Pearson family, we can track them into the future, into the past. And it's exciting. It's exciting to know someone has vision and knows where he wants to take the show because when you trust in the direction you're being led in, you're like, "I'll go wherever you take me."
In that case, if you could take Randall anywhere, where would you take him?
I think at some point in time Randall has to have more time with his family from Memphis. We opened up this whole other family that he didn't even know that he had. I hope that we get more time to explore that arena. And then this is sort of a "Black Panther" / "This Is Us" crossover, if you will.
I remember I was talking to a person of African descent who lived in Britain, and she would ask me where I was from. And I was like, "I'm from St. Louis, Missouri." And she was like, "No man, where are you from?" Well, my mom's from Arkansas, and my dad's from Mississippi. She's like, "No, no, no. But where are you from, right? And I was like, "I don't know." So maybe if Randall could trace his ancestry back to the motherland that would be a really interesting thing to explore because we as African-Americans are a group denied the answer to that question: Where are you from?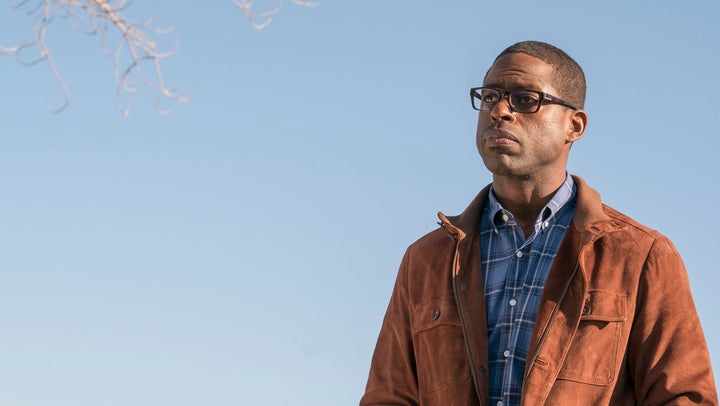 Speaking of which, there's been so much success with "Black Panther." What is it like to see black representation on the big screen in this way?
It fills your boy up! Just being on the set and looking at the trailers at base camp. There would be 20, 25 trailers lined up and then we'd get called to set, and you see a black face coming out of those trailers over and over again. To know that Marvel had the vision and the courage to put this sort of financing behind a film with all these African and African-American faces, and that it has proven that it can be financially viable and not just to the community to which it represents but to the mainstream as well. And that people see themselves.
There's a very fundamental question at the center of the film: Are you your brother's keeper? Am I my brother's keeper? And whether you're black, white, Asian, Latino, it doesn't matter — I think that's a question that we all wrestle to deal with. Ultimately, we say yes, and there are a couple of misguided attempts throughout the course of the film to try to answer that question. But ultimately T'Challa takes it on in a way that hopefully we can move forward in the universe in a way that makes sense. I love this film. I love the way in which the audiences are responding to this film. I love going on Instagram and seeing people dress up in dashikis and African garb and just feeling so big because for so long you've been denied that image of yourself on the big screen, that image of yourself as superhero. And now it's here. And people are feeling it.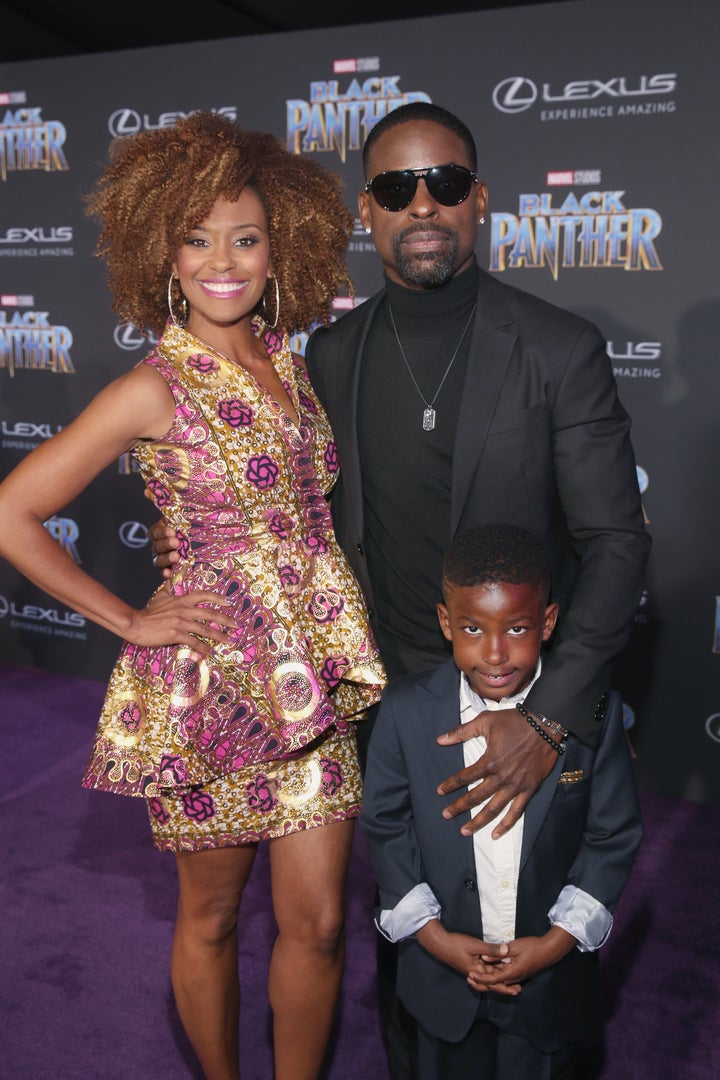 How do you feel about who Killmonger becomes in the film?
As his father, he expresses his disappointment. Like I was trying to give you something, and I made a mistake. I kept you away for too long. I didn't give you enough. I feel like his journey is an interesting parallel to African Americans' journey in terms of like how exactly am I connected to this thing from which I've been disenfranchised. Have I been separate, or am I a part? And so, while he has good intentions, he doesn't have the best of intentions. The man shot his girlfriend … He burned up all of the earth. It wasn't like he was trying to be magnanimous to make sure that this continued. He wanted to have absolute power … But it was misguided … and that's what happens oftentimes. People have these great intentions. But the manifestation, the practical application, they don't know exactly how to make that happen.
So, it's nice to see that T'Challa is able to take and recognize within Killmonger that he has a point. But there's another way to go about it. The conversation over Killmonger has been one of the more fascinating things about the film. I love going on and reading the articles about how this character has struck a chord.
You're hosting "SNL" on March 10. Who is Sterling K. Brown as "SNL" host?
I'm going to have so much fun. I love being onstage. I love performing. I love making people laugh. So you're going to see one of the most fun versions of Sterling K. Brown that you can get. I'll do anything. I'm crazy.