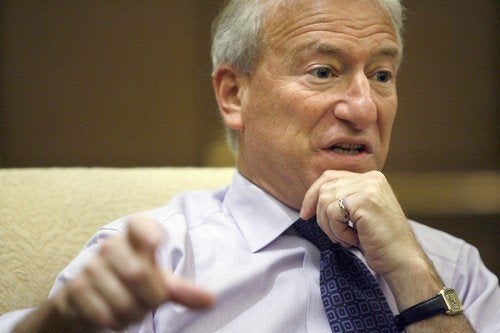 Two of the most powerful union officials in the country lashed out at Senate Democrats on Tuesday, jokingly calling some of them legislative "terrorists" and slamming leadership for "squandering" a supermajority in the Senate.
Pointing to the failure of Congress to pass health care reform and effectively stimulate job creation, SEIU president Andy Stern insisted that "unless something dramatic happens here" the country's labor activists will not be eager to help the Democratic Party in the 2010 elections. Speaking at a forum on the state of the American worker at the Center for American Progress, he urged House Democrats to pass the Senate's version of health care legislation with promises that it will be amended after the fact using reconciliation. And he called on President Obama to drive home this point during the State of the Union address on Wednesday.
"Take the Senate bill as it is as the foundation to find ways whether through reconciliation or other legislative processes to try and fix the things that a lot of people think need to be fixed both now in the House and the Senate," Stern said. "I think going through reconciliation we don't have Ben Nelson or Joe Lieberman to kick around anymore. So the 58 other senators get to decide something they maybe didn't get to decide the first time around because of the hostage-taking that is going on in the Senate."
Stern wasn't done lashing out at Lieberman, Nelson and the other conservative members of the Senate Democratic caucus. Reflecting on the policy changes that these senators secured during health care negotiations, he argued that the country "should send the national security people over to [the Senate to] explain to them why we don't negotiate with terrorists..."
"Because there are a lot of terrorists in the Senate who think we are supposed to negotiate with them when they have their particular needs that they want met," he added.
"Are the Senate rules really appropriate for a 21st-century country where we can create gridlock by very limited hard work?" Stern added. "If we are going to have filibusters, let's at least have a debate. At least make people go to the floor. Let's put the cots on the floor permanently... Change can easily die in the wells of the Senate."
Asked how badly he wanted filibuster reform, he replied: "Very badly."
Stern's lament of the Democratic Party's inability to get legislative action done, even with its supermajority, was shared by his co-panelist and labor colleague, Anna Burger, head of Change to Win
"I woke up Tuesday and we have 60 seats in the Senate and we couldn't count 60 votes," she said. "I woke up Wednesday morning and we had 59 seats in the Senate and we still couldn't count 60 votes."
In a shot across the bow at congressional Democrats worried about their electoral fate, she added: "If Congress does not act, then they will lose. There is no way that inaction will get us anywhere... 2010 will be a terrible election. People in fact voted for change, and if they haven't gotten change then they will go back and vote for the next change."
Calling all HuffPost superfans!
Sign up for membership to become a founding member and help shape HuffPost's next chapter