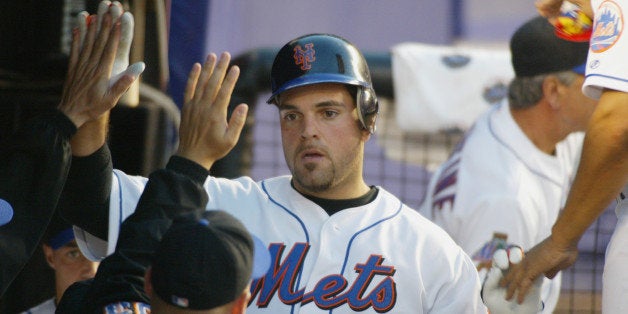 One of the biggest story lines of the 2015 Baseball Hall of Fame vote is that Mike Piazza missed joining Pedro Martinez, Randy Johnson, John Smoltz and Craig Biggio. Many allege that it is because some think he might have used steroids. But it is actual steroid users, not steroids, that kept Piazza out of Major League Baseball's Hall of Fame in 2015.
But steroids did cost Piazza a place in the Hall of Fame. Those steroids were used by other players.
Even though most of us have recognized that steroid use was wrong and hurt the game of baseball, there are still those who feel that juiced players belong in the Hall of Fame. Those folks voted for Barry Bonds, Roger Clemens, Sammy Sosa and Mark McGwire, among others.
And those votes cost Mike Piazza.
What if we recognize that steroids were wrong, as Major League Baseball has done, and eliminate those ballots for players who used steroids to enhance their numbers?
We couldn't give them all to one player, of course, but we could use the remaining percentage of non-steroid votes to see who gets in with 75 percent.
I ran these numbers two years ago, eliminating those steroid votes, and found that Craig Biggio would have been admitted. Last year he missed the cut by two votes; of course, he would have had 75 percent of the non-steroid vote. But steroid user Rafael Palmeiro (who strangely gets ignored by the pro-steroid voters even though his inflated numbers are equal or better than Frank Thomas' statistics) got 25 votes.
So I ran the numbers again this year, adding up all votes tallied, and eliminating those who voted for Roger Clemens (206), Barry Bonds (202), Mark McGwire (55) and Sammy Sosa (36). With the non-steroid vote's new 75% threshold, Piazza gets in. Jeff Bagwell (also tainted by unsubstantiated claims of steroid use), Tim Raines and Curt Schilling still don't get in.
Piazza will still have time to get in, and may do so next year now that some big names (Greg Maddux, Pedro Martinez, Randy Johnson, John Smoltz, Tom Glavine, Frank Thomas and Craig Biggio) are in, with only a few notable competitors (Ken Griffey Jr., Trevor Hoffman) coming up.
But it's the players like Don Mattingly and Alan Trammell, along with Jack Morris, Mike Mussina and Carlos Delgado, who really get hurt. And though Manny Ramirez and Alex Rodriguez may never get in, they'll undoubtedly cost some other clean players their spot in Cooperstown.
John A. Tures is a professor of political science at LaGrange College in LaGrange, Ga. He can be reached at jtures@lagrange.edu.
Calling all HuffPost superfans!
Sign up for membership to become a founding member and help shape HuffPost's next chapter