Kuttner said that Bannon unexpectedly praised the column and outlined his plan for dealing with North Korea's nuclear threats as well as China's economic prowess. Bannon contradicted Trump, saying that "there's no military solution" to North Korea, despite Trump's repeated threats to attack the isolated nation.
When the subject of the violent white supremacist rally in Charlottesville, Virginia, came up, Bannon dismissed the group as "a collection of clowns" and claimed that the "media plays it up too much."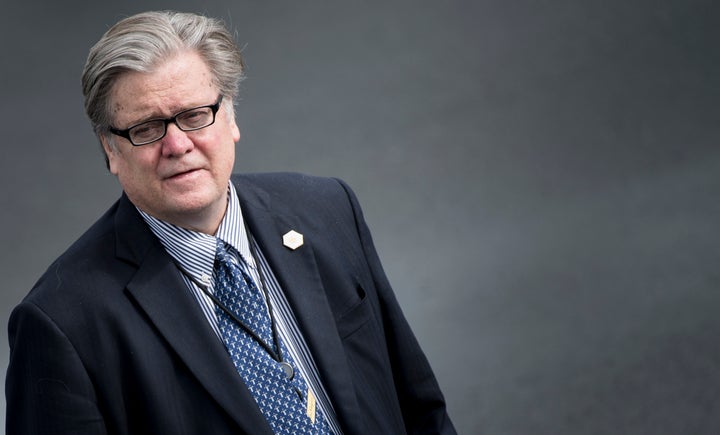 Trump's response to the events in Charlottesville  ― in which he blamed "many sides" for the violence and claimed there were some "fine people" among the neo-Nazis and other far-right groups ― has been resoundingly panned as sympathetic to the white supremacists. But Bannon hinted that such criticism may have been exactly what Trump was going for.
"The Democrats," Bannon said, "the longer they talk about identity politics, I got 'em. I want them to talk about racism every day. If the left is focused on race and identity, and we go with economic nationalism, we can crush the Democrats."
According to Axios, Bannon didn't know he was giving an on-the-record interview, a claim that The American Prospect seemed to dismiss.
"Steve Bannon is not exactly Bambi when it comes to dealing with the press," Kuttner said. "He's probably the most media-savvy person in America."
Pressure on Trump to fire Bannon has increased in the days following the unrest in Charlottesville. Former White House communications director Anthony Scaramucci said earlier this week that "this sort of 'Bannon-bart' influence" on Trump "is a snag on the president." 
Scaramucci's comments came a day after Axios reported that Trump believes that Bannon has been leaking damaging information about his White House rivals, including national security adviser H.R. McMaster. The president added to the speculation by telling reporters on Tuesday that "we'll see what happens with Mr. Bannon."