Breitbart News wouldn't usually be expected to approvingly quote Eugene Robinson, a liberal Washington Post columnist often highly critical of President Donald Trump.
But the typically pro-Trump news outlet did so Sunday in a headline touting Robinson's belief that the president likely views the site as better capturing the "essence" of his conservative base than "squishy" Fox News ― a view that's also shared by returning executive Steve Bannon.
During the 2016 Republican National Convention, Bannon told HuffPost that he considered Fox News to be "globalist" in its approach and "not particularly nationalist."
"I think the mainstream media misses that," Bannon continued. "Fox is not nearly as right-wing or conservative as Breitbart. And we consider ourselves the litmus test of the populist, nationalist news reporting in the country and we're very proud of that."
Bannon's return Friday to lead Breitbart News could open up a divide between the most influential pro-Trump outlet on the web and the one on television.
While Bannon considers Breitbart to be keeper of the "populist, nationalist" flame, even willing to criticize Trump if he breaks with the base, he's characterized Fox News Chairman Rupert Murdoch and his sons, James and Lachlan, as representing a more "globalist" perspective.
Bannon has diverged from Murdoch over immigration, particularly taking issue with the media mogul and late Fox News chief Roger Ailes meeting in 2013 with a bipartisan group of senators whose immigration reform plan was a recurring target on Breitbart. And, unlike Murdoch, he's a critic of "free trade," which he described to HuffPost in the same interview as "really just a globalist donor, corporatist, giveaway."
Since leaving the White House on Friday, Bannon has taken aim at "West Wing Democrats" and is expected to ratchet up the site's running criticism of so-called "globalists" in the administration, such as national economic council director Gary Cohn and national security adviser H.R. McMaster.
So far, Breitbart isn't holding back when it comes to Trump's closest advisers. The site highlighted Sunday how the supposedly moderate views of daughter Ivanka Trump and son-in-law Jared Kushner seem to leak to the news media after the president takes positions more in line with his nationalist base. And Breitbart ran several stories Monday critical of Trump's Afghanistan policy, an interventionist strategy that departs from candidate Trump's "America first" agenda.
Bannon is also reportedly planning to go to "war" with Rupert Murdoch, a Kushner confidant who "repeatedly urged" the president to fire the controversial strategist, and is said to be looking to expand the Breitbart empire in the process.
On Saturday, Axios' Jonathan Swan and Mike Allen reported that Bannon is now plotting to build a "Fox competitor" ― either on television or in a live-streaming format ― and that billionaire patron Bob Mercer is ready to invest. Vanity Fair's Gabriel Sherman also reported Sunday that Bannon sees an opening in television, perhaps through teaming up with Sinclair Broadcast Group, the right-leaning local news giant that's also a Murdoch competitor.
Even if Bannon has ambitions to take on Murdoch, building a national cable network is a huge undertaking that would likely cost several hundreds of millions of dollars and is dependent upon gaining wide-scale distribution. And it's not even clear Bannon would want to compete on television, with biographer Joshua Green noting Sunday on CNN's "Reliable Sources" that the Breitbart chief has said that television is "not where it's at" and that "the rising generation of populist conservatives were more web-focused."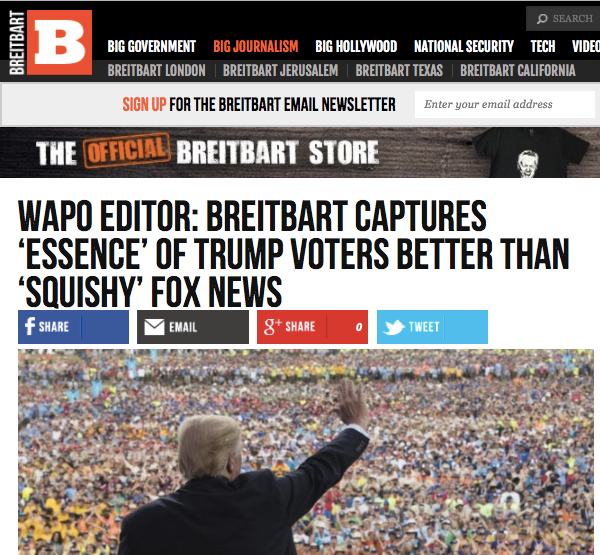 Bannon said something similar to HuffPost in July 2016. "We've always looked at the new media as real new media ― not that we're a magazine with a website, not that we're a newspaper with a website, not that we're cable TV with a website," he said. "We think all those are held back by their legacy media."
During the Republican convention, Breitbart experimented with live-streaming coverage that Bannon viewed as breaking from the cable news conventions by sticking more to speeches than punditry. "The people on the site, the community, really want to see what's going on and not have to cut to a Fox, you know, Bill O'Reilly analysis. They don't want analysis."
Bannon has sat down several times over the years with Fox News' Sean Hannity and Fox Business Network's Lou Dobbs, but unlike some in conservative media, he has never been a regular on the networks.
He told HuffPost in the July 2016 interview that Breitbart intentionally tried not to become dependent on Fox News for promotion of its stories. "We want to be totally independent, and if we have to go after Fox on something we think is wrong, we have total freedom."
Under Bannon, Breitbart went to bat for Ailes several years back against Ailes biographer Gabriel Sherman by publishing anonymous smears. The site, however, also broke with Ailes' Fox News in August 2015 by siding with candidate Trump in his feud with then-prime-time star Megyn Kelly. Still, Breitbart again came to his defense in July 2016 as he faced widespread sexual harassment allegations. Bannon also was speaking to Ailes during his final days at Fox News, according to Green's biography of Bannon, and as the visionary media executive plotted a comeback before his death in May.
Bannon hasn't appeared to have a similar fondness for Murdoch, who was a late supporter of Trump's candidacy and whose New York Post ended up not endorsing anyone in the general election. However, Fox News, under Murdoch, has been reliably supportive of the president.
The reflexive boosting of Trump on shows like "Fox & Friends," however, may differ from the pro-Trump stance of Breitbart, provided the site lives up its promise of challenging the president when he strays from the nationalist base on issues like immigration, trade and foreign policy.
On Monday morning, the "Fox & Friends" crew unsurprisingly defended the Trump for planning to increase troops in Afghanistan, where the U.S. has now been at war for 16 years.
"The president of the United States has described Afghanistan as a disaster," co-host Steve Doocy said. "But, keep in mind, if you pull everybody out, that's going to be a mess, and he does not want to be the first president to lose the country to terrorists."
Co-host Brian Kilmeade said Iran, Russia and ISIS would cheer the U.S. withdrawal from Afghanistan, and Ainsley Earnhardt emphasized how Trump has been heeding the advice of top generals.
The mood was more pessimistic Monday on Breitbart, with headlines framing the decision as leading to a stalemate, at best, and breaking with Trump's campaign promises:
On Breitbart's Sirius radio show Monday, Washington editor Matt Boyle said that "if President Trump does a troop surge, that is not something that he campaigned on," and doing so would mean "he's going to own this war."
Support HuffPost
The Stakes Have Never Been Higher
Related
Popular in the Community