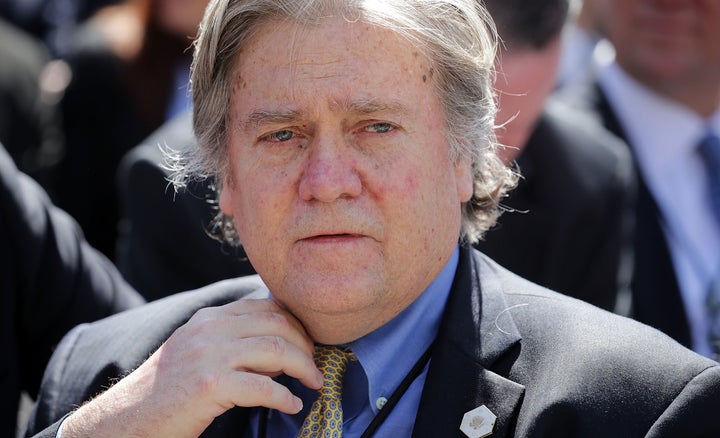 WASHINGTON ― White House chief strategist Steve Bannon withdrew from a planned appearance at one of Washington's premiere mainstream think tanks after scholars expressed alarm that the institution would be giving legitimacy and a friendly forum to one of the most controversial members of President Donald Trump's administration.
Over the past month, staff members at the center-left Brookings Institution became aware that the think tank's leadership had invited Bannon to address its board of trustees meeting in June, according to multiple Brookings staff members who requested anonymity to speak openly with HuffPost. Because it would be a board meeting, it would not have been open to the public.
David Nassar, vice president of communications at Brookings, confirmed the invitation. 
Scholars at all levels of the organization developed concerns about Bannon's appearance and whether they would be able to press him and engage in an open dialogue, according to the Brookings staff members. "There were some who thought it was no big deal. Some of us quite decidedly felt it was a very big deal, ethically obtuse and stunningly stupid," said a senior staff member.
Employees had an opportunity to express their worries to Brookings President Strobe Talbott at three in-person meetings last week, Nassar said.
On Wednesday, Brookings informed staff that Bannon had decided not to attend. They did not state a reason for his decision. The White House did not return a request for comment on why Bannon backed out.
"The rank-and-file worked hard and the leadership was responsive [in the meetings]. I'm proud to say I work here with how this played out," said a senior staff member who attended one of the meetings.
But when Bannon canceled, Brookings had not yet had the time to consider whether it wanted to change the format of his appearance, let alone inform him that they wanted a chance for staff to engage with him more openly.
"Things never got that far," Nassar said.
As a result, the cancellation was apparently unrelated to any of the internal deliberations inside Brookings, he observed.
Bannon is often credited as the intellectual forebear of Trump's harshest nativist rhetoric and policies, earning him a notorious reputation among White House critics. Prior to joining the Trump campaign as chairman, Bannon chaired the parent company of far-right news site Breitbart, which has trafficked in racist, sexist and anti-Semitic content. As a conservative filmmaker, pundit and radio host, Bannon has expressed his view that the West is on an apocalyptic collision course with the Islamic world.
Brookings often welcomes controversial figures to its downtown Washington offices. The think tank invited Turkish President Recep Tayyip Erdogan to give a speech there last year. The event was not without major incident: Talbott threatened to cancel the speech, according to Foreign Policy, after Erdogan's security personnel attacked Western and Turkish journalists and protesters outside the event. A Turkish official responded by preventing the clash from escalating further, and the speech was allowed to proceed as planned.
After delivering his remarks, Erdogan was subject to thorough questioning by Brookings scholars that was broadcast live online.
It was unclear to staff members whether they would have had the opportunity to grill Bannon with similar rigor, the senior staff member said.
"When you have someone who is a perpetrator of fake news speaking to an institution that's focused on getting truth out there, those things compete," the staffer said. "There was real concern about the nature of that engagement being closed."
Brookings always invites members of the sitting administration to its annual board meetings, Nassar and other staffers noted. Often, a trustee will moderate a discussion with the official, perhaps with questions from other board members and/or scholars at the institution. 
"The manner in which we were handling it was completely consistent with how we've handled other board of trustees meeting," Nassar said.
"He is not coming. No solid information why," said a senior staff member. "That said, if you worked for Trump, would you want just now to face any neutral audience?"
REAL LIFE. REAL NEWS. REAL VOICES.
Help us tell more of the stories that matter from voices that too often remain unheard.
BEFORE YOU GO
PHOTO GALLERY
Best Photos From Trump's First 100 Days