Steve Bannon, President Donald Trump's former chief strategist and campaign chairman, ensured that New Jersey Gov. Chris Christie (R) would never obtain a cabinet position in the White House after the governor allegedly showed insufficient loyalty to Trump in the wake of Access Hollywood 2016 tape leak.
In Bannon's new interview with CBS News' Charlie Rose, he described the damaging leak, released a few weeks before the election, as a "litmus test" of the judgment and loyalty of Trump's advisers. The 2005 video of Trump, then a reality TV star, famously showed him bragging on a hot mike to Access Hollywood host Billy Bush that his stardom allowed him to "grab [women] by the pussy."
Christie failed that test, according to Bannon, when he didn't show up for a flight on the campaign jet the weekend after the scandal broke.
"I'm Irish. I gotta get my black book and I got 'em," Bannon told Rose in an excerpt of the interview that aired on "CBS This Morning" on Friday. "Christie, because of Billy Bush weekend ... was not looked at for a cabinet position."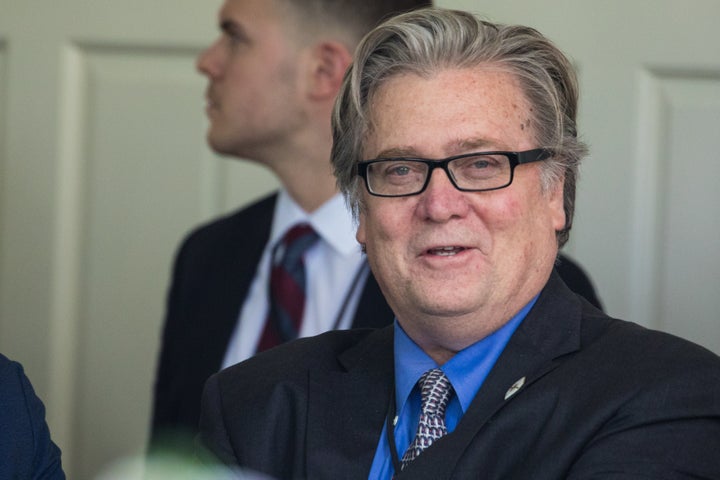 Bannon also lost confidence in Reince Priebus, the then-chairman of the Republican National Committee who went on to become Trump's chief of staff, over his reaction to the tape.
In a room full of advisers consulting Trump on how to respond to the controversial leak, Priebus told Trump he faced a choice between dropping out and losing by "the biggest landslide in American history," according to Bannon.
Bannon, however, insisted that Trump still had a "100 percent probability of winning."
He bet that Trump's working-class base would not care about the tape, because it was "locker room talk."
"It was a winner. That's why I told him 'double down' every time," Bannon recalled. "And on that day, that's the first time and only time he ever got upset with me. He goes, 'Come on, it's not 100 percent.' I go, 'It's absolutely 100 percent.' And I told him why: 'They don't care.'" 
Bannon resigned from the White House under pressure in August, amid public uproar over President Trump's equivocal response to the deadly white supremacist violence that occurred in Charlottesville, Virginia. Bannon praised Trump for drawing an equivalency between the actions of white supremacist demonstrators and left-leaning counterprotesters, though it is not clear if he played a role in convincing Trump to take that approach.
Bannon, a self-described "economic nationalist" who fashioned himself the guardian of right-wing populism in the White House, long clashed with the so-called "Wall Street"-wing of Trump's inner circle. His advocacy for trade and immigration restrictions, among other topics, diverged from the views of top advisers like Trump son-in-law Jared Kushner and Gary Cohn, director of the National Economic Council.
Since leaving the White House, Bannon has resumed his role at the helm of Breitbart, a right-wing news site that Bannon infamously built into an outpost of pro-Trump nationalism and white racial resentment.
Bannon's account of Christie's estrangement from Trump is both consistent with his reputation as a validator of Trump's unapologetic instincts, and the public information available about Christie's sudden departure from Trump's orbit.
In the days after the Access Hollywood leak, Christie did not join other Trump campaign surrogates in defending Trump on television.
Instead, Christie made his first remarks on the matter while guest-hosting "Boomer and Carton," a CBS New York sports talk radio show, the Tuesday after the incident. In the appearance, Christie shared his displeasure not only with Trump's conduct in the video, which he called "indefensible," but also the campaign's defense of the behavior and decision to deflect with attacks on former President Bill Clinton's sexual scandals.
"I think he should have been much more direct and much more focused on just saying 'I'm sorry' and only 'I'm sorry,'" Christie said, even as he claimed he would still supported the president's bid.
Trump rewarded Christie by naming him chief of the presidential transition team. The blunt New Jersey governor was rumored to be on the short list for attorney general or another cabinet-level position in a Trump administration .
REAL LIFE. REAL NEWS. REAL VOICES.
Help us tell more of the stories that matter from voices that too often remain unheard.
BEFORE YOU GO
PHOTO GALLERY
Chris Christie