But Trump, who has pledged to build a wall along the U.S. border with Mexico to keep people out, has said he wants immigrants educated at Ivy League universities and therefore capable of success to stay.
Trump was a guest on his Sirius XM "Breitbart News Daily" radio show when Bannon made the remarks on Nov. 5, 2015.
"People are coming in and they're taking jobs and people are getting paid less money," Trump said during the broadcast. "A lot of it has to do with borders."
But people who are capable of making lots of money and building big businesses should stay, the New York businessman stressed.
"When someone is going to Harvard, Yale, Princeton, Penn, Stanford, all the greats" and then they graduate, "we throw them out of the country, and they can't get back in," Trump said.
"I think that's terrible," added Trump, who was a regular guest on the show. "We have to be careful of that, Steve. You know, we have to keep our talented people in this country."
Trump asked Bannon if he agreed with him, but the Breitbart executive chairman seemed to have trouble responding to this suggestion.
"When two-thirds or three-quarters of the CEOs in Silicon Valley are from South Asia or from Asia, I think..." Bannon said. "A country is more than an economy. We're a civic society."
Bannon's "facts" were, in fact, well off. A May 2015 study found that 27 percent of professionals working in Silicon Valley companies were Asian or Asian-American. They represented less than 19 percent of managers and under 14 percent of executives, according to the report.
During the exchange on Asian migrants, Trump told Bannon that he wanted people to come into the country.
"You got to remember, we're Breitbart," Bannon replied. "We're the know-nothing vulgarians. So we've always got to be to the right of you on this."
The future Republican president then moved on to tell Bannon of his plans to build a "great" wall as his central immigration policy.
Support HuffPost
The Stakes Have Never Been Higher
Before You Go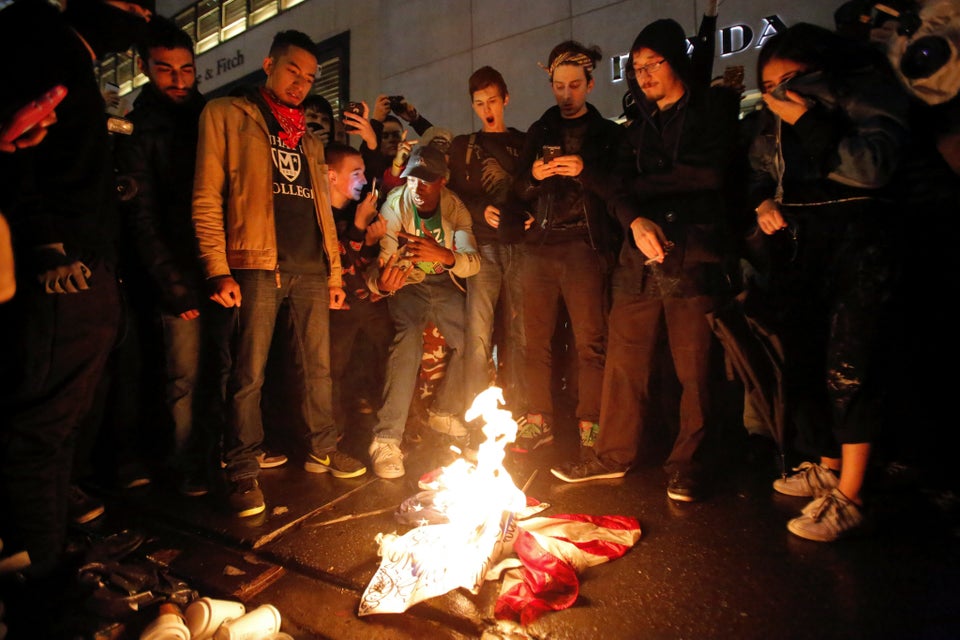 Donald Trump Win Sparks Protests Nationwide
Popular in the Community