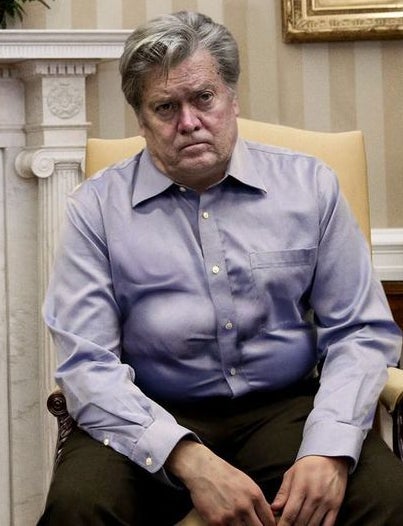 White House Chief Strategist and National Boogeyman Steve Bannon is no longer with the Trump Administration. Bannon's departure comes just days after Trump called him a "friend" and "a good person."
It's unclear whether the president's words were intended to be complementary given that Trump made similar comments about Nazi-sympathizers in the same remarks. Regardless, the White House no longer has a chief strategist.
Bannon joined the administration to satisfy the political interests that make up much of Trump's base. "Steve was brought on because of his ties to the fine white people of this great country," Trump said. "But I can take it from here so time to cut the fat," said the president from the Oval Office as he polished a bust of Robert E. Lee.
Bannon spun his ousting in a positive light, explaining that it will enable him to do what he does best - terrifying children in the middle of the night. "I call it 'the deep state of sleep'," said Bannon while soaking in a warm bath of pig's blood. "It's when they're in that deep state of sleep that I lurch out of the bedroom closet."
One nine-year-old Florida boy whose name is being withheld because he's a minor says he encountered Bannon in the night late last year, calling the experience "horrifying." He said Bannon popped out of his closet, collapsed to his knees, and could not stop violently coughing. "I was so scared for him that I almost called an ambulance," the young boy said. Fortunately, Bannon's cough subsided. The boy then got him some water and called him an Uber.
Experts applauded the boy's courage but did not condone his actions. They say if you encounter Steve Bannon in the middle of the night, it is best not to engage. Instead they suggest maintaining eye contact and backing away slowly.
REAL LIFE. REAL NEWS. REAL VOICES.
Help us tell more of the stories that matter from voices that too often remain unheard.
This post was published on the now-closed HuffPost Contributor platform. Contributors control their own work and posted freely to our site. If you need to flag this entry as abusive,
send us an email
.