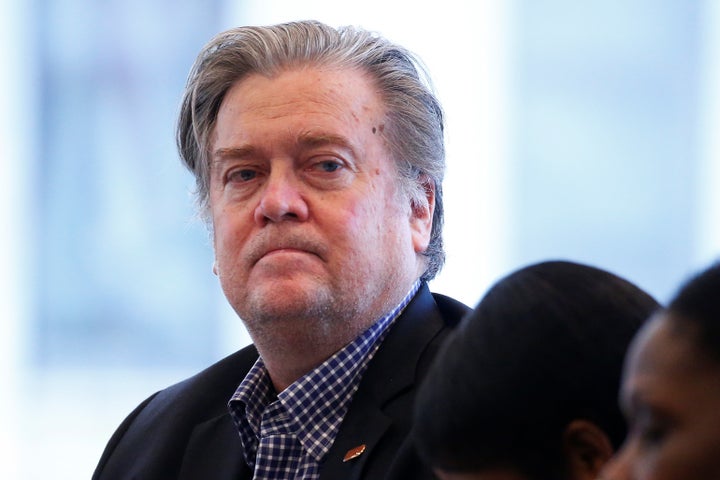 Steve Bannon, former head of Breitbart News, has for years quite proudly given white nationalists and anti-Semites a platform to spread their hate.
Aaron Klein, Breitbart's Jerusalem bureau chief, told Buzzfeed that Bannon is a "committed patriot who is deeply concerned about the growing threats to Israel."
But some Jewish thought leaders and rabbis aren't as willing to accept the argument that being pro-Israel, or the commitment to protecting the state of Israel rigorously, automatically absolves someone from being anti-Semitic.
In fact, these leaders argue, it's absolutely possible for people to support the state of Israel and the same time, to support networks that promote hatred towards American Jews.
The Religious Action Center of Reform Judaism is the political arm of the Union for Reform Judaism, America's largest Jewish denomination. In a statement to The Huffington Post Post, its director, Rabbi Jonah Dov Pesner, held Bannon responsible for running a platform for "anti-Semitism, racism, misogyny and xenophobia."
"We can only judge him by his actions, and he was the chairman of a favorite media company of white nationalists. There should be no place for such views in the White House," Pesner told The Huffington Post. "His professed support for Israel doesn't change the fact that he hasn't disavowed the hate-filled work that he published."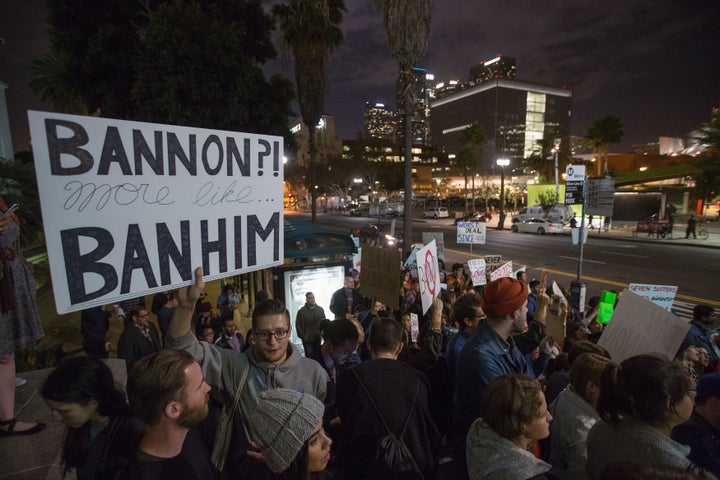 J Street, a liberal pro-Israel lobbying organization, has also been critical of Bannon. Jessica Rosenblum, the group's vice president of communications, told The Huffington Post that it is "completely appropriate" to apply the label of anti-Semite to those who use and promote anti-Semitic rhetoric and who "routinely aid and stand with white supremacists in demonizing Jews and other religious and ethnic minorities."
"Steve Bannon's friends on the far right of the Jewish community can make facile claims about his support for Israel, but that does nothing to change the fact that Bannon spreads an ideology of hatred and bigotry that is extremely hostile and dangerous to American Jews and to all of the values – like tolerance, diversity, and equality – that we stand for and that protect us in this country," Rosenblum said in a statement.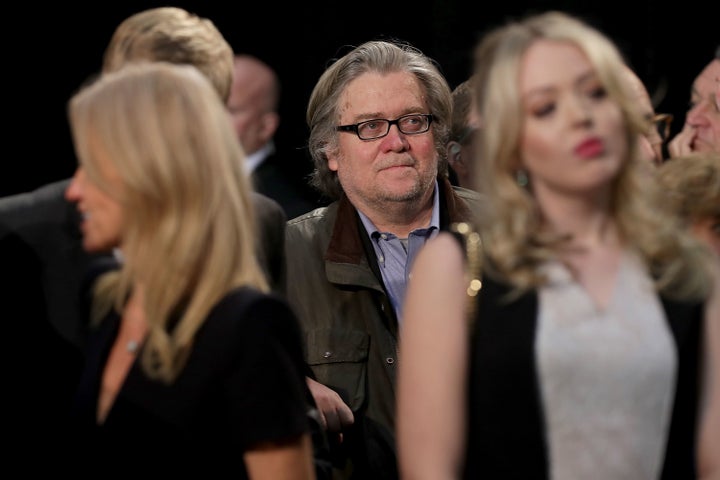 Rabbi Abraham Cooper, the associate dean of the Simon Wiesenthal Center, has long worked to track anti-Semitism online. He told The Huffington Post in an email that he hasn't seen any "definitive proof" that Bannon himself is an anti-Semite, or someone who hates Jews, Judaism, and Jewish values.
"In 2016, Israel is home to the largest Jewish community in the world. It is also the spiritual center of Judaism and world Jewry," Cooper told The Huffington Post. "Given those facts, it would be difficult to categorize someone as a classic anti-Semite, if they support and defend the Jewish state and its 8.3 million citizens (among them over 6 million Jews)."
"However, considering the praise his appointment has generated from bigots like David Duke― welcomed or not—all Americans, including American Jews, have the right and obligation to carefully scrutinize everything Mr. Bannon does for the President-elect and every statement he makes that relates to social policy and Foreign Affairs and to vigorously criticize him when appropriate."
Rabbi Jack Moline, President of Interfaith Alliance, told The Huffington Post that he thinks a person can "absolutely" be pro-Israel and anti-Semitic at the same time. Moline identifies as both a Jew and Zionist. But he cautioned that it was dangerous to conflate these two identities.
"There are political, religious and ideological reasons that some have for supporting the State of Israel that have little or nothing to do with support for the Jewish people themselves," Moline told The Huffington Post in an email. "The fact that Bannon has won the support of a handful of right-wing American Jews who share his political views does nothing to erase his anti-Semitic remarks or the anti-Semitic nature of the alt-right movement that his website has fostered."
Jane Eisner, editor-in-chief of the Jewish website Forward, has reported before on the hate speech that she and others Jewish journalists have received online during the campaign. She believes it's been fueled in large part by those who identified with Trump's candidacy. In an op-ed, Eisner pointed out what she called the "breathtaking hypocrisy" of Jews who are supporting Bannon, and condemned the logic that "as long as you support certain policies of the current Israeli government, it's okay to pal around with people who hate Jews."
"The Jews in America who are the target of anti-Semitic threats and harassment — and here I include many of us at the Forward — must make common cause with other minority groups who are experiencing this and worse in today's toxic political environment," Eisner wrote. "If, instead, Jews excuse the far right's hateful behavior because some of the people doing it happen to favor certain policies in Israel — especially when those policies prolong a near-half century of occupation — then they've abandoned the natural allies in the fight for a more tolerant America."
"And even worse, they've abandoned their fellow Jews."
Related
Before You Go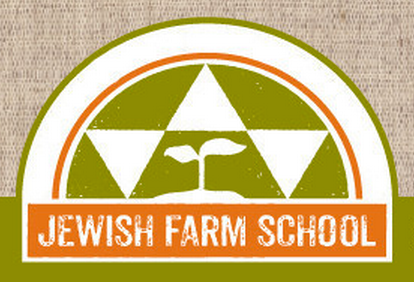 Jewish Social Justice Organizations
Popular in the Community