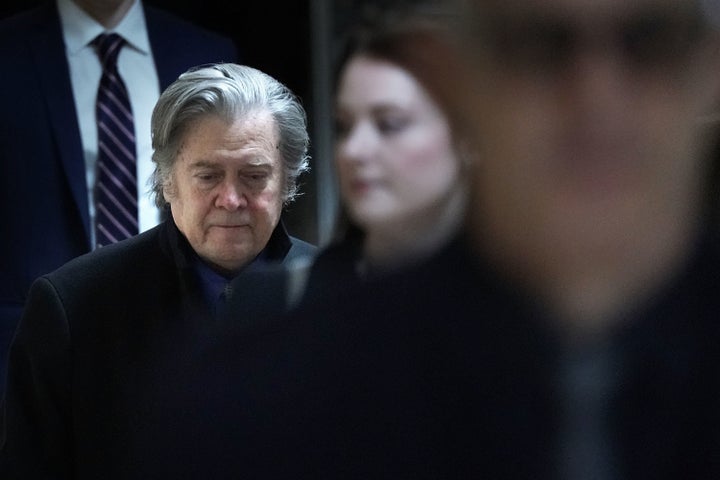 WASHINGTON, Feb 15 (Reuters) - Former White House adviser Steve Bannon met with Special Counsel Robert Mueller's investigators for two days this week, even as he frustrated lawmakers by refusing to answer many questions posed by the U.S. House Intelligence Committee on Thursday.
Republican Representative Mike Conaway and Democratic Representative Adam Schiff said Bannon, President Donald Trump's former strategist and a key player in Trump's 2016 election campaign, would answer only 25 questions approved by the White House.
Schiff called for the initiation of contempt of Congress proceedings against Bannon. Bannon had refused to answer many questions during his first appearance before the intelligence panel on Jan. 16, and has been negotiating with members about a return ever since.
Declining to discuss the weeks after the November 2016 presidential election and before Trump's inauguration, or his own time at the White House, Bannon claimed executive privilege and special protections for presidential communications in refusing to say more, the two lawmakers said.
"He did not answer all the questions we'd like answered, so there was frustration among committee members with respect to that," said Conaway, who has been overseeing the committee's investigation of Russia and the 2016 U.S. election.
U.S. intelligence agencies determined more than a year ago that Moscow sought to interfere in the campaign.
Russia has denied trying to meddle in the election. Trump, a Republican, has denied collusion between his associates and Moscow. Mueller has been conducting a criminal investigation of possible collusion between Russia and Trump's campaign to sway the 2016 presidential election.
"There was a refusal to answer any questions that would have brought out the full facts. That is not how privilege works. That's how stonewalling works," Schiff told reporters.
Schiff said Bannon's 25 approved questions were written to mislead the committee. For example, they included a question about whether Bannon had met with a certain person, and Bannon answered no. But when Bannon was asked if he had spoken to the same person, he would answer yes, Schiff said.
Bannon's attorney and White House aides did not immediately respond to requests for comment.
Conaway, asked whether he would back a contempt proceeding, said the decision was not his to make. He said attorneys would have to consider the claims of privilege, and there would have to be discussions with House of Representatives Speaker Paul Ryan and other officials.
"I think he (Bannon) should answer our questions," he told reporters.
Trump fired Bannon, the former head of the hard-right Breitbart News website, from his White House position in August. Bannon had been a close Trump associate since he joined the Trump campaign and helped the political novice defeat Democrat Hillary Clinton in the 2016 presidential election.
Separately, three sources familiar with the proceedings said Bannon was interviewed over two days this week by Mueller's team, which had subpoenaed him to appear before a grand jury before he agreed to be interviewed.
Bannon met with the investigators for a total of about 20 hours.
Reuters reported last week that Bannon was expected to meet with Mueller this week.
(Additional reporting by Steve Holland and Karen Freifeld; Editing by Jeffrey Benkoe and Leslie Adler)
Popular in the Community