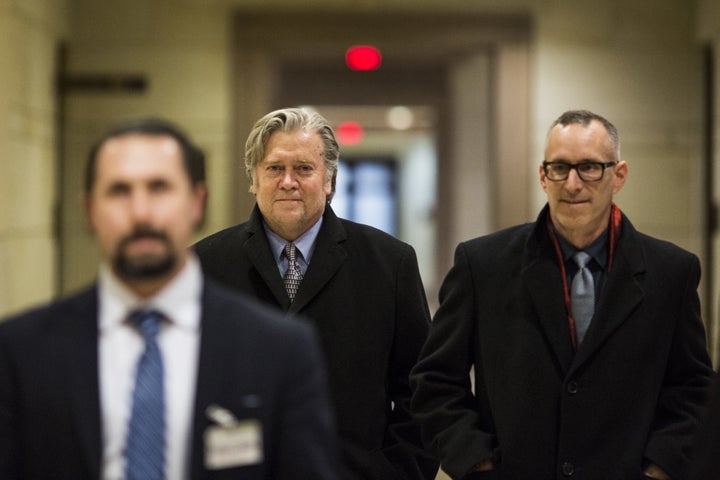 Former White House chief strategist Steve Bannon invoked executive privilege and refused to answer the House Intelligence Committee's questions during a closed-door meeting on Tuesday, according to several media accounts.
Bannon, who appeared voluntarily before the committee for about 10 hours, repeatedly declined to answer questions under advisement from the White House about his time as part of the presidential transition team or as a senior aide to President Donald Trump.
Rep. Adam Schiff (D-Calif.), the ranking member of the House Intelligence Committee, told MSNBC's Chris Hayes on Tuesday night that Bannon was effectively being gagged by the White House, even after the panel issued a subpoena to compel his testimony.
"He quickly informed through his counsel to the committee that he was not going to answer questions that pertained to meetings, conversations, events, etc., that took place either during the transition or while he was part of the administration," Schiff told Hayes. "They went back to the White House and got the same instruction again, basically … effectively putting in place a gag rule.
"There is no privilege that broad, obviously," he continued.
Executive privilege is a principle that allows the president, his aides and Cabinet officials to flout some subpoenas in order to protect confidentiality in the executive branch, according to The New York Times, although the definition has relatively narrow interpretations.
Rep. Jim Himes (D-Conn.) told CNN on Tuesday that Bannon's refusal to answer the committee's questions could place him in contempt of Congress.
"While we were able to ask and answer a lot of different kinds of questions, there were an awful lot of questions we weren't able to answer based on this very novel theory of executive privilege," Himes told CNN.
Despite Bannon's invocation of privilege in front of the House committee, some say he will be more forthcoming with special counsel Robert Mueller. Bannon was issued a subpoena to appear in front of a grand jury as part of Mueller's investigation into collusion between the Trump campaign and Russia last week, the Times reported.
The Times noted that Mueller's subpoena, the first issued to one of Trump's close advisers, could be used as a means to negotiate and compel Bannon to answer questions in a direct interview with investigators.
REAL LIFE. REAL NEWS. REAL VOICES.
Help us tell more of the stories that matter from voices that too often remain unheard.