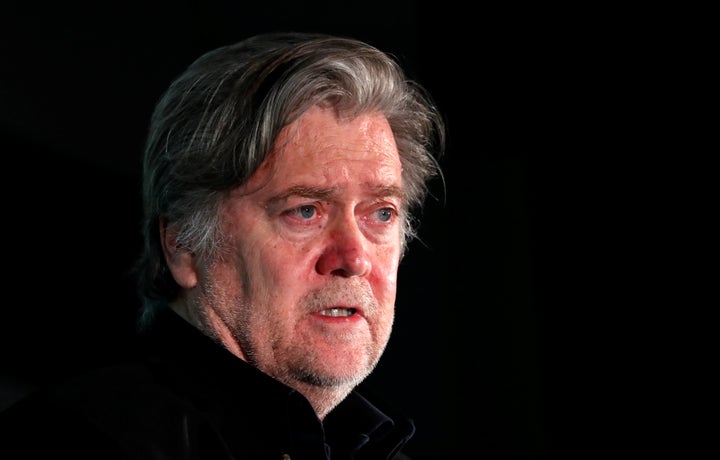 WASHINGTON, Jan 11 (Reuters) - President Donald Trump's former chief strategist Steve Bannon will be interviewed next week by a U.S. House of Representatives committee investigating alleged Russian interference in the 2016 U.S. election, a person familiar with the matter said on Thursday.
The interview on Tuesday will focus on Bannon's time on the campaign, not the transition or his time in the White House, the source said.
An aide to Republican Representative Devin Nunes, the committee's chairman, declined comment. The committee's practice is not to comment on specific witnesses or the schedule for testimony at non-public hearings.
Separately, Representative Adam Schiff, the panel's top Democrat, told reporters on Thursday he would like "dozens" more witnesses, including Bannon, to appear before the committee, making clear he does not view its investigation of Russia and the election as near its end.
Some of Trump's fellow Republicans in Congress have been saying they expect the House Intelligence probe and other congressional investigations to wrap up quickly. Democrats have been disputing this, saying there is much work remaining to determine whether Russia attempted to influence the election on Trump's behalf or whether Trump colluded.
Moscow denies trying to meddle in the election, and Trump dismisses talk of collusion.
"There are still dozens of witnesses that we could bring in," Schiff told reporters.
Besides Bannon, he said those witnesses would include Trump's daughter Ivanka. He also said he would like Trump's son-in-law Jared Kushner to appear again before the committee while noting that the choice of witnesses is determined by the panel's Republican leadership.
(Editing by Yara Bayoumy and Marguerita Choy)
Popular in the Community