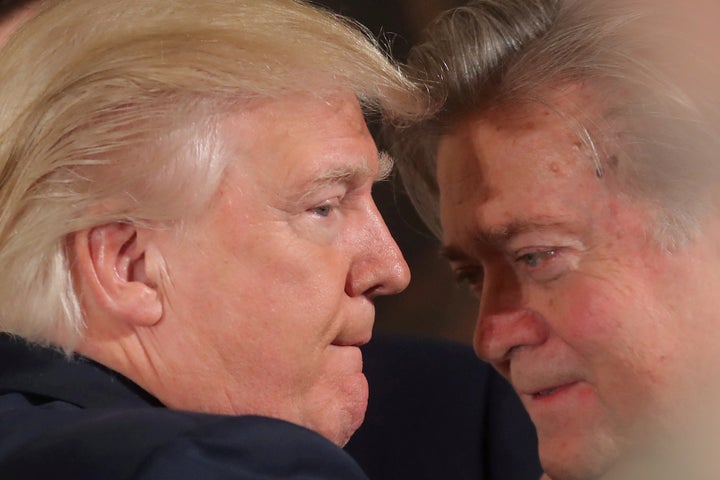 By a roughly 4-to-1 margin, 41 percent to 10 percent, Americans say Trump made the right decision in firing Bannon. Nearly half of respondents say they're not sure. Just 19 percent approve of the way Bannon handled his job, while 42 percent disapprove, with the remainder unsure.
One reason for the relatively high level of uncertain responses: Many people were paying relatively little attention to the development. Just about one-third of those polled say they heard a lot about Bannon's firing, while 20 percent say they've heard nothing at all.
But the split raises a question about where the loyalties of Trump's far-right nationalist followers might fall if Bannon ever directs his ire against Trump himself.
Trump voters are more likely to feel positively about Bannon, but are far less loyal to him than to the president. They approve of Trump by a wide margin, 86 percent to 10 percent, but support Bannon by a much smaller 40 percent to 21 percent margin. Only 15 percent approve "strongly" of Bannon, compared to 57 percent who approve strongly of Trump.
Bannon "represented a clear ideological wing within the Trump White House and in the GOP electorate more broadly," FiveThirtyEight's Harry Enten noted, asking, "If Bannon wages a media campaign against Trump, or if Bannon's departure leads the White House to turn away from Bannon's nationalist agenda, how much political trouble could Trump have?"
Bannon's 15 percent strong approval rating in the HuffPost/YouGov poll lines up with FiveThirtyEight's analysis, which found about 15 percent of Trump voters share five key positions with Bannon ― a vocal pro-police stance, support for increased infrastructure spending, and opposition to free trade, undocumented immigration and involvement in international affairs.
The percentage of Trump voters willing to side directly with Bannon and against Trump is even smaller, according to the HuffPost/YouGov survey. Just 6 percent of those who voted for the president say that Trump made the wrong decision in firing Bannon.
But many also aren't willing to outright line up behind Trump and against Bannon the way they might against a Democrat or a liberal. While 48 percent of Trump voters say the president was right to fire Bannon, a roughly equal 46 percent say they aren't sure. (By comparison, in a survey taken earlier this month, Trump voters overwhelming supported Attorney General Jeff Sessions: 47 percent of them said that Sessions shouldn't be fired, while just 12 percent said he should.)
The latest poll also found that 52 percent of Americans believe Trump has not done enough to condemn the white supremacist violence in Charlottesville, Virginia ― at most a modest uptick from the 48 percent who said so immediately after his first statements on the tragedy.
A full 38 percent of the public, however, now believes that the president personally supports white nationalism, up from 31 percent in the survey taken largely before Trump soft-pedaled his denunciation of the Charlottesville marchers in a press conference last Tuesday.
Use the widget below to further explore the results of the HuffPost/YouGov survey, using the menu at the top to select survey questions and the buttons at the bottom to filter the data by subgroups.
The HuffPost/YouGov poll consisted of 1,000 completed interviews conducted Aug.18-19 among U.S. adults, using a sample selected from YouGov's opt-in online panel to match the demographics and other characteristics of the adult U.S. population.
HuffPost has teamed up with YouGov to conduct daily opinion polls. You can learn more about this project and take part in YouGov's nationally representative opinion polling. More details on the polls' methodology are available here.
Most surveys report a margin of error that represents some, but not all, potential survey errors. YouGov's reports include a model-based margin of error, which rests on a specific set of statistical assumptions about the selected sample rather than the standard methodology for random probability sampling. If these assumptions are wrong, the model-based margin of error may also be inaccurate. Click here for a more detailed explanation of the model-based margin of error.
REAL LIFE. REAL NEWS. REAL VOICES.
Help us tell more of the stories that matter from voices that too often remain unheard.