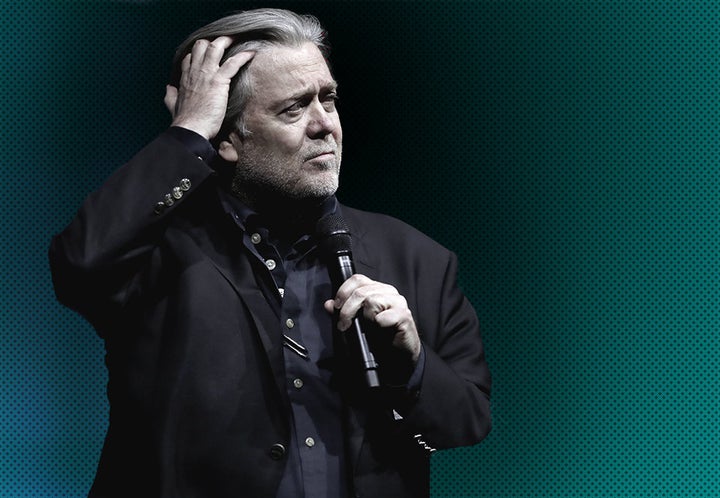 As Steve Bannon publicly fantasizes about creating a right-wing "supergroup" in the European Union's legislature, it's already looking unlikely that he can take the first step on that journey: becoming a central player in populist parties' plans to win big at the European Parliament elections next May.
Last month, Bannon pledged to set up a foundation in Brussels, the site of E.U. headquarters, that will offer parties voter targeting, policy proposals, polling, messaging advice and, in some cases, direct help campaigning. His goal is to unite the parties ahead of the election so they eventually form an official parliamentary alliance that will gain greater influence over the E.U.'s powerful executive body and bigger grants of European taxpayer money ― even while remaining skeptical of the very idea of the association.
The trouble for the former White House official is that nearly all his hoped-for allies are convinced their path to victory differs sharply from the approach Bannon is known for.
Bannon is relying on Europe for another feather in his cap after claiming credit for President Donald Trump's election victory in 2016, and he presented his proposal in a dramatic Daily Beast interview amid a press blitz. While most European populists agree with him on discouraging immigration and prioritizing the nation-state over transnational bodies like the E.U., they overwhelmingly reject his other central idea, which he famously called "the deconstruction of the administrative state."
It's a difficult phrase for a simple concept: slashing the government's role in citizens' lives and letting the private sector ― in theory, entrepreneurs, but more often, massive corporations ― exert more power. The Trump administration is pursuing that approach by weakening regulations in areas like health care and the environment; the few government functions it wants to expand are those that involve force, like defense, law enforcement and trade war tactics. Trump weds that ideology to his focus on reducing immigration with talk of allowing native "American exceptionalism" to thrive unfettered and well-guarded.
But in Europe, most outsider parties riding the perception that locals are being cheated and foreigners must be kept out are finding success by promising governments will better support their country's people ― not by saying that government will get out of the way and leave citizens feeling even more abandoned amid globalization.
"Bannon reminds me a little bit of these American actors who, their career is over in the States and they come to Europe and do commercials."
In Italy, the new coalition government that Bannon views as the ultimate vindication ― given the country's size and the way it united populists from the right and the left ― is based on a pledge to ramp up spending. Poland's nationalists, already in government for years, introduced a trademark monthly stipend per child for families. And in Sweden, France and the Netherlands, fellow far-right politicians spend much of their time saying they can promise more public benefits than the ruling parties.
Bannon's star fading stateside makes European politicians wary of relying on his advice to make a dramatic shift as they appeal to their various countries' voters. "Bannon reminds me a little bit of these American actors who, their career is over in the States and they come to Europe and do commercials," Duncan McDonnell, a professor at Australia's Griffith University, told HuffPost.
Meanwhile, the point Bannon wants the populists to agree on ― an overarching European Parliament structure ― seems likely to remain one of the important points of difference among them as they tailor their messages to their various domestic contexts.
Consider the approach of the Sweden Democrats, one of the most successful of the previously alienated European parties and one of the first to voice skepticism about Bannon's proposal. In 2014, after the last European Parliament elections, the party decided not to join a coalition with French right-winger Marine Le Pen ― a Bannon favorite ― because its Danish counterparts said that would make the party too controversial. This year, as the Sweden Democrats try to appeal to moderate Swedes wary of their roots in neo-Nazism, they have moved into a new European Parliament group that is considered even more centrist than their previous alliance.
"It's about legitimacy," said Ann-Cathrine Jungar, a professor at Södertörn University in Stockholm.
Those worries about impressions have crippled efforts at unity between ideological partners on the right for years. The most successful alignment so far has resulted in two distinct groupings in the current parliament ― the largest of them led by Bannon's closest European contact, U.K. Independence Party figure Nigel Farage. It's guaranteed to become far weaker in the next session since its large British representation will no longer be there once Britain leaves the E.U.
"We have seen right-wing groups come and go," Udo Bullman, a European Parliament member from Germany since 1999 and the president of the body's second-largest group, the Socialists and Democrats, told HuffPost in an email. "They never lasted long... their only unifying feature is hatred. And that never takes you far."
"We have seen right-wing groups come and go ... their only unifying feature is hatred. And that never takes you far."
Between the ideological divide on the role of the state and the populist parties' historical strategies, European politicians and experts doubt Bannon's influence will be transformative.
"These are parties that have been around for decades, they're well-established. They don't need some Trump reject on a shoestring budget in Brussels to help them," McDonnell said.
It's unclear that Bannon fully understands what he's gotten himself into, Bullman argued. "In the U.S., he and his collaborators have been profiting from lax privacy standards, with a news mogul ruthlessly supporting him through Fox News and a political system that allows one to spend crazy amounts of money. He will find none of these in Europe," Bullman wrote.
None of that is to say the radical right will not gain more European Parliament power next year. They recognize that they have missed out on opportunities, like the ability to appoint "rapporteurs" with special powers over legislation, and they are broadly in agreement on blocking further steps to bring the E.U. closer, Jungar said.
But it's hard to buy the sense of an inevitable takeover that Bannon ― a man who celebrates being publicly treated as an unstoppable dark genius ― is pushing.
"These are structures that have grown over decades. Mr. Bannon only has nine months left," Bullman wrote. "He surely will try to buy his airtime, but money doesn't make our continent go round ― passion, forward-thinking ideas and solidarity do."
Nick Robins-Early contributed reporting.
Popular in the Community