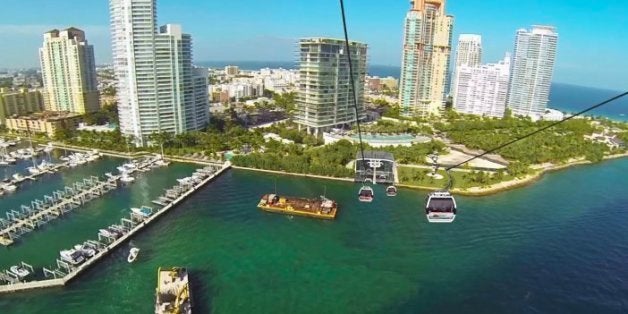 It's good to dream big in Miami, a metro built on gaudy ideas, sheer promise, and sometimes ludicrous public projects (and that's just Marlins Park).
Skylink, which would be the world's longest urban cable car, "will be an iconic tourist bucket-list item -- up there with the Eiffel Tower and the London Eye," according to Berke's platform statement:
Close your eyes for a moment and join me in the year 2020.

You are standing by the bay alongside the American Airlines Arena excited because you just watched The Heat win their eighth straight NBA championship. Stretching out in front of you is the Skylink - the coolest, most iconic public transportation system in the world. You board your gondola and for 17 minutes gasp at the spectacular views of the Miami skyline, the cruise ships, Star Island, Fisher Island and the ocean as you take this environmentally friendly, magnificent and affordable piece of public transportation all the way to South Beach.
Oh, we'll be closing our eyes alright, with our sweaty, heights-fearing palms over our faces.
But we have to admit, however unlikely -- Curbed points out SkyLink gets in the way of cruise ships, among other issues -- a jaw-dropping transit hookup does look pretty good on us. And who knows what Miami Beach might build in the future? After all, the city was a swampy failure of a coconut farm just a little more than 100 years ago. It's nice to at least see new ideas out of local politicians.
Meanwhile, in other Steve Berke news, here's the only-in-Miami-Beach campaign rap video you always knew was coming:
Related
Popular in the Community