Beshear was governor of a red state where the Affordable Care Act has been a smashing success, and he's able to push back on criticisms of the law at a time when Republicans want to repeal it. 
But Beshear, 72, is certainly not a fresh face or a rising star. At a time when Democratic energy is being driven by women, minorities and young people, the party chose not to feature them. They instead turned to a former governor and sat him in a cliched location, a diner, in front of a staid group of predominantly older, white Kentuckians (both Democrats and Republicans, to emphasize why health care should not be a partisan issue).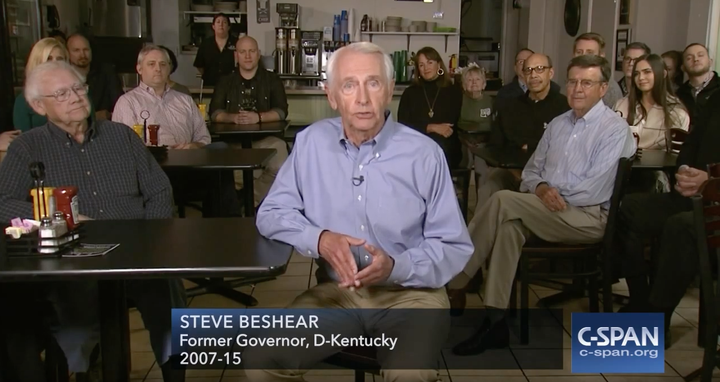 Democrats are currently in search of a leader. The Democratic National Committee had its first real contest for chair in decades, with a tight, closely watched race between the two frontrunners: former Labor Secretary Tom Perez and Rep. Keith Ellison (D-Minn.), who was the favorite of many who had backed the presidential bid of Sen. Bernie Sanders (I-Vt.). 
In Congress, there is plenty of "rising star" chatter around people like Sens. Cory Booker (D-N.J.), Catherine Cortez Masto (D-Nev.) and Kirsten Gillibrand (D-N.Y.).
Yet the party chose not to put any of these people forward on Tuesday night. First, it would have required party leadership to pick a favorite and give some signal about whom they consider their top prospect. 
Second, there was the risk that giving a thankless speech could have doomed the career of the person chosen. Responses to presidential addresses are hard. They're not campaign rallies with high energy and a dynamic setting. Hitting a home run may be impossible, with the best result being to simply come out unscathed. 
Since the 2016 election, the Democratic Party has been debating whether to double down on an economic message that appeals to disaffected Democrats who voted for Trump ― many of them white working-class men ― or to focus more on speaking to the diverse coalition that abhors the new president but isn't always active in midterm elections and organized party politics. 
People like Tom Vilsack, the former Iowa governor and U.S. agriculture secretary, have chastised the party for losing white working-class voters. 
"You're going to wait how many decades before this other strategy works?" Vilsack said in December, referring to the demographic changes that point toward an increasingly diverse America in the coming years. 
Democratic leaders have tried to push back on the idea that their task requires an either/or approach, arguing that Obamacare, for example, is something that benefits all types of people and is popular with all segments of the party. With the party fighting to make sure the law stays in place, leadership went with its best spokesman ― even if he was not exactly a fresh face.
Beshear made only brief mentions of immigrants and refugees ― an issue that has been animating protests and activism amongst the Democratic base. Party leaders, however, also had Astrid Silva, a woman who came to the United States as an undocumented immigrant child and was able to stay here legally thanks to Obama's policies, deliver another response in Spanish.
But with the base demanding more and more of its leaders ― bolder moves, bigger statements ― the choice to use Beshear was still disappointing for some Democrats, who say the party needs to respond more directly to the rising activism in the streets.
"The governor did a fabulous job in terms of health care when he was in Kentucky," Rep. Emanuel Cleaver (D-Mo.) told MSNBC on Tuesday. He thought the choice of Beshear was nevertheless a "mistake."
"I just left a meeting," Cleaver added, "where we were discussing the fact that we think we're going to have a problem if we don't start presenting an image of the millennials and that there's a youth movement in the Democratic Party."
Want more updates from Amanda Terkel? Sign up for her newsletter, Piping Hot Truth, here.
REAL LIFE. REAL NEWS. REAL VOICES.
Help us tell more of the stories that matter from voices that too often remain unheard.