WASHINGTON ― Steve Beshear, the former Kentucky governor who will deliver the Democratic Party's official response to President Donald Trump's first address to a joint session of Congress on Tuesday night, is not a fresh face, rising star, or future presidential candidate. He's taken positions that buck Democratic ideology. And at 72 years old, his electoral career is over.
But atypical a choice as he may seem, the speech isn't meant to set up Beshear as the next star of the Democratic Party. Rather, his selection is a sign that Democrats now sense they have renewed political momentum in the key policy battle currently taking place in Washington: the fight to save the Affordable Care Act, commonly known as Obamacare.
And for that role, there may be no better pick.
Beshear's Kentucky emerged as Obamacare's signature success story soon after the health care law passed, and it has continued to serve as a lens into the law's past and potential future since Beshear left office.
As Republican repeal efforts continue in Washington, Kentucky is already engaged in its own miniature repeal-and-replace battle. Making Beshear the new face of Obamacare could help Democrats frame this fight around concrete results rather than partisan politics.
Of the states President Barack Obama lost twice, Kentucky was one of just two (along with Arkansas) that expanded Medicaid and set up its own health exchange. The Medicaid expansion gave government health insurance to more than 400,000 low-income Kentuckians; the exchange helped nearly 100,000 more access health coverage from private companies.
Beshear has always positioned his embrace of Obamacare as an opportunity to address major problems in one of America's poorest and least healthy states ― a chance to "improve the future of our state and the lives of our families," as he told a Senate committee this month ― rather than an act of toeing the party line.
The 20 million Americans who gained health care coverage through the law "are Republicans, Democrats, independents, and folks that aren't registered to vote at all," Beshear told The Huffington Post last week. "But they deserve a better quality of life, and becoming healthier will give them a better quality of life."
"They're faced with 22 million Americans who now have health care ― most of whom never had it before ― who don't want to give it up. That's a lot of votes."
Now Beshear is warning Trump and Republicans that rescinding the gains made under the law could be devastating.
"They're faced with 22 million Americans who now have health care ― most of whom never had it before ― who don't want to give it up," Beshear said. "That's a lot of votes."
Beshear is already a veteran of the sort of fight taking place in Washington. Despite its successes, the Affordable Care Act remained unpopular among Kentucky voters throughout Beshear's second and final term. A year before Trump won, Kentucky voters replaced Beshear with Republican Matt Bevin, a Louisville businessman who won the election while advocating a full dismantling of the law.
Bevin scrapped Kynect ― Kentucky's broadly popular insurance exchange ― during the opening year of his governorship. Rolling back the Medicaid expansion, however, proved more difficult: The month after Bevin's election, nearly three-quarters of Kentuckians opposed changes to Medicaid, according to a poll from the Kaiser Family Foundation. Last August, Bevin decided instead to apply for a waiver from the Department of Health and Human Services that, while limiting or eliminating coverage for some Kentuckians, wouldn't end the expansion entirely.
Bevin still favors repealing and replacing Obamacare, he said at the Conservative Political Action Conference in Washington last week. But to Beshear, Bevin's difficulties in Kentucky foreshadow the problems Republicans are now facing in Congress.
"Nationally, I think the president and the Republican Congress are like the dog that caught the car," Beshear said. "I don't think that the Congress ever thought they'd ever actually be in this position to have to follow through with all the repeal promises they made."
"They're finding it to be a lot more difficult issue than they ever thought it would be," he added. "Folks that are advocating repeal … didn't realize how successful it would end up being, and how many people would end up being [covered]."
Providing specifics on their repeal and replace efforts has proven a source of consternation for congressional Republicans, especially as the Trump administration has promised that no one will lose coverage under the reforms.
That should force Republicans to consider amending the law to address its shortcomings instead of shooting for an all-out repeal, Beshear argues.
"There are certainly issues with the Affordable Care Act that ought to be fixed," Beshear said. "That's really where Congress and the president ought to be spending their time, is trying to figure out how to make this better. I am sensing that some of the more thoughtful Republicans in Congress understand that."
Democrats might feel cautious optimism that a law they once presumed dead may now survive. Still, Beshear and Kentucky offer a warning to them, as well. Even if the law remains on the books, he cautions, Republicans can "tinker" with it in a way that limits its effectiveness without drawing such high-profile resistance.
Bevin's Medicaid waiver, for instance, was crafted with the help of Seema Verma, a health policy consultant Trump picked to run the Centers for Medicare & Medicaid Services. If it is approved, it could force thousands of Kentuckians to pay small premiums while also adding work requirements and other changes that could limit the state's poorest residents' access to health care.
"Everything we do that makes it harder for these people to access health care will result in some people finally just giving up because they can't figure it out," Beshear said. "Honestly, I think that is the goal of the administration in Kentucky, and it will be the goal of folks on the national level. In some way or another, they hope to be able to reduce the number of people who are involved in the program. Those of us who feel that every American [should be] involved in health care, that's our challenge."
Beshear is still hesitant to predict the fate of the law on the national level. But his speech on Tuesday will represent the next step in his and his party's fight to save the Affordable Care Act. That they've chosen to focus their first response to Trump almost singularly on this issue is a sign they think they can do it.
"Kentucky is, I think, a prototypical story of what happens if you look at health care through a bipartisan lens," said Andy Slavitt, who ran the Centers for Medicare & Medicaid Services during the final two years of Obama's presidency. "When you add it all up, it's a relatively modestly sized state that has a lot to lose, and [Beshear] can tell that story so well because he took the partisanship out of it and did what was best for the state."
Tapping Beshear is a move that excites Democrats familiar with his approach to the law. The former governor is "a perfect person to offer a reality-based, factual response to President Trump's address on Tuesday," Rep. John Yarmuth (D-Ky.) said in an email.
It's one that might also annoy Republicans who still insist their repeal efforts are on track, as Bevin argued at CPAC last week.
"It's discouraging for me that he's still in the arena throwing stones at people," Bevin said in response to Beshear's characterization of his and the GOP's struggles to repeal Obamacare. "I would think retirement would serve him well."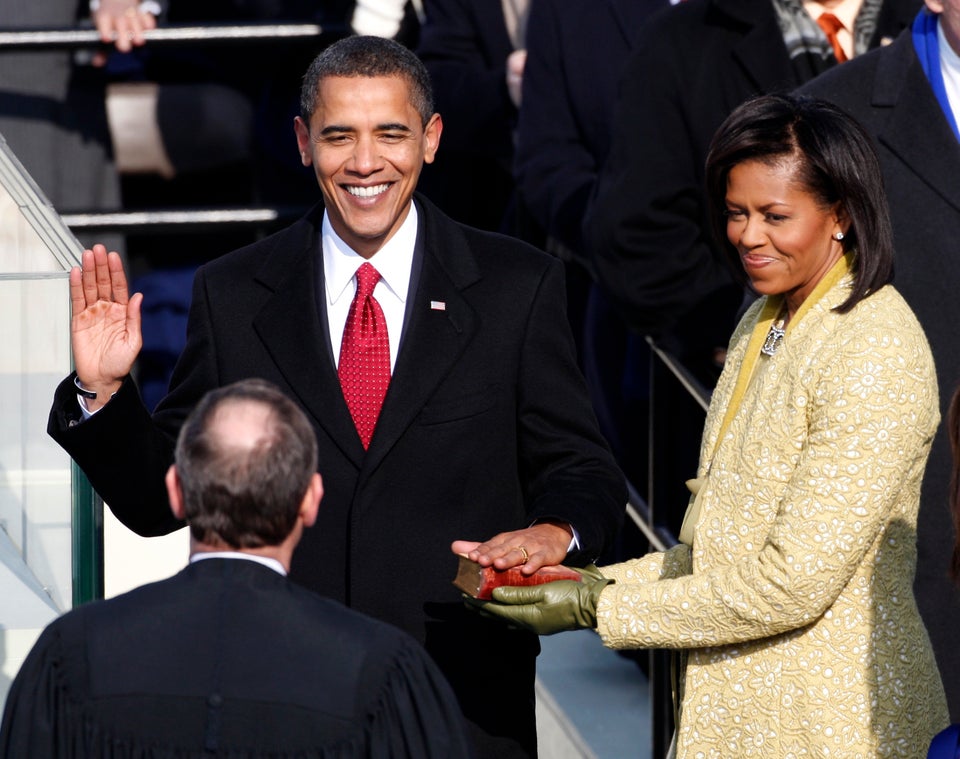 Obama And The Supreme Court Through The Years