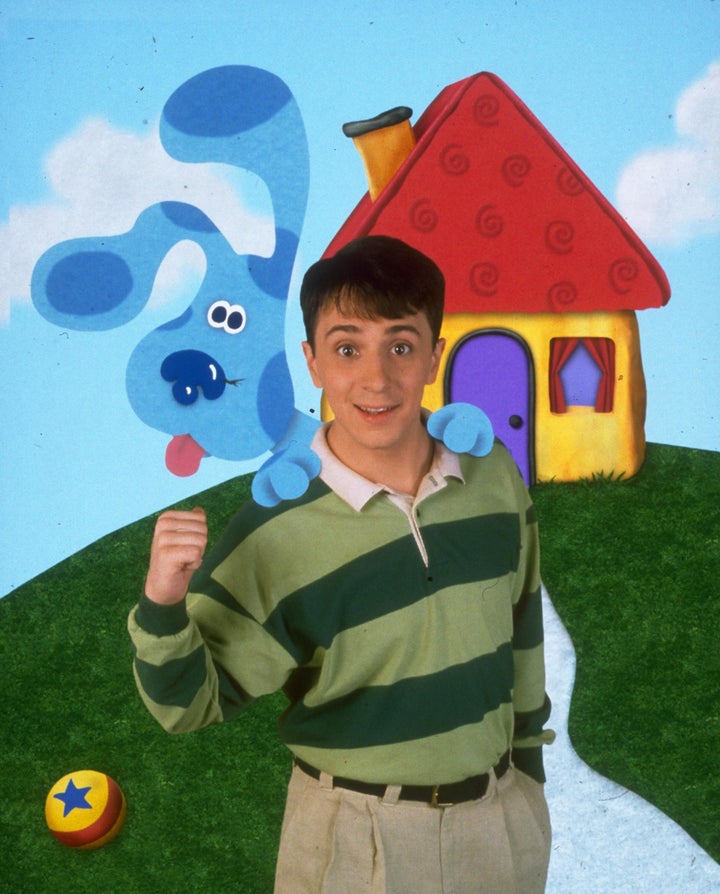 This past April, Nickelodeon held a casting call.
The network was seeking women and men, ages 18 to 25. The ideal candidate would be able to sing, juggle and play guitar. "Our host will have a comedy background, a natural connection with the camera, and will empower the home viewer to feel important, respected, and smart," the open call read.
Kids of the late '90s and early 2000s will likely remember the man who once held this coveted position: Steve. Played by Steve Burns, he was the host of "Blue's Clues," and the owner of the titular spotted cartoon dog who left clues around Steve's house for the audience to piece together.
Twelve years after the original show ended (hosted at the time by Donovan Patton), Blue is heading back to the small screen to entertain a new generation of problem solvers. Like "Rugrats," the preschool program has been revived by Nick and is set to air in the near future with a new live-action host.
During a conversation with Angela Santomero ― a co-creator of "Blue's Clues" who is also the brains behind the very popular Mister Rogers-themed kids' show "Daniel Tiger's Neighborhood" ― HuffPost learned that although Steve won't be back to lead the animated series, he has been playing a big role in finding a solid replacement. 
"Steve helped us find Donovan and he's, again, helping us find this new person that we're going to bring into the family," Santomero explained. "Steve is fantastic!" 
"Yup! I've been helping, looking at contenders and offering small, bald green wisdom like Yoda," Burns told me, adding that he couldn't reveal much more. 
As of now, Santomero's production team says "no decision has been made on casting yet." When asked about the search, a rep for Nickelodeon told HuffPost, "We don't have any updates at this time." 
If it were up to Burns, however, the ideal candidate would be "someone who can listen to the camera with a simple authenticity and who is zero percent condescending." 
Ultimately, he said, Nickelodeon and Santomero would have all the answers. "I'm more just consigliere," he joked.
According to Santomero, "Blue's Clues" was originally created to resemble the work of another big figure in children's television: Fred Rogers.
"Mister Rogers being a real person, talking directly to me, made an impact," Santomero recalled. "So when 'Blue's Clues' first came out, it was all about Steve talking directly to the camera. Therefore, our pacing was much slower because I have an education background, similar to Fred's."
Santomero said a live-action host living in an animated world sparks curiosity among viewers. "That aspect of fantasy for a preschooler, to be able to live in an animated storybook world, is exciting. Also, the idea that the adult needs your help, that's kind of a piece of it too that we really thought was a strong empowerment message."
The jury's still out on whether people even want a "Blue's Clues" revival. But when HuffPost previously spoke to Burns in 2016, he was excited about the prospect of a new audience discovering the magic of the show one day. 
"It felt like a dream to wake up and be like, 'Wait, people watched that all over the world?'" he said. "For me, it's a very different experience than it is for everyone else, but to know that people who watched 'Blue's Clues' now have children that watch 'Blue's Clues' is a real brain-burner, that's for sure. But it's all just really cool. Maybe I'm Grover to somebody. That's awesome. That's just completely awesome."
The show originally ran with Steve from 1996 to 2002. But eventually Burns decided it was time to throw out his handy-dandy notebook and retire that green-striped shirt.
"I left the show because it was just simply time to go," he said. "I was pretty much playing a boyish, older-brotherish kind of character on the show. I was getting older; I was losing my hair; a lot of the original gangsters on the show, like the people who created it, were all moving on to other careers. It just felt like time. I just had a gut feeling like it was time to go."
Steve's successor, Joe, played by Patton, took over as host in 2002 and served until the network decided to end the show's decade-long run. Now, "Blue's Clues" is being slightly rejiggered with a "modern" look.
"What's interesting about 'Blue's Clues' is it still looks different than any of the shows that are on today, and it was created in 1995," Santomero said. "There's still something about it. So if we can keep that level of fresh innovation and make it classic and nostalgic, then we would have done our job." 
Calling all HuffPost superfans!
Sign up for membership to become a founding member and help shape HuffPost's next chapter