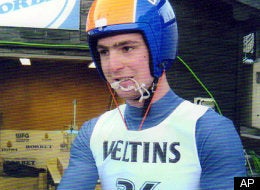 An NBC News spokesperson tells TVNewser, "NBC News handled the video of the luge accident with the utmost sensitivity. As we have done in the past, we felt the story had reached a point where it was no longer necessary to show the video when reporting on this tragic story."
For my part, I'm glad this decision has been reached. The video of Kumaritashvili's fatal luge run is difficult to watch and I do not recommend that you do so. Besides, NBC Sports coverage of the incident has largely been excellent. On numerous occasions during yesterday's mens' luge finals, on-air sportscasters detailed the extensive changes that had been made to the Whistler course in the wake of the tragedy in order to make it safer for the sliders. And considering the network has any number of incentives to promote the high-speed thrills of the luge event, I was happy to note the many instances in which they aired concerns about how the sport was getting too fast for athletes to handle.
Calling all HuffPost superfans!
Sign up for membership to become a founding member and help shape HuffPost's next chapter