Steve Carell has to get something off of his chest.
"I lied," Carell, who played Michael Scott, said. "I lied for months to the press, to almost everyone, really. And I felt terribly for the cast and for [executive producer] Greg Daniels, because they all lied, too."
Due to the months of will-he-won't-he reports about Carell's involvement in the "The Office" series finale in May, perhaps it wasn't a huge surprise when he showed up. But it was nevertheless handled beautifully and appropriately. For Dwight (Rainn Wilson) and Angela's (Angla Kinsey) wedding, Jim (John Krasinski) was Dwight's "bestest mensch" (i.e. best man), only he told Dwight that he couldn't be because he was younger than Dwight. And so he brought in a replacement.
Dwight turned around and saw Michael in the doorway. "Michael. I can't believe you came," he said.
"That's what she said," Michael responded. "Best prank ever," Jim revealed to the camera.
"I didn't want it to be a big thing. I did it out of respect for the show and for the actors," Carell told TVLine. "My only hope with it was I didn't want it to be about Michael coming back. I didn't want the story to be about him in any way. I wanted it to be more of a tip of the hat to the show."
"I lied to Letterman! I have to apologize to him for that at some point. It was just one of those things that we all vowed and had to protect," he continued, "Look what happened -- it was the best. The 'that's what she said' was the perfect use of Steve."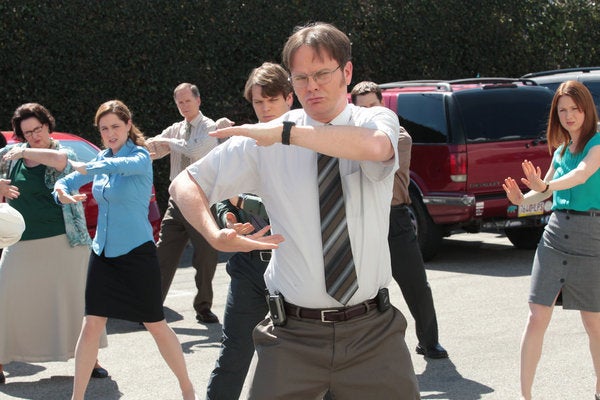 The Office Season 9 Photos
Popular in the Community