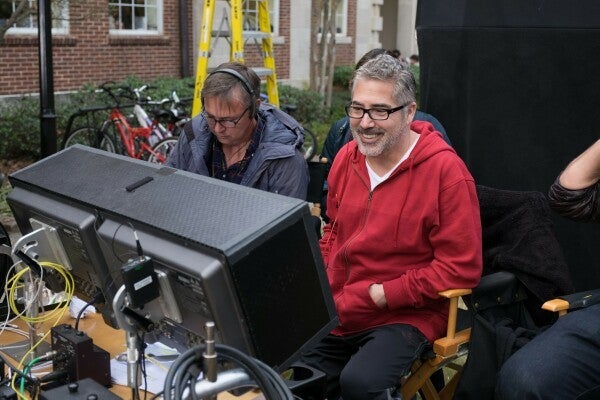 After directing a number of hit family movies, such as Paul Blart: Mall Cop, Dr. Dolittle 2, and Daddy Day Care, Steve Carr was ready for a change. "I wanted to do something raw and raucous and R-rated," says Carr. "But then Middle School: the Worst Years of My Life came to me. One reason I took this movie on is because I saw it as a really great opportunity to revisit my own past through this character."And what a past it's been.
Brooklyn-born and raised, Carr attended Manhattan's School of Visual Arts on a full scholarship, training as a painter. Once out of school, Carr was highly sought after by art galleries, but there was a catch. "I was forced to create art they thought they could sell," he says. "Eventually, I said 'No way, man!'"
It was the late 1980's and Carr had no set path for his future. "I didn't know what I was going to do," he admits. Carr turned to a friend who had an in at Def Jam Records, graffiti artist extraordinaire Cey Adams. Together, Carr and Adams approached Def Jam's founder, Russell Simmons, with the idea that their new design company, The Drawing Board, should create all of Def Jam's album covers. "At that time, we knew Columbia Records was designing the albums and they were spending all their time with acts like Neil Diamond," says Carr. He and Adams convinced Simmons that as young, urban artists, they would be a better fit for Def Jam.
The popularity of The Drawing Board's album designs, along with his proximity to and credibility with hip-hop stars, led to other opportunities for Carr. When he approached Simmons with an idea for a Slick Rick music video, he didn't let his lack of experience in the field stop him. Carr simply lied. "I said I came from a family of filmmakers, which was absolutely not true," he says. Truthful or not, Carr got the gig. "I directed the video and tried to look like I knew what I was doing," says Carr. "I yelled 'action' and 'cut' indiscriminately and it seemed to work. It actually came out pretty good." Over time, Carr directed videos for more and more hip-hop artists, including Method Man, Redman, Public Enemy, and Jay-Z.
With his videos on high rotation, Carr got noticed by Hollywood. In 2000, Ice Cube asked Carr to direct his movie Next Friday. "I had never done a shoot longer than three days," says Carr. "The movie took a month and a half. I was exhausted, but excited." When the movie did well, Carr's directing skills were in demand, leading to films with some of comedy's biggest stars like Eddie Murphy and Kevin James.
When Carr was first approached about directing Middle School: the Worst Years of My Life, he felt an immediate connection to the main character, Rafe. "I really responded to him," he says. "I saw a lot of myself as a middle school student in that character. Rafe has an issue that he internalizes and the way he internalizes it is how he draws and creates artwork."
Like Rafe, Carr worked through his early teenage angst by painting and drawing. "I'd draw comic books or doodle," he says. "When things would affect me, it would be reflected in my artwork rather than expressed verbally. To this day, when I'm talking to my director of photography, I don't try to explain what I want the shot to look like. I draw it."
The film Middle School:The Worst Years of My Life is adapted from the book by prolific, record-breaking author James Patterson. "I knew James Patterson from his more mature work," says Carr. "I wasn't very familiar with his young adult material." The two hit it off at their first meeting. "We're both from New York," Carr says. "We connected over that."
According to Carr, Patterson was a director's dream to work with because he afforded him so much freedom. "I didn't have to tie myself down to the book," says Carr. "With James' blessing, I was able to interpret it in my own way. To have him trust me with something so important was amazing."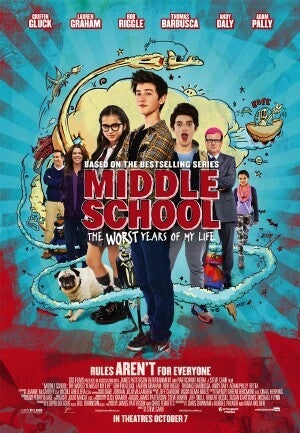 Carr says he hopes he was able to make Middle School more than a screen version of a children's book. "The book is very much for kids," he says. "With the movie, I tried to transform it into a family film. There are a lot of films that come out for kids and the parents have to suffer through it. I wanted to do a movie that wouldn't be a chore for parents to see."
For Carr, getting people to laugh at his movies is good, but getting them to feel is the ultimate success. "I remember when Daddy Day Care came out, I saw fathers and their sons and daughters walking out of the theater and talking about the movie," he says. "That's the neatest thing. It's easy to scare people. It's easy to shock them. But making people laugh and making them feel is a big challenge. I hope that people will see the film and experience that combination."
One aspect of this film that was different for Carr is that he was instrumental in choosing the cast. "A lot of the films I've done have had big stars," he says. "Daddy Day Care had a cast divided into two parts: Eddie Murphy and everyone else. My job was to get the best out of Eddie Murphy. In this movie, I got to do the casting and I was able to cherry pick all the great improvisational comics I love. There's a famous quote by Woody Allen, 'Once you cast the film, the film is done.' It's true. It's the most important part and the cast of Middle School was phenomenal." Carr was especially impressed by the younger actors. "There's real heart in this movie," he says. "You can't get that from kids who can't access that inside themselves."
Carr has come a long way and no one is more surprised at where he is today than Carr himself. Working with James Patterson on Middle School is a feather in this family film director's cap. "The neat part is that I didn't know I wanted to do movies," says Carr. "I found myself wanting to tell stories. I started out by convincing rap artists that I had a story that would highlight their records. Telling a story is what directing a movie is all about. And this movie in particular, this story, is something I'm really proud of."
REAL LIFE. REAL NEWS. REAL VOICES.
Help us tell more of the stories that matter from voices that too often remain unheard.
This post was published on the now-closed HuffPost Contributor platform. Contributors control their own work and posted freely to our site. If you need to flag this entry as abusive,
send us an email
.