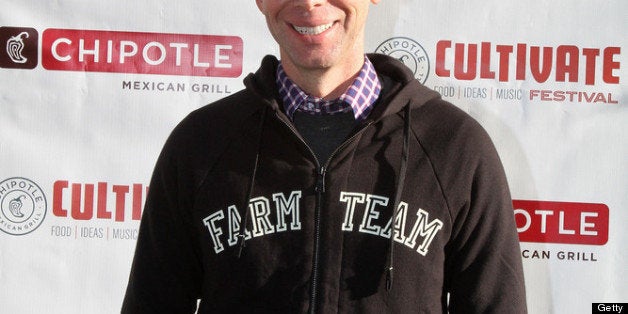 On July 13, 1993, a 28-year-old chef opened an 850-square-foot taqueria on Evans Avenue near the University of Denver. He had no great ambitions for the place. Mostly he hoped it would throw off enough cash to support the high-end restaurant he'd left his dream job at Jeremiah Towers' Stars restaurant in San Francisco to open.
Steve Ells never opened that high-end restaurant. He made too much money at his taqueria. Its name? Chipotle.
Today, on the verge of the 20th anniversary of that first stormy Tuesday night, there are nearly 1,500 Chipotles in 44 states and four countries. (A location opening in Frankfurt later this summer will make Germany the fifth.) The company generates nearly $3 billion in revenue a year. Yet if anyone ever became a restaurant mogul by accident, it was Steve Ells.
"Never in our 20-year history have I set a goal of becoming a national chain or a global brand or [having] a certain number of restaurants or a certain number of markets or a certain run rate or anything like that," Ells said.
Ells had hoped Chipotle would run itself, allowing him to work on his fine-dining restaurant. That didn't happen. He worked almost every day for the first two years. His tiny restaurant was thronged. He decided to open a second branch, this one slightly bigger, a couple of miles northeast, on Colorado Boulevard. That one got even more attention and did even more business. Ells knew he'd struck a nerve. He asked his father, a pharmaceuticals executive, to invest in the company, and he received $1.5 million to expand. Ells later raised $1.8 million more on his own. Chipotle was taking over his life.
"I remember feeling a little guilty every time I opened a Chipotle," he said. "I felt guilty because I wasn't following my true passion. But that eventually went away. And I realized that this is my calling."
By 1997, he had 14 locations throughout the greater Denver area. The Chicago Tribune estimated its yearly revenue between $14 and $18 million.
Ells wanted to open more locations, throughout Colorado and perhaps beyond. But he would need even more funding to do so. One of his investors suggested he get in touch with McDonald's, which was interested in making its first purchase of an outside restaurant chain. Ells sent a business plan to McDonald's headquarters in Oak Brook, Ill., in the spring of 1997.
Although Chipotle was minuscule compared to the fast-food behemoth, its executives were intrigued. They flew out to Denver to try the fresh guacamole and giant burritos in person. They left impressed, Ells said. In February 1998, McDonald's bought a small minority stake in the company. It became Chipotle's majority owner in October 1999; by 2002, it owned more than 90 percent of Chipotle's stock.
At first, it seemed like a match made in fast-food heaven. McDonald's $360 million investment in Chipotle allowed the Mexican chain to open hundreds of stores in just a few years. There was even talk of McDonald's allowing its franchisees to open Chipotles across the country.
Yet the two companies started to grow apart culturally even as their business relationship flourished.
Ells developed a keen interest in sustainably and ethically raised food after an article in The Art of Eating journal inspired him to visit an Iowa-based pig farm in the Niman Ranch cooperative group, known for requiring its ranchers to pasture their livestock outdoors without hormones or antibiotics. He decided to shift Chipotle's purchasing practices toward sustainability. In 2001, the chain started buying all of its pork from Niman Ranch farms and groups that used similar practices. They soon began to also seek out beef and chicken raised without antibiotics or hormones. McDonald's didn't object to the shift -- but sustainability wasn't a big part of McDonald's culture.
Chipotle and McDonald's also drifted apart on their attitudes toward their workforce, Ells recalled.
"I've never thought that we reached Chipotle, the brand's, full potential during the time with McDonald's," he said. "And the reason why was because, while we had some great people, and we had a lot of really good people, not everyone was really a top performer."
Ells briefly manned the line at a McDonald's in high school, and he said that working there left him uninspired.
"It didn't capture my imagination," he recalled.
"Think about the systems at McDonald's," he continued. "It's a very mechanized world, where you take out a highly processed patty. This frozen puck. You put it on a grill. You put it on a machine. You push a button. It beeps when it's done, right? How are you going to attract top performers to fill that function?"
Eventually, their differences became too much to bear. (McDonald's was, more broadly, looking to focus its operations on its core brand, after a six-year experiment in diversification that also included the purchase of Boston Market.) In late 2005, McDonald's announced plans to take Chipotle public and sell a small part of its stake in the company. Excitement about the IPO buzzed. The stock's price doubled, from $22 to $44, in its first day of trading. (At press time, CMG was trading at $385 a share.) By August 2006, McDonald's had divested completely from Chipotle.
The money Chipotle raised through its IPO allowed the chain to expand far beyond its Denver roots. In 2007, annual sales passed $1 billion. In 2010, the chain opened its 1,000th location and its first location overseas.
Ells used the chain's success to deepen his commitment to "Food With Integrity," the company's sourcing mantra. In 2008, the chain began buying a quarter of its produce from sources within 350 miles of each store. Ells recently committed to ridding Chipotle of all genetically modified ingredients.
"We decided we'd rather try to avoid GMO ingredients until perhaps the science is more clear," he said. "There are some things that we just can't, today, get non-GMO."
In the meantime, Chipotle became the first major restaurant chain to reveal which of its products contain GMO ingredients -- mostly soybean oil, corn flour and cornstarch.
"I don't know that I can say today that we have no soybean oil, but very shortly, in weeks, we will have none," he said. "It will not be long before a Chipotle is GMO-free."
Independence from McDonald's also allowed Ells to recruit Denver attorney Monty Moran, a friend from his high school and college, as the company's co-CEO. He tasked Moran with overhauling the chain's attitude toward human resources. Together, they came up with a list of 13 "characteristics" that managers should look for in potential employees.
"We can teach people how to run a Chipotle," Ells said. "[But] you can't teach someone how to be polite and hospitable and high-energy and smart and ambitious and curious and happy and respectful and honest and presentable and conscientious and motivated and infectiously enthusiastic."
Moran also masterminded what Ells calls "the restaurateur program," which gives crewmembers the chance to rise quickly through the ranks of the company. Although the average starting salary for employees is $18,235 a year, not much higher than minimum wage, a "restaurateur" -- what most other chains would call a "manager" -- can make a six-figure salary. Ninety-seven percent of Chipotle's "restaurateurs" started as crewmembers, and they can rise further still. Chipotle recently promoted two former hourly employees, Gretchen Selfridge and Mike Duffy, to chief operations officers, right at the top of the company.
Chipotle's expansion has not been completely seamless. The chain has been criticized for serving high-calorie food and for hiring workers without proper documentation. Its normally formidable stock took a tumble last fall when bigshot investor David Einhorn suggested Taco Bell was outperforming its Denver-based rival. And customers have taken umbrage at the chain for using bacon in its pinto beans and for failing to disclose its use of GMO ingredients throughout the menu earlier than it did.
As Chipotle navigated its way through the challenges, Ells started to believe that the chain's success could be duplicated in cuisines other than Mexican. In September 2011, the company launched a spinoff chain called Shophouse in Washington, D.C.; it serves Southeast Asian food in a format much like Chipotle, using similarly wholesome ingredients. A second location opened in Hollywood, Calif., just a few weeks ago.
Ells said his team will likely open several more locations in Los Angeles and Washington before moving on to other cities. He also hinted that the company would someday open even more types of chains featuring even more cuisines.
For the moment, Chipotle's focus is on the past. The chain is celebrating its 20th anniversary with a complex online trivia contest called Adventurrito; 380 winners will receive free burritos for a year, and 20 will get the grand prize of free burritos for 20 years. Ells himself is taking a more sober tack toward the anniversary.
"When you ask me, how do you celebrate the 20th ... I mean, I guess the best way is just to reflect on how Chipotle has the ability to completely transform fast food," he said.
"The kind of food that we all as Americans eat. And turn it from something that was considered not so good into something that really is nourishing on so many levels."
Support HuffPost
The Stakes Have Never Been Higher
Related
Before You Go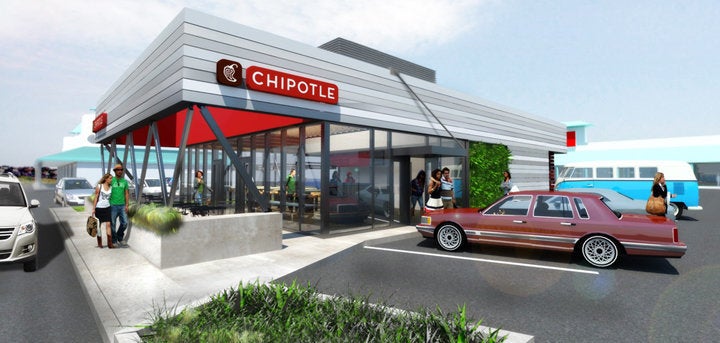 Chipotle's Influence
Popular in the Community