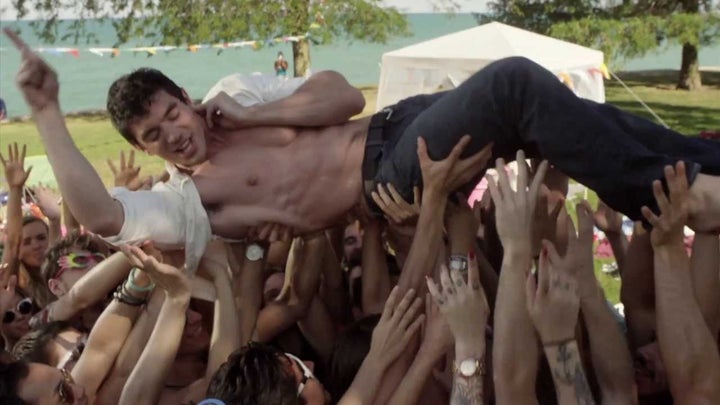 In 2013 Steve Grand took the media by storm releasing a self-written, country inspired tune All American Boy about a young man in love with a heterosexual male friend. The video went viral and landed him appearances on Good Morning America, and Larry King Live among other outlets. Despite considering himself an activist who performs at a number of politically oriented events, he eschewed political chatter when we agreed to speak. However, his love life and his religious upbringing weren't totally off the table.
Reggie Cameron: Are you currently dating or seeing anyone significant?
Reggie Cameron: Are you still based in Chicago? 
Yes I am. I live in the suburbs but I am in the city often. I like coming home to the quiet. I love having space to move and breathe in and I like driving through the streets without traffic!
Steve Grand: I really do love Palm Springs. I love the people and the laid back feeling of the town as well as the warm, dry weather. I'm hoping to get a day or so by the pool to relax and visit some folks out there. Chances are you will see me wandering around town. Alone. I'm known to do things like that. :)
Reggie Cameron: You aren't really a country recording artist, although that was obviously an influence in your hit All American Boy. What other artists have inspired you?
Steve Grand: I'm a huge Beatles fan. John Lennon is one of my biggest influences. I think the Beatles are so amazing because they span the whole spectrum of human emotion. There are so many of their songs that I appreciate.
Reggie Cameron: What should we expect from your upcoming performance?
Steve Grand: After every one of these shows I do, I get quite a few folks that come up and say "I knew you sang and stuff, but I didn't know you could sing and play like THAT." So yes, I am quite the piano man and entertainer. People should expect really nice renditions of some classics, some current favorites, and some songs off my album All-American Boy. Also, I'm kind of a big awkward goof-ball on stage. I love getting personal and quirky with my audience and getting everyone to relax. :)
Steve Grand: I no longer consider myself a practicing Catholic, or even a person of faith for that matter. Frankly, I don't know where I stand on the big questions of life after death and the presence of a higher power. At times I've felt it was very important for me to come to some conclusion on the matter, but that's not where I find myself today. I am okay with not knowing. I try to live a full life, rich in experiences and relationships. I also believe praying is a sort of meditation, and that focusing your energy, being present, and living in stillness, even for a few moments a day, has proven to be beneficial on many levels.
See Steve Grand perform live in Palm Springs on October 28th at  Center Stage 2016, a fundraiser for the LGBTQ Community Center of the Desert. Each year, the organization logs more than 45,000 visits as folks come to meet and make connections, find support systems and to take advantage of their many resources. For more information about the organization and its' new home, click here.
Calling all HuffPost superfans!
Sign up for membership to become a founding member and help shape HuffPost's next chapter