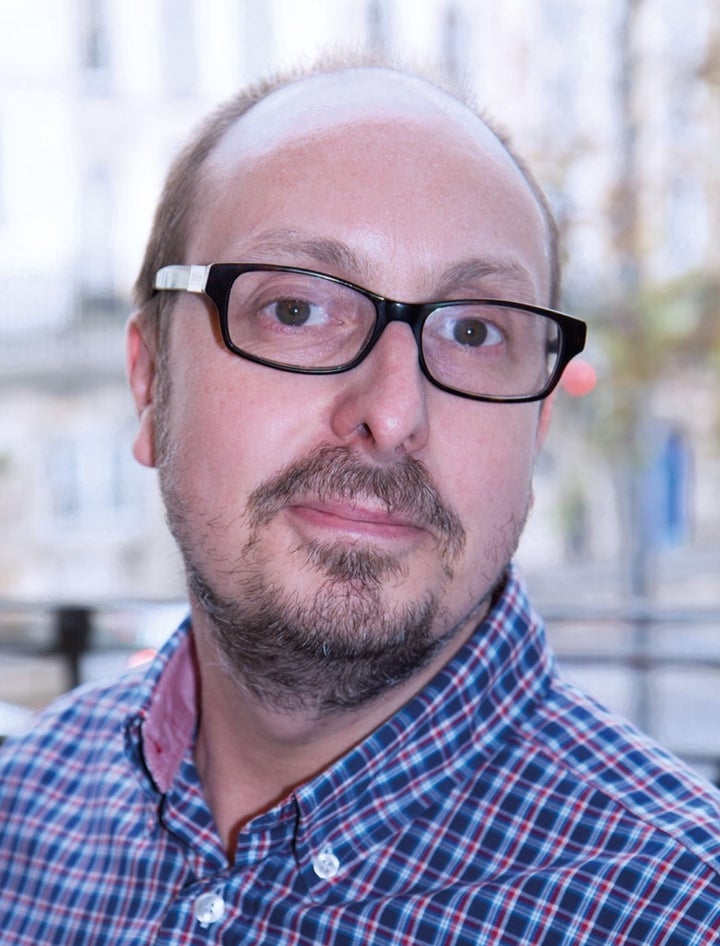 Steve Harnell "Eighties, Electronic and Eclectic"
Steve Harnell is the masterful Editor of the British publication Classic Pop, an aesthetically exquisite presentation in print, celebrating pop music at its best.
Classic Pop is out on the stands every month and published by Anthem Publishing, Britain's fastest rising and spirited publishers. The magazine was founded five years ago and shares interviews, articles, news and current updates of some of the most influential music artists and bands in the world. The magazine especially focuses upon pop, synth-pop, New Romantic, ska and indie pop. Many of the prominent artists that are highlighted in Classic Pop are still relevant, still recording and still touring. Recently, there have been features on artists including A-ha, Bananarama, Depeche Mode, Belinda Carlisle and Adam Ant, to mention a few, as well as special editions on David Bowie, Prince, Michael Jackson, Abba, Stevie Wonder, Madonna, Paul McCartney and Elton John. The magazine is expertly designed with bursts of color, expressive pictures, and dramatic content, a reminder of the explosive glam of the music of the 80s.
Over the past 20 years, Steve Harnell has written for daily newspapers including the Bristol Evening Post and Western Daily Press. His career in music journalism during this time has seen him undertake countless interviews, concert reviews and album reviews. His love for music brought him to Classic Pop in the summer of 2016, where as Editor he oversees the commissioning of content and the daily running of the magazine and its social media. I spoke with Steve about some of his vast interviewing experiences and the behind the scenes of Classic Pop, as well as special upcoming events sponsored by the magazine. I found him to be very knowledgeable on the subject of music, and most importantly he reminded me that the readers of Classic Pop are already hardcore fans of the artists featured. Therefore, Classic Pop is responsible for gathering unknown facts about the artist as well as the actuality of the artist's current situation...
How did you become the Editor of Classic Pop Magazine?
When the job came up 18 months ago, I found out about it via a friend, Gary Walker, who is now the Editor of Classic Pop's sister magazine Long Live Vinyl – we'd previously worked together in daily newspapers. We both went into magazines after that and kept in touch. He knew what a big music fan I was and put my name forward when the vacancy arose. I'd done a whole host of music journalism as part of my time on the Evening Post in Bristol, which is a daily newspaper here. Lots of interviews, features and reviews, that kind of thing.
So you were a writer before Classic Pop?
As well as being a sub-editor and production editor on newspapers and magazines, my music journalism stretches back the best part of 20 years.
Who was the most fun person that stands out in your mind that you have ever interviewed?
I've just interviewed Shaun Ryder from the Happy Mondays who was fantastic. He's a big hero of mine. Ian Brown of the Stone Roses as well. I spoke to Belinda Carlisle a few months ago, and she was great fun. While working in daily newspapers I often talked to some of the classic rock kind of guys, too. I spoke to Rick Wakeman from Yes, many years ago. He was great fun – amazing anecdotes, so many stories, everything he said was a pull quote. What made me laugh in particular with Rick was that he had a section on his website specifically for journalists. I don't know if he still has it but it said, 'if you guys want me to trot out the old stories, about eating curry on stage with Yes, or wearing capes, or whatever it might be, do me a favor, I've done that for so many years just cut and paste all these quotes off my website and put them into your story. I'll be fine with that. Just ask me something new so I don't have to trot out the old stuff.' I thought that was kind of cool really.
All of these artists who have been making music since the 70s and 80s must be so sick of answering the same questions over and over again for the last 30/40 years.
Well that's often the tricky part with an interview. It depends what magazine or title you're working for, though. If you're writing for a daily paper you might have to be quite general about the topics you talk about because not all of your readers will be particularly familiar with the ins and outs of an artist's career. However, Classic Pop is a specialist magazine. Our readers often know a great deal about the artists that we interview. You want to get some of the great old stories out to them otherwise that's a bit of a missed opportunity but you also want to get something new out of them, too. So that's what we try to do with the magazine. We'll talk about somebody's career, but we also want to find out what they're up to right now, and bring the story up to date.
Tell us about the magazine, when it comes out and what you look for in an editorial and such?
We've been around for five years now and publish our magazine every month. Essentially our core audience and core musical strand is 80's music. We like a lot of synth-pop. Our tagline on the front is "Eighties, Electronic and Eclectic". That 'eclectic' word gives me a bit of wriggle room sometimes if I want to get something a little bit unusual into the magazine. But our core is 80's music. It's accessible music, chart music. This year our jobs have been made really easy because there has been such a lot of 80's acts that have come out with almost career-best albums, and fantastic live shows, too. We want to be a champion for those kind of artists anyway, but when they release an album that you can really, properly get behind and say, "this is fantastic", it makes our job a hell of a sight easier.
As a music journalist myself, I totally agree.
This year, for example, we had Depeche Mode on the cover, they've come out with a superb record. There is a great Alison Moyet album that's been out for a while, too. One of my personal favorites, Nick Heyward, also just released a wonderful album, Woodland Echoes.
I interviewed him around three weeks ago, he's a fantastic person.
Nick's album is such a beautiful open hearted and optimistic record. I thought it was superb, great songcraft. It reminds me of The Beatles, Big Star and Teenage Fanclub. Just really great melodic summery songwriting. We are really delighted to get behind that and give it a good push.
I've noticed that you have some events coming up?
We've got an event next March – our PopMaster Quiz. There is a regular pop quiz each weekday on BBC Radio 2 and we've worked in conjunction with the DJ, Ken Bruce, who hosts the show and Phil Swern who sets the questions, to stage our own live event. We staged one in the Spring of this year, and it was a big success. So we're doing the second one next March. We're looking forward to that. With our guitar magazine at Anthem, we also run events, too. There's lots of stuff happening. It's a busy time.
What do find most challenging being editor for Classic Pop?
Music's quite a fast moving area, and we have a lot to do to produce the magazine each month. It's a very exciting environment. Our social media channels are very popular and there are lots of music stories breaking all the time – people are putting out previews of records and live streams of things constantly. We live tweet. If something takes my fancy, I'll do a little live tweeting session or whatever it might be. We've got special editions that we do, and we also have the regular magazine, of course. It's just spinning all those plates I guess, and not missing any major breaking news stories. The big pressure is really finding great cover stars and getting the big-hitter interviews that you want. I think we've done well in that regard. The music magazine marketplace in the U.K. is very competitive. There's quite a few, so we're all after the same people. Hopefully, as a champion of our era, the artists that we work with know that we're on their side. We're passionate about the music that we support.
I think it's one of the best magazines out there, and you do a magnificent job putting it out. It's one of my favorites.
Who is your favorite idol?
I'd have to say Bernard Sumner from New Order, my favorite band. Depeche Mode are heroes of mine, too, and The Stone Roses. My music tastes are pretty eclectic and go beyond the parameters of the magazine.
By any chance are you a musician?
I'm a bedroom guitarist. I've never made it out of those four walls, and I don't know whether that's live music's loss or gain. Who knows?
Is there anything that you would like to talk about that we haven't covered thus far? Something that perhaps would be beneficial to add to this article?
Well, there's something I've recently written about in my Editor's letter. I was reading about it a couple of weeks ago, it's called the 'Reminiscence Bump'. Now I don't spend a lot of my time reading psychological reports but I recently heard something interesting that's very pertinent to our magazine. Psychologists argue that most people have a very strong relationship with the music of their teenage years. So even though I've now gone on to love all kinds of bands, I have a very strong connection with those that I became familiar with in the late-80s and early-90s. That period in our life is when we might be leaving home for the first time, going to college, or making massive life decisions. We then ascribe all kinds of positive relationships with the music of that time. It works with books and movies, too. I just thought it was interesting that I still go back to those artists from that time. I'm not a particularly nostalgic person but I still keep going back to it, again and again. I think a lot of our readers find the same thing. They've got a very positive nostalgic relationship with that stuff, and that might be from the early-80's, early synth-pop stuff, Gary Numan, or New Order, or it might be Duran Duran or Spandau Ballet, or the New Romantic bands, Culture Club, whatever it might be. I always knew that I keep going back to that stuff, and it clarified for me why I do it. A lot of our readers are in that age bracket, the late 30s to 40s, that would tie in with them really liking that kind of music from that era. The appliance of science as they say...
That's an interesting theory and I tend to think that might really be true. I myself who have interviewed so many people, always enjoy speaking with the people and bands from the era best.
One of our other core principles of the magazine is that we want to blow out of the water this idea of 'guilty pleasures'. It's complete nonsense. I think some people can be a bit snooty about what they consider to be pop music. The Beatles are pop music for God's sake, and they're clearly the greatest thing that's ever happened to popular culture. In Classic Pop, we treat the Duran Durans and Culture Clubs of this world the same way that say Rolling Stone magazine would treat Thom Yorke. I think it's absolutely fitting to do it that way.
Bands in the 70s, they had serious music journalism like Rolling Stone or the NME and Melody Maker. In the 80s in the UK there was a very irreverent music magazine called Smash Hits. It kind of reinvented music journalism to a certain extent – it was frothy and fun. But some of these musicians that were huge in the 80s – I'm talking about top-selling chart acts who were shifting 10 million records – they never got taken as seriously as their predecessors and some great stories of theirs have slipped through the net.
In terms of our interviewees and featured artists, because of the way my mind works as a journalist, I'm interested in their back story as it provides context, but I also want to know what they are doing today. That to me is essential.
As I said before with a lot of these artists coming back with really fantastic records we've got something really good to talk about in the here and now as well, which is brilliant. There is a lot of good live music stuff this year. We've got the mixture of the nostalgia tours that happen. Then you've got people like Tears for Fears coming back again now and releasing new stuff, too. There's lots going on.
Yeah, Mike Garson and Adrian Belew are doing a Bowie tour right now.
That's a perfect example. We interviewed Mike Garson, Bowie's pianist, a couple of issues ago. We also did a piece with Woody Woodmansey and Tony Visconti. They're touring as Holy Holy at the moment, and they are playing Bowie stuff, too. So they are keeping the torch burning for Bowie fans around the country. There is so much good stuff around Bowie. He's a huge musical figure in this country.
Here in the States as well.
It took a while for the States to catch on to Bowie in a big way, though. I think it was only after Let's Dance where he became a worldwide figure. They've all gone back to the Ziggy Stardust years and the Berlin years, and all of that material. With Let's Dance he did a super-commercial album with Nile Rodgers that made him huge. He became a legend by making Let's Dance. He literally did everything. Every genre... it goes without saying that he was one of the world's absolute greatest. Bowie's a perfect example of the kind of artist who we hold dear at Classic Pop – fearless, experimental and hugely entertaining.
Related
Popular in the Community