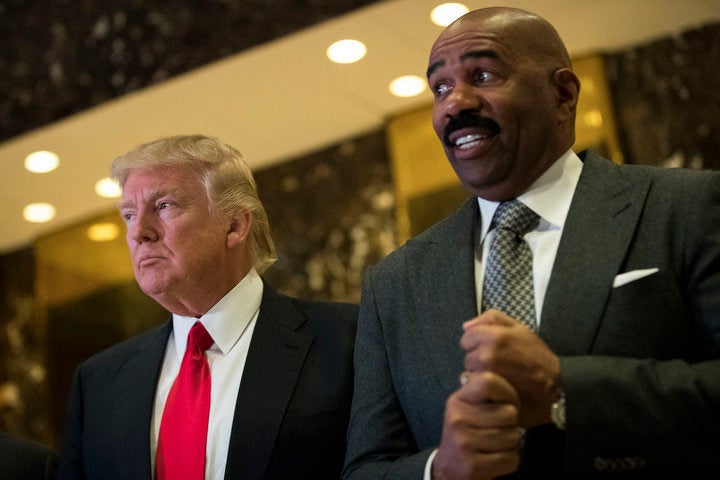 Comedian Steve Harvey met with President-Elect Donald Trump Friday to discuss urban development and problems faced by inner cities. 
"I was invited here by both transition teams [Obama's and Trump's] and it was a really cool meeting," Harvey, host of "Family Feud," told reporters in the lobby of Trump Tower in Manhattan. "He introduced me to Ben Carson. ... We're gonna team up and see if we can bring about some positive change in the inner cities, which I felt was my only agenda, and he agreed. And he wants to do something, and he realized that he needs some allies in that department, and he seemed really sincere about it."
Harvey later tweeted that Trump was "congenial and sincere" and seemed like he "genuinely wants to make a difference in this area."
Trump tapped Carson to lead the Department of Housing and Urban Development last month. Detroit, where Carson is from, and Chicago are two of the cities they will focus on. 
Harvey said he was grateful to contribute to the conversation, even though he is outside the political realm. 
"It's not my jump into politics. I ain't gonna pass a background check," he joked. "It's just me following orders from my friend, President Obama, who said, 'You gotta get off from behind your computers, stop tweeting and texting, and get out there and talk.' I did what I was supposed to do. That's the only way we're going to unify our country. ... I have a responsibility for the community that I service to try to be a voice." 
Harvey was clear about his political stance during the 2016 presidential election, and he was not in Trump's camp. While he admitted finding Trump "entertaining," he scoffed at the idea of him winning the presidency. 
"If Donald Trump becomes president, then I'm running," Harvey told The Daily Beast in February. "Because then, obviously, background checks have gone out the window. How do you let a dude who was on the cover of Playboy magazine and has been married 18 times be your president? Now come on. Hell, then I qualify."
Harvey won't be attending the inauguration ceremony next week. It's on his 60th birthday. 
REAL LIFE. REAL NEWS. REAL VOICES.
Help us tell more of the stories that matter from voices that too often remain unheard.
BEFORE YOU GO
PHOTO GALLERY
Donald Trump Over The Years