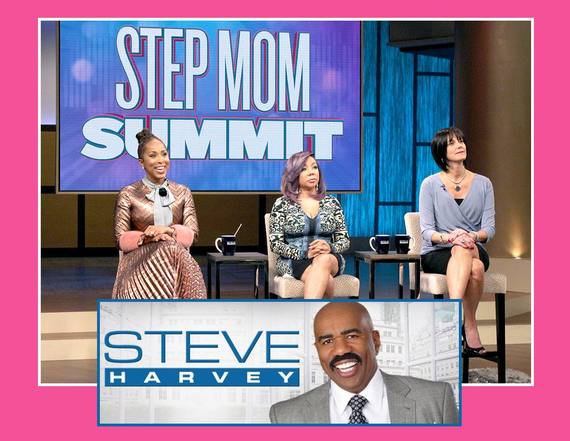 Steve Harvey made the kind of mistake that is the stuff of nightmares. He announced the wrong name of the winner of the Miss Universe pageant. While the non-winner took the infamous walk down the runway with tears of joy streaming down her face, Steve Harvey had to admit he made a very big mistake. The world watched as the crown was swiftly snatched off the unlucky contestant and placed on its rightful owner. Ouch!
The news and social media weren't so kind to Steve Harvey after his big blooper. He is, simply put, human. Despite continual apologies and mea culpas to all, the criticism was relentless. Judgments were made carelessly and harshly. Such is the world of public life. Steve Harvey may not have realized it at the time, but he had more in common with stepmoms than he ever imagined.
Stepmoms, pariahs to many, experience unfair judgments and criticisms from the time they say, "I do" (and often before). If they try to stick up for themselves, as Harvey did, it falls on deaf ears or they just sound defensive.
Recently, Steve Harvey did something very right. Harvey hosts a popular daytime TV show, The Steve Harvey Show. One of the shows that aired was devoted to the unique challenges experienced by stepmothers - "It's The Stepmom Summit!".
Harvey started the show off by saying, "If you're a woman who's dating or married to a man who comes with kids, it can be difficult to maneuver the challenges to navigate your role in a child's life."
His audience was filled with stepmoms who said their role "wasn't easy." That's an understatement. There's a 62-74% divorce rate in remarriage with children. I've specialized in working with step couples and stepmoms for over 15 years. The number one thing I hear when first working with them is, "I/we had no idea it would be this hard."
Harvey had a panel of three stepmoms: his wife, Marjorie Harvey, R&B singer/songwriter Tameka "Tiny" Harris and founder of Stepmom Magazine, Brenda Ockun who were there to offer their sage advice.
The women in Harvey's audience had been polled and revealed their top three stepmom challenges (among many):
1. Disciplining the children.
2. Battles with the biological mom.
3. Despite their best intentions, they still ended up being turned into the "evil stepmother."
The panel was asked questions by the audience and each panelist gave their opinions based on their experiences as stepmothers. In Ms. Ockun's experience, she offered wisdom both as a stepmom and her interactions with thousands of on-line stepmom subscribers.
As many stepmoms have found out, disciplining children that aren't your own isn't typically welcomed. Plenty of kids look at this new non-biological outsider and think or say, "You're not my mother!" They've got a point. Those of us who are experts in the field don't encourage stepparents to parent kids that aren't theirs. This is confusing given the stepfamily language that implies that parenting is part of the job. This does not mean that stepmom doesn't have a voice in the family; it's imperative that she and her partner are the adult authorities in the home and they decide the house rules and the consequences that come along when they aren't followed. But it's wise to let the biological parent do the actual disciplining. It takes an average of 4-6 years for stepfamily members to even feel comfortable with one another so it's wise not to waltz into a new family and try to get kids to toe your line.
Battles with the ex are as old as time. Women aren't known to be especially kind to one another they're in competition with. This may sound like a sexist stereotypical statement but when 95% of the stepmoms I work with tell me that their partner's ex is "crazy", something's off. Mothers don't take too kindly to someone trying to raise their kids. This is tricky stuff when there are stepmoms who are helping with custodial care at least 50% of the time. It's important that there are privacy boundaries between the homes and the stepmom and her partner need to be a cohesive and strong team. When there's tension and hostility between the new wife and the ex, they don't need to be in communication with one another. Best to leave the parenting to the biological parent.
The "evil stepmother" myth is tenacious. It's a tough sell trying to convince those who aren't in stepfamilies that stepmoms are not inherently bad. Stepmoms are often looked at with suspicion, labeled as "home wreckers" and "gold diggers" despite most of them meeting their new partners after a divorce. I can't begin to emphasize how many stepmoms are uncomfortable going to their stepkid's school events because of the judgmental stares coming from women they've never even met.
One viewer summed up the experience of being a stepmom succinctly: "It can be extremely difficult to be a stepmother. She's often outnumbered, rejected and treated with intentional disrespect. She can feel isolated and her self-esteem can plummet. The key isn't for these women to gain approval from their stepchildren. It's learning to love and respect them. Not every family is going to 'blend'."
Steve Harvey may not realize how important his show was but it was groundbreaking.
There needs to be more shows like Steve Harvey's "It's The Stepmom Summit" that talk about and expose the unique challenges of stepfamily life and the good solutions that exist. 42% of adults have a step-relationship (stepparent, stepkid, step or half-sibling). Stepfamilies are quickly becoming the new family normal and it's about time someone was willing to shed some honest light on how tough being a stepmom can be.