He appeared to make another blunder in naming a winner ― this time in the costume category ― and was also accused of making an insensitive joke about Colombian drug cartels.
After announcing that Tafur had advanced to the Top 20, Tafur needled him about his infamous gaffe in 2015.
"Are you sure you read correctly?" she asked, later adding: "You're forgiven, don't worry."
To which Harvey replied: "You've forgiven me, the cartel has not." It was the second cartel jab the comedian made during the Fox-aired ceremony.
Viewers found the one-liner offensive.
"Steve, can I just say something. It's not Philippines. It's Malaysia," Sekhon said.
Harvey railed against the teleprompter, saying, "This is what they did to me back in 2015, playing me short like that."
But the pageant later revealed that neither Harvey nor the teleprompter was wrong. Miss Philippines had indeed won the costume category, but Miss Malaysia's presence onstage caused the mixup.
"As part of the broadcast, we also featured Miss Universe Malaysia Shweta Sekhon's national costume," a pageant "insider" told Deadline. "Miss Sekhon wasn't aware we'd be announcing Philippines first, so she jumped the gun when Mr. Harvey started with that news. Mr. Harvey made a joke of it, but no mistakes regarding the national costume winner were made by him, the prompter or production."
For the record, Miss South Africa Zozibini Tunzi was crowned Miss Universe.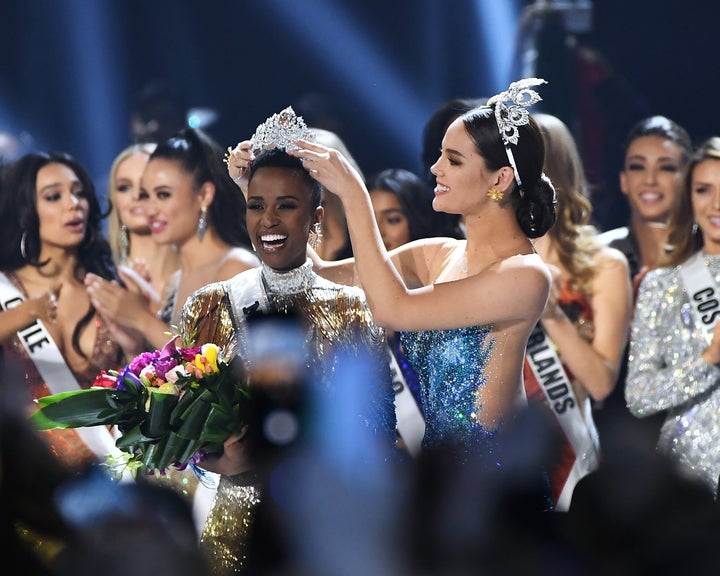 Popular in the Community