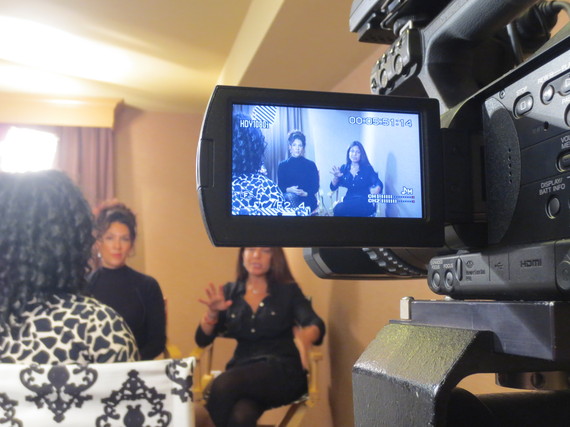 Ouch! Steve Harvey! That was one of the most awkward hosting moments I can remember in my career as a television producer and media trainer. Certainly, an awkward moment for all who watched. Awkward doesn't describe the confusion between Miss Colombia and Miss Philippines vying for the title of Miss Universe.
If this unforgettable career blunder can happen to seasoned Emmy Award-winning talk show host, Steve Harvey, where does the on camera skill set leave the rest of us? Oh, we think a blunder like that would never happen to the likes of us? I'm here to say, that we have more at stake for foot and mouth disease than Steve Harvey will suffer. We don't get the same amount of media opportunities to redeem ourselves in the public eye to their forgetfulness. If we are promoting and representing our message, our businesses, our point of view and our reputations, the standard for our performances runs high.
Just knowing the basics is instrumental in handling a television interview. While Steve Harvey was hosting an international live event, the guest interview will usually fall in one of the following categories:
BE PREPARED FOR THESE TYPE OF INTERVIEWS
It's exciting to know a producer has called to book you on TV, but do you know what type of interview you are participating in? There are four distinctive types of interviews to know about, without getting caught by surprise. Each type of interview has it's own distinct requirement in terms of your participation.
This is the most typical type of interview that you will see on Charlie Rose, Super Soul Sunday, and "on the couch" with your favorite morning show host. This type of recognizable interview is when a celebrity promotes their movie, you promote your book, or an expert discusses the most recent study. What defines a sit down interview is that it is an in person, in studio, interview with a host facilitating the discussion.
It is not to be confused with a Diane Sawyer 20/20 interview or a Barbara Walters interview which looks like a sit down, in studio interview, but is actually an ENG Interview. (See below for ENG definition). A sit down Interview is often live, if not live to tape. A live to tape interview is treated like it is live, but it is actually pre-recorded; however, no post production/editing will be applied to the show, except for rare instances. And almost never because or for the guest expert's comments which is why you need to mean what you say, say what you mean.
DEMO is short for demonstration. We recognize these segments as cooking segments, fashion segments, beauty product, or techno-gadget segments. Demo segments can be in studio or remote ie. in someone's home kitchen.
Reminder, do not confuse a demo segment with your need to have a demo reel!
We recently sent an expert out to do a demo segment. Since we are in the Los Angeles TV market, we often send people to smaller markets when they are new to being on television. In this case, the booking was in Northern California. We booked the client to do a demo segment on weeds in your backyard that make a great salad. As we pitched it to the producer, it was with the idea we'd show the weeds in a big demo fashion -- and then, what the weeds would look like when you make up a salad.
The client didn't return our pre-production calls with confidence that she had it covered. We all know this spells trouble. We received her email that she had spoken to the producer the night before for her pre-interview, and that the producer said that bringing a salad was not necessary. This was because the client had no props other than a few weeds. When we watched the show live, the DEMO segment had been reduced to a sit down Interview, losing my client the opportunity for a really good DEMO segment that would have placed her on other like-minded television shows ie. Rachael Ray, etc.
This is the type of box interview you see on Breaking News stories on CNN, HLN, Fox News Channel - where they are talking to an expert that is on location via satellite.
More and more of these interviews are being conducted via SKYPE. The quality of a SKYPE interview is never as clean visually as a satellite interview, but they are much cheaper and immediate. Having booked thousands of Guest Experts on television, being on TV in a SKYPE interview is never an excuse for a guest expert to allow for poor quality, uneven picture, and/or bad lighting. A trained guestpert or trained guest expert will know how to level their SKYPE shot with the size of the host on the set. A trained guestpert will know how to look into the eye of the computer camera and NOT at their computer screen.
While discussing satellite interviews, which I think are the most masterful interviews because very often, you do NOT have real time feedback of personal facial expressions. During a satellite interview, you are often staring directly into a camera with a feedback line in your ear, in an empty room by yourself -- which means, don't look away from the camera. Don't make funny facial expressions. You may not know when you are on a hot camera.
Finally, the ENG or field interview. Is this type of interview, it usually does not take place in a studio. If it does take place in a studio, it's usually in the likeness of a studio, but it has added features such as b-roll, or host narrative and has been edited through post production which means that your primary interview and what you say, will be chosen after you have been taped. This leaves the guest expert very little control over the final product. Again, this is why, what does come out of your mouth, matters, as you won't have the opportunity to take it back.
According to life coach Lisa Haisha, "Having done dozens of in studio sit down interviews, I managed through the brutal 5 minutes in the hot seat with 20/20's field interview representing my client's reputation due to simply being prepared for this style of interview."
And yes, if you are wondering, you can have a combo interview such as a DEMO INTERVIEW in the FIELD.
REAL LIFE. REAL NEWS. REAL VOICES.
Help us tell more of the stories that matter from voices that too often remain unheard.