Steve Harvey is making it clear: There's no feud in his family.
The "Family Feud" host attended Invest Fest 2023 in Atlanta on Sunday and told the crowd he's "fine" after rumors on X, the platform formerly known as Twitter, suggested his wife, Marjorie Harvey, cheated on him — with their chef and bodyguard.
"Before I get started, just let me say I'm fine," said Steve Harvey in footage from the event on TikTok. "Marjorie's fine. I don't know what y'all doing, but find something else to do, 'cause we fine. Lord have mercy. I sure wish I could cuss, though. Sometimes you just wanna respond."
"But I ain't got no time for rumor and gossip," he added.
The game show host and his wife reportedly first met at a comedy club in 1990 and briefly dated. They later reconnected and tied the knot in 2007. Steve Harvey adopted Marjorie Harvey's three children from previous partners, and blended her family with his own, which included four kids from two previous marriages.
"My husband and I don't usually stop to address all the foolishness and lies that have been spread about us," Marjorie Harvey wrote Sunday on Instagram. "However, to whom much is given much is required. I understand that with my platform comes some sort of responsibility."
Marjorie Harvey suggested whoever started the rumors "may not be as strong" as her or her husband — before cheekily linking to an article on a Christian website titled "How to Handle Being Lied About."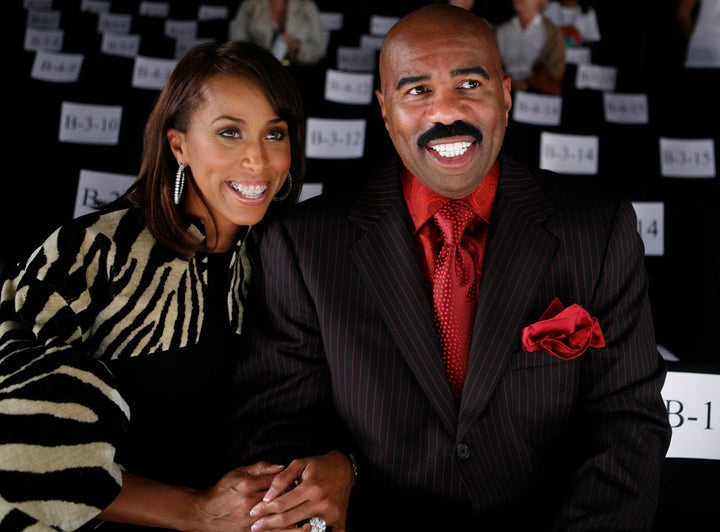 Steve Harvey himself has been accused of cheating.
His ex-wife Mary Shackelford claimed in 2011 that he cheated on her during their marriage and ultimately left her with nothing in the divorce. According to the Los Angeles Times, Shackelford received three houses after their 2005 split, $1.5 million and a monthly allowance of $40,000, per court documents.
If their previous feelings stand firm, however, the couple seems happy to stay together.
"Marjorie changed the way I existed. I'd never been in a healthy adult relationship," the "Family Feud" host told People in 2012. Marjorie Harvey added: "We're best friends. It's the first time either of us has had someone we can talk to about anything."
Support HuffPost
The Stakes Have Never Been Higher
Popular in the Community