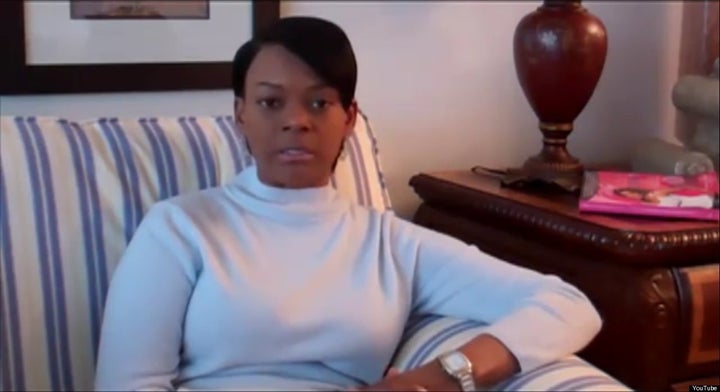 In a series of YouTube videos posted online this weekend, Steve Harvey's ex-wife Mary chronicles the demise of her marriage and ruthless divorce.
She alleges that the famed comedian and author cheated on her throughout their marriage and left her with nothing after their divorce.
"He turned my son against me, had me evicted me from our house, I was thrown out...he manipulated the courts, everything against me," she says. "I woke up everything was gone."
Despite constant clues that Harvey had been cheating throughout their marriage, including letters and phone calls sent by mistresses to their home, Mary claims she stayed in the relationship as long as she could for the benefit of her family.

"What made me stay was that Steve was my second husband and in my opinion, he was going to be my second and last," she says. "I love my family, I worked for my family, my family was my support, my foundation. I wanted a family for my son, something that I never had."
The couple divorced in 2005. Two years later, Steve Harvey married Marjorie Bridges, whom Mary alleges was involved with her husband during their marriage.
A book she read entitled "Why Do I Have To Think Like A Man" inspired Mary's outburst, in addition to recent a magazine article (Essence's January 11 Steve Harvey cover story) and lawsuit filed against her.
"To keep seeing my name referenced when talking about his life, that part of it, I don't understand," she says.
She also claims that Steve is suing her in Texas because Oprah did not give him a TV show, which--in his opinion--is her fault.
"As much as I'm trying to move forward I keep being pulled back into a situation that I don't want to be apart of. That is why I have to deal with this right now," she says.
In response, a statement from Steve Harvey's attorney says: "We are appalled and aware of the videos and other fabricated documents ... which contained false, misleading, derogatory, disparaging, malicious, explicit and slanderous information about Mr. Harvey, his current wife and others."
"We are saddened that the ex-wife has resorted to such devious and selfish behavior, with a reckless disregard for their minor son, her adult son and Mr. Harvey's other children," the statement adds.