STEVE JOBS: A Film Review by Dr. Lloyd Sederer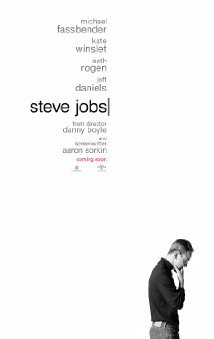 In the closing scene of what must be one of the more underrated films in a long time Steve Jobs steps onto the stage of the Flint Center in famed Cupertino, California. It is the launch of the iMac and his daughter Lisa, then 19, stands in the wings. We are not just witnessing their reconciliation after long and testy battles portrayed throughout the film, we are witnessing the dawn of a revolution that has changed the world.

Steve Jobs is not your everyday biopic. If you want one of the best (and bestselling) biographies of all time, which happens to be about the life and impact of Steve Jobs, open in whatever form suits you Walter Isaacson's 2011 masterpiece. But don't go to this film expecting the usual cradle to whenever story. That would not fit its creators. The screenplay is by Aaron Sorkin of The West Wing, The Social Network, and Moneyball (who worked with Isaacson on the script) and it's directed by Danny Boyle of Slumdog Millionaire, 127 Hours, and Trainspotting. Sorkin is renowned for his dialogue and he delivers it in Steve Jobs in a restless, emotionally high pitched and spellbinding way. Boyle's skill in capturing relentless energy and full screen close-ups takes Sorkin's words to their visual apogee.
The structure of the film, Shakespearean in its grandeur and with its larger than life protagonist, is three acts. We are taken on a fictional tour behind the scenes in the moments before three Steve Jobs/Apple launches. The first was in 1984 and despite the arresting, apocalyptic Super Bowl ad that preceded that launch the Macintosh flopped. By then Jobs (Michael Fassbender, whose performance is as mesmerizing, complicated, heroic and hateful as was his subject) was a rich man from Apple 2; his full-of-himself persona had already exploded but he was yet to become a legend. Later, Jobs was to compare himself to Seiji Ozawa, who reportedly said while his musicians, as gifted as they are, play an instrument, he plays the orchestra.
Two characters rhetorically serve both to inform the history and do combat with the know-it-all Steve. Steve Wozniak (Seth Rogen) began with Jobs in their fabled garage and was the engineer who built the backbone of the technology that followed; Woz takes Steve on for his heartlessness. John Scully (Jeff Daniels from corporate titan in his prime to exiled ex-CEO of Pepsi and Apple) is the father figure that Steve toppled, but not before "dad" fired him, adding fuel to Jobs' indomitable determination to win - and prove himself right.
The second launch was for the NEXT Cube, the product that Jobs created with the company he built after his first tour at Apple. The Cube was never commercially viable and everyone knew it, but Jobs had other reasons to proceed. It took 9 years after the NEXT launch (and his also heading up Pixar, which is not covered in this film) before Jobs returned to Apple. Scully was fired when the company lost momentum and wanted from creativity; Jobs was later brought back to Apple to do the turnaround as its CEO. Vindication and a tad of revenge was served, and as has been said, best when cold.

Jobs' "work wife", his marketing director, for the 19 years covered in this film, is Joanna Hoffman (a composite character, since the actual Joanna was there for just four years) carrying an essential role in the narrative (an almost unrecognizable Kate Winslet, brilliantly playing this Eastern European Steve devotee who was no "yes" woman). Lisa's mother (she and Jobs were never married), is the flaky, hippy Chrisann Brennan (a tragic Katherine Waterston), who haunts him like the ghost of Christmas past. Lisa is played at ages 5, 9 and 19, by three super young actors but Perla Haney-Jardine, as the film concludes, has the great opportunity to be catalytic in Jobs' emergence from his chrysalis - so she has a solar shine.
Like a great play, the third act, the third launch is the moment history is made. Our world was about to be irrevocably changed, in ways that Steve Jobs imagined and executed upon, despite the pain he perpetrated on so many. Jobs is the Ozawa who has played the globe, not a mere orchestra. His string of extraordinary successes, any one of which would be storied, include: The personal computer that populates the laps and desks of billions of people; the smart phone that the preponderance of the earth's population carry never more than 3 feet from their cerebral cortex, serving to add vast capabilities for information, computing and communication to our repertoire; "1000 songs in your pocket" - the iPod; the iPad; and the company that carries on post-Steve creating new products like the Apple watch. We are on the trajectory he fashioned, and there is no going back.
I can't understand why this film has not had rave reviews, or made a mint at the box office. Maybe it needed Steve Jobs to have launched it?
..........
The opinions expressed here are solely my own as a psychiatrist and public health advocate. I receive no support from any pharmaceutical or device company.
My book for families who have a member with a mental illness is The Family Guide to Mental Health Care (Foreword by Glenn Close) -- is now available in paperback.
REAL LIFE. REAL NEWS. REAL VOICES.
Help us tell more of the stories that matter from voices that too often remain unheard.