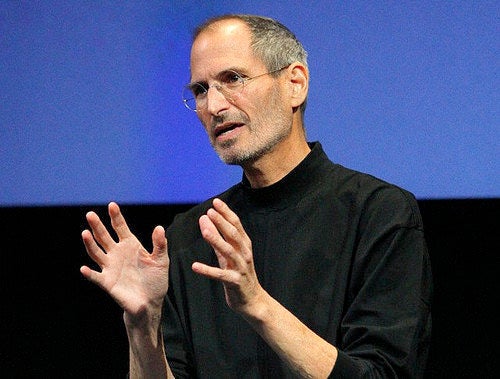 A Thai Buddhist movement answered the question"Where is Steve Jobs?" with their take on the Apple founder's journey in the afterlife.
The Bangkok Post reports that Phra Thepyanmahamuni, the abbot of the Wat Phra Dhammakaya, released and aired a sermon in response to an inquiry by Tony Tseung, a senior engineer at Apple's headquarters in Cupertino, California and follower of the order.
Tseung supposedly asked the abbot if he knew where Jobs' was and how he was doing in the afterlife. According to Asian Correspondent, Thepyanmahamuni responded:
"After Mr. Steve Jobs has passed away, he reincarnated as a divine being...His reincarnation is a "Thepphabhut Phumadeva [divinity] of middle rank – half a Witthayathorn, half yak" that lives in a parallel universe not very far away from where he was as a human."
Jobs is now apparently "half a Witthayathorn" - a term the abbot came up by himself – and, apparently because of his well-known temper, "half a yak" (not the animal), a giant demon that is mostly seen 'guarding' Buddhist temples in Thailand.
The abbot went on to describe Jobs' living space, neighbors, and even full detail of how Jobs' experienced his day to day afterlife.
"Concerning the living space of this new divine being: it is a very clean-cut, simple and middle-sized, six-story in height, which is built with silver metal and crystal in large quantities and that is not very far away from where he used to work in his human form. (…) Apart from that the new divine being has about 20 celestial servants at his service which comes from karma he obtained from charitable nature during his human form like donating money, objects and knowledge for others and society."
"Sometimes I believe in God, sometimes I don't. I think it's 50-50 maybe. But ever since I've had cancer, I've been thinking about it more. And I find myself believing a bit more. I kind of-- maybe it's 'cause I want to believe in an afterlife. That when you die, it doesn't just all disappear. The wisdom you've accumulated. Somehow it lives on....Yeah, but sometimes I think it's just like an on-off switch. Click and you're gone...And that's why I don't like putting on-off switches on Apple devices."
The Dhammakaya movement that aired Jobs' fate has been seen as a suspect group with its focus on raising funds and connections with royal family members, according to a book entitled New Buddhist Movements in Thailand. The Bangkok Post also reported the Dhammakaya has consistently been controversial due to its involvement in campaign donations and claims over producing miracles.
The temple is known to have millions of followers around the world, many of whom are powerful Thai politicians.
Popular in the Community