Steve Jobs has stepped up the pace of his email replies to customer queries, answering questions about everything from iPhone support to his liver transplant several years ago.
MacRumors has the latest alleged Steve Jobs email that hints at what the future holds for the iPad.
A MacRumors reader claims to have written to Jobs asking "Why no printing on the iPad?" to which the CEO reportedly replied, "It will come." (See screenshot of email below)
Like other purported Steve Jobs emails, the note is terse and sent from an Apple device.
Until the iPad gets printing, here's one solution to the problem of printing from the iPad.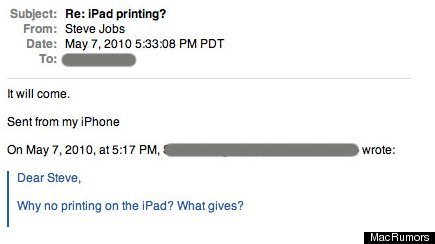 Popular in the Community