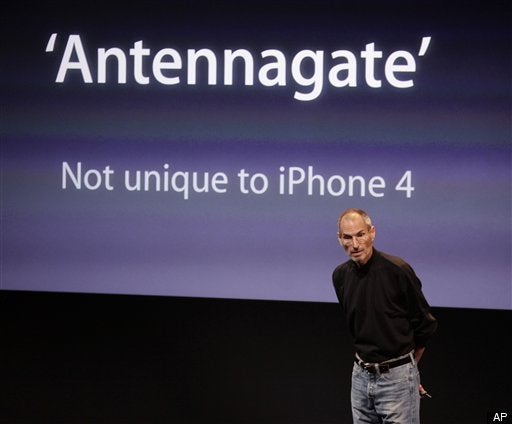 The iPhone 4 press conference, which aimed to address accusations that Apple's newest iPhone suffered from a "design defect" that caused it lose signal when handled in a certain way, has rankled and upset some, including Apple's main rivals and iPhone 4 owners.
Here's a rundown of some of the key quotes from Apple's press conference.
On the iPhone 4's problems:"You know, we're not perfect. We know that, you know that. And phones aren't perfect either."
On customer satisfaction: "[W]e want to make all of our users happy. If you don't know that about Apple, you don't know Apple. We love making our users happy."On smartphones' service issues:"[T]hat doesn't seem like a good thing if you can make the bars go down by touching the phone. Well, we first learned that this doesn't just happen to the iPhone, Nokia, Motorola... other phones have this issue. [...] It's a challenge for the whole industry. Every phone has weak spots."
On what's wrong with the iPhone 4: "[W]e had a reporting error -- we screwed up on our algorithm. Some of these other phones may be too generous. Our choice was to put the correct algorithm in. And we did that with the new update. [...] We haven't figured out a way around the laws of physics yet."
On Apple's ethos and work: "We love our users [...] We love to to surprise and delight them, and we work our asses off to make that happen [...] We do all this because we love our users, and when we fall short, which we do sometimes, we try harder, we pick ourselves up, we figure out what's wrong, and we try harder, and when we succeed they reward us by staying with us."On rumors that Steve Jobs had prior knowledge about antenna problems:"That's a crock, and we've challenged them to show proof that that."On what Apple's doing now:"Some people have wanted us to run a little faster. I don't think we could run any faster [he adds the company has added cots in parts of the engineering department.] I don't know how we could be working any harder to get to the real root cause of the matter."On his health:"I'm doing fine. I was doing better earlier in the week when I was on vacation in Hawaii."
Watch the video clip (below) to see a highlight from the conference. Then read our full coverage of the iPhone 4, including reviews, analysis, and news, here.
WATCH:
[via
]
Popular in the Community