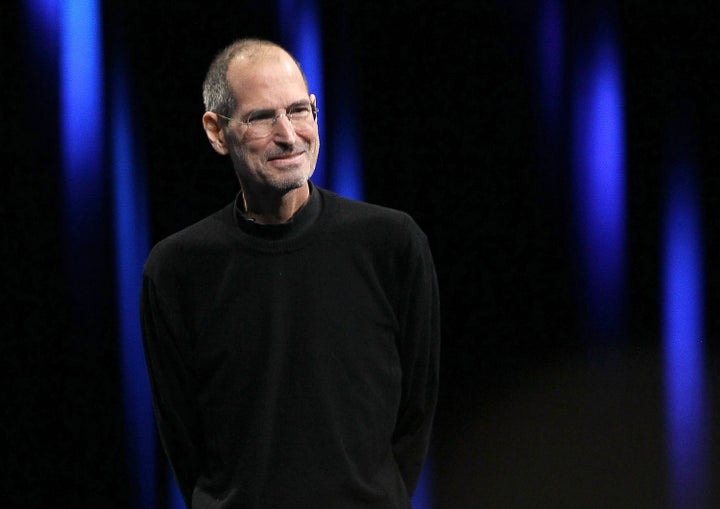 As the bombshell news about Steve Jobs' resignation broke on Wednesday night, it's fitting that millions around the world were reading it on their Macs, iPhones and iPads. The cheeky banner headline used by our Huffington Post colleagues -- iQuit -- spoke to the Apple CEO's stamp on pop culture lexicon and the technology world alike. Apple, which recently became the world's most valuable company, is clearly on solid footing, for now at least, with its seemingly endless streak of consumer technology hits and countless others already in the pipeline as successor Tim Cook takes over. But for many, it's a little tough to imagine the company without its black-turtleneck-and-jeans-clad visionary on the literal and proverbial stage.
Jobs, one of the world's most iconic entrepreneurs, co-founded Apple in 1976 at the age of 21 and helped take the personal computer mainstream. After a boom and bust that saw him virtually exiled from his own company, he returned as CEO in 1997 and took Apple from the verge of bankruptcy -- bankruptcy! -- to the global juggernaut that it is today. He changed the face of music with the iPod and iTunes, revolutionized the way we communicate with the iPhone and gave us a groundbreaking piece of technology we didn't even know we needed with the iPad. In an increasingly digital world he helped shepherd, he even re-invented the brick-and-mortar shopping experience. And don't forget a little venture called Pixar somewhere in that mix. The amount of news coverage that Apple and its visionary receive often borders on parody. Today, it's deserved.
With such sweeping impact, it's a little hard to put Jobs' legacy in perspective. You could probably describe his unique ability to anticipate trends, merge form with function and turn a cult following into a mainstream one as genius -- a term he so famously bestowed on his stores' tech support staffs -- and get away with it. But if anyone can help frame the contributions of an entrepreneur that even our own Richard Branson once told us is one of his role models, it's a group of fellow entrepreneurs. We asked our Board of Directors to share their thoughts.




Bob Parsons


Founder and CEO, The Go Daddy Group


"Steve Jobs has been such an effective evangelist for Apple. He helped bring that company back to prominence in dramatic fashion. His greatest creation is the culture at Apple. It's within that culture that Tim Cook, and the other hard-working and talented execs, have come into their own. That said, Cook is a excellent successor. With Tim and the other talented people at the helm, Apple will be just fine."




Jodie and Danielle Snyder


Co-Founders, DANNIJO


"As young entrepreneurs -- and maybe even more importantly, as designers -- we think Steve Jobs is the ultimate pioneer. His attention to detail and aesthetics, and his belief that elegance and functional design are paramount, are values that have fundamentally shaped a range of startups. Furthermore, we love that Steve was such an unlikely candidate to have fathered such a larger-than-life brand, one that has built such a cult following that people will proudly wait in line for days for his latest invention.

"His resignation is bittersweet, as his innovations will serve as prototypes for what's to come, and his legacy will undoubtedly live on. It's likely the Apple values at this point are deeply ingrained in the company's culture, and despite the sadness of his departure as CEO, Tim Cook is fit to take the reins, as he was handpicked by Steve himself."




Tate Chalk


Founder and CEO, Nfinity


"What an iconic CEO! We should all have so much focus and belief in what we know will work! He is definitely one of my business heroes. If he feels that he couldn't do the job that everyone counted on him to do, only he knows best. At the end of it all, it's JUST work. As for his health, I really hope this is nothing serious."
Jennifer Hill

Startup Advisory and Venture Lawyer, Gunderson Dettmer LLP


"Wow! Though it has been a long time coming, in some ways, the market is prepared for it. Jobs is a brilliant entrepreneur many times over. With this latest reinvention of Apple, he seems to have engineered innovation throughout the entire team such that his legacy of creativity, iconic and lust-worthy products, and beautifully simple usability will live on throughout the company long after his day-to-day leadership has ended. This time around, Apple will hopefully continue to grow and prosper beyond Jobs' visionary leadership."




Rieva Lesonsky


Founder and CEO, GrowBiz Media


"Without sounding like I know something I don't, this can't be good news. From a personal point of view, my thoughts and prayers are with Steve Jobs. From a business perspective, it certainly seems like Jobs and Apple have prepped for this moment. While the brand is in stellar shape (and there's no reason to think that will change anytime soon), this is an iconic moment. Jobs is the best illustration of the entrepreneurial life cycle I can think of huge success, dismal failure, a phoenix-like comeback and legendary status. He will be missed."




Warren Brown


Founder, CakeLove and Love Cafe


"I wish him the best of luck in managing his health. We have him to thank for leading the development of technology in the past decade. The fact that everyone is sad about his resignation is a testament to how much people care for him and respect the contribution he's made to our society."
Clint Greenleaf

Founder and CEO, Greenleaf Book Group


"Jobs was an iconic CEO. For all his faults, he was an awesome innovator and made our lives better. (If you haven't read his commencement speech at Stanford in 2005, you should.) Tim Cook will be good for the company and Apple will continue to be a top brand. But he will be missed."
Gary Whitehill

Founder, The Relentless Foundation and New York Entrepreneur Week


"The resignation of Steve Jobs marks the end of an era that was signified by a steadfast visionary entrepreneur who also encompassed the rare ability to drive granular execution. His accomplishments are nothing short of astonishing and he leaves behind a legacy few can be compared.

"Meanwhile, Apple as the business we know it today is toast. Without the visionary in the driver's seat, the ethos of Apple will slowly begin to wane under new leadership. If you're smart, buy as much Apple stock as you can possibly afford and start shorting it heavily in 10-12 months. Jobs legacy will live on for a short time and then fragment rapidly."




Lawrence Gelburd


Lecturer, The Wharton School


1) Martin Luther King Jr. said "Almost always, the creative dedicated minority has made the world better." Steve Jobs and Steve Wozniak made the world better. 2) GET A CHECKUP! Nothing is more important than health. Mayo Clinic oncologist Edward T. Creagan says, "Early detection for any condition, including cancer, results in most cases in a more favorable outcome than if the condition is not found." 3) "Be the change you want to be in the world" Wise words from Gandhi. 4) Have a succession plan in place. 5) Balance analysis with action and the personal with the professional. 6) Measure yourself and Steve Jobs as inspiration. WE CAN DO IT!




Phil Town


Investor and Author of Rule #1 and Payback Time


"I funded a company that built software for the NeXT Computer and I worked closely with Steve for a short time in a highly stressed environment. I can tell you this from personal experience: When it comes to design, he is a completely arrogant one-way son of a bitch who calls 'bullshit' on just about everything he sees, and there is no way in the world that Apple will be able to fill his shoes. A Steve Jobs is a rare gift to the world -- a fearless man with a great creative vision. God bless him and give him health. We need him in this world."
Support HuffPost
The Stakes Have Never Been Higher
Related
Popular in the Community