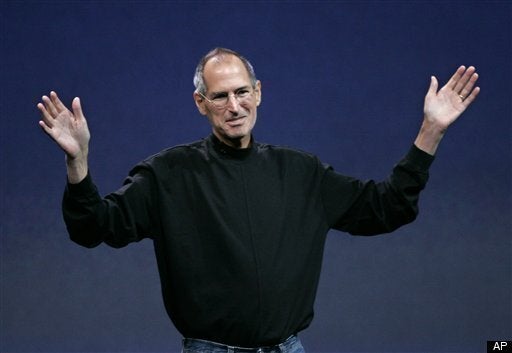 Yesterday, Apple CEO Steve Jobs announced he would be taking a medical leave of absence--his second in approximately one year--and shifting responsibility for day to day operations to Apple COO Tim Cook.
The question everyone is asking: What does this mean for Apple?
Here's a look at what people are saying about Jobs' leave, which is of unspecified duration:
Daring Fireball argues his absence will not have a major effect on the company: "Apple's been here before. Jobs missed most of 2009, and when he returned, it was a while before he got back to full time. The product cycle continued. Existing products were improved. New products were released. Future products progressed in development. Was it the same without him? No, of course not. Did the company function just fine? Yes. Jobs's leave of absence is cause for concern -- and for good thoughts and well-wishes. It is not cause for panic."
The New York Times notes that Apple has "a deep bench of leadership," but takes the stance that Jobs will be hardest to replace at "the negotiating table": "Mr. Jobs has sought to sway many through the strength of his personality, for instance, playing a direct role in persuading media companies to make their content available on Apple's products. That role is increasingly important, as Apple seeks to become an even bigger power in media distribution."
All Things Digital is optimistic that it will be business as usual at Apple: "In the end, Apple really didn't miss a beat the last time Jobs stepped away to focus on his health, despite all the hysterical speculation that it might. And it's not likely to this time, either-regardless of the open-ended nature of his leave and what some folks are describing as a 'less optimistic' tone in his message to employees."
TechCrunch believes Cook and Apple will be able to thrive despite Jobs' absence, though notes, "the wildcard is new products. While we're in a bit of a lull of rumors following the iPad unveiling last year, you can be sure that Apple has other things they've been dreaming up in the meantime. One I wouldn't bet against for a few years out, for example, is an actual television. For these types of things, Apple needs Jobs — until they can prove otherwise."
Apple is poised to announce Q1 results, but Business Insider and CNN Money predict Jobs' announcement will overshadow what is likely to be a very strong quarter. Apple's stock is "poised for 5% drop," says CNN Money.
Most pundits and analysts believe Apple's upcoming products--the next generation of Apple's iPhone and iPad are believed to be on the horizon--will be affected little by Jobs' absence. The Next Web speculates, "While the hand of Jobs is known to closely steer product development, his absence should have no real impact on their launch dates - both devices are likely to be well along their roadmap to release, especially the iPad 2 which is expected to be revealed within weeks."
How do you think Jobs' medical leave will affect Apple? Weigh in below.
Popular in the Community