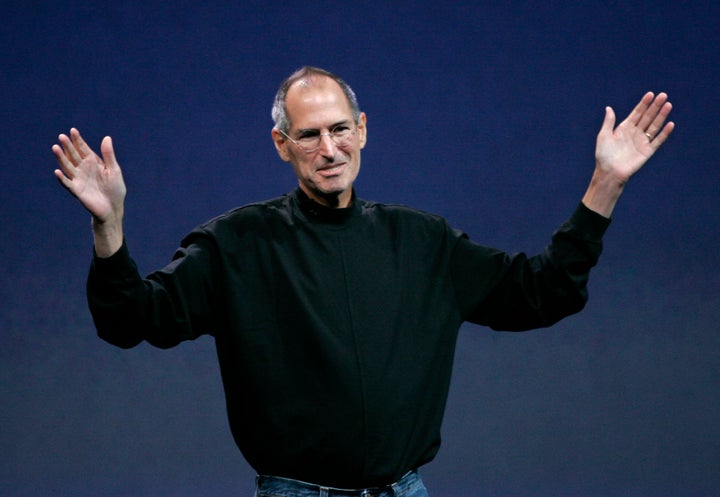 For years, people thought it couldn't be done. Previous generations would scoff at its very possibility. Virtually weightless, visually compelling and utterly cool, the latest release from Apple visionary Steve Jobs is ... an opera.
OK, Jobs didn't write it. But we wouldn't be in this predicament without him.
Truly, but strangely, a piece titled "The (R)evolution of Steve Jobs" is headed to the Santa Fe Opera in July, The Wall Street Journal reports. Songs that most certainly will not, but should, be featured include "Get Your Head Out Of The Cloud, Baby Steve,"  "iAm Steve, Steve iAm," and "LBT: Little Black Turtleneck."
If you, like us, are wondering what in the world a Steve Jobs opera would look like and why anyone would possibly make it, the minds behind the show are coming together to discuss the work's progress and process at The Guggenheim in New York City in April.
Composer Mason Bates, librettist Mark Campbell and director Kevin Newbury will discuss the "electro-acoustic," "non-linear," "impressionist" work, which, according to the opera's website, delves into Jobs' "spiritual evolution ... as he discovers the universe beyond technology within himself."
It stars baritone Edward Parks as Jobs and mezzo-soprano Sasha Cooke as his wife, Lauren Powell Jobs.
You might be thinking that the world doesn't need a Steve Jobs opera ― that the Walter Isaacson biography, Aaron Sorkin biopic and that other one with Ashton Kutcher would suffice. You, apparently, would be wrong. But these are pressing questions you can discuss with Bates, Campbell and Newbury on April 9 and 10 as part of The Guggenheim's Works & Process series.
If this is something that interests you, it is also something that exists. We'll leave it at that. 
BEFORE YOU GO
PHOTO GALLERY
11 Inspiring Quotes From Steve Jobs