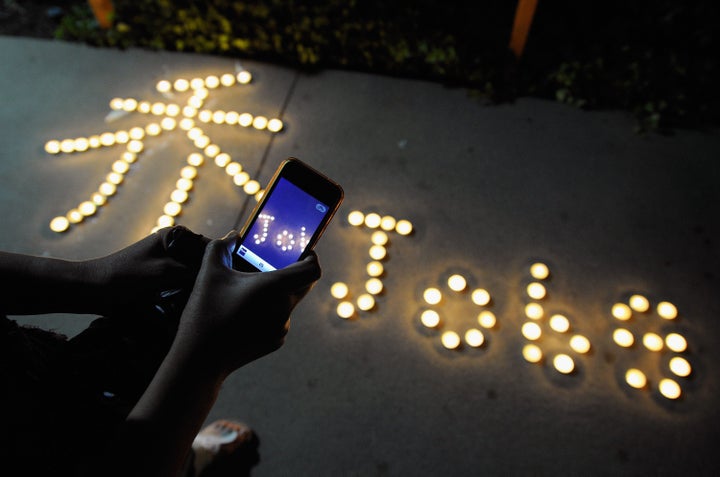 Since the news of Apple co-founder and tech pioneer Steve Jobs' death broke Wednesday evening, the Bay Area has been met with an outpouring of tributes, memorials, shared stories and collective sadness.
San Francisco's Dolores Park lit up with the glow of dozens of iPhones Wednesday night as local entrepreneurs and Apple fans staged a vigil for the luminary. "Come, turn up your brightness, and remember, together," an advertisement for the event read on Dolores Park's official Facebook page. "Consider it a celebration of innovation rather than of any one man."
"There was really nothing to say," said Mission resident Jordan Grader, who captured footage from the vigil on video. "Each day I carry the creative work of Steve Jobs in my pocket to connect to people I love, to create my business, to wake me up in the morning, and literally to find my way. Through these products we all have a relationship to Steve Jobs and each other." Local photographer Denise Collier also stopped by to document the scene.
A few miles away, outside the city's flagship Apple store in Union Square, mourners passed by to pay their respects throughout the night. By Thursday morning, the store's facade was covered in post-it notes bearing personal memories and tributes to Jobs, and a crowd of about 50 people deep still gathered outside.
The only promotional material left in the window was a display for the new MacBook Air—a silver laptop held aloft by a single balloon. While the folks outside snapped pictures on their iPhones, inside the store, things seemed more or less normal. Teenagers shopped for iPods with their parents; a smattering of people sat attentively watching a black-shirted employee give a demonstration about using iMovie; a line of people waited patiently at the Genius Bar. The mood inside was dampened from its normal consumerist frenzy; but like the company itself, life inside the Apple store continued essentially as normal.
Down at company headquarters in Cupertino, Apple employees and fans mourned their leader with similar tributes, including flowers, pictures, and of course, apples. According to Cupertino Patch, residents Michelle Hwang and Houwei Wang came as soon as they heard the news to see if it was true. "When I saw the news it brought tears to my eyes," Hwang said.
In nearby Palo Alto, what started as a small makeshift memorial swelled into a large outpouring as passersby stopped to reflect. "We are all moved by the death of Steve Jobs," resident Leonardo Richmoller told Mountain View Patch. "He leaves not only a commercial legacy, but also a philosophy on life that revolves around his products."
While Jobs' childhood home remained untouched, trinkets and gifts abounded outside his Silicon Valley house, according to Palo Alto Patch. "RIP. To probably the most innovative CEO of the whole world. Thanks for all your wonderful ideas," a chalk drawing read on the pavement outside the building.
Santa Cruz engineer Tom Padula worked with Jobs at Apple for a decade, and told Santa Cruz Patch that his team had one rule: Never get in an elevator with the CEO. "If you got on the elevator with him, he would always ask 'What do you do here? He really wanted to know," Padula said. "But I dreaded showing him anything. Not because he would tear us apart or anything, but he had something in his head that said, 'I think you should do x, y, z, p and q,' and we've got six weeks to go, and we're like, 'Yes, sir.'"
San Francisco Mayor Ed Lee weighed in on the tragic news, highlighting Jobs' deep ties to the city. "Steve Jobs was born in San Francisco and his values were reflected in his generous support for results-driven education reform, 21st century philanthropy and bridging the digital divide for our diverse communities," he said. "Our thoughts and prayers are with his wife Laurene, his family and friends."
Take a look at photographs of memorials from throughout the Bay Area below, and be sure to share your own memories in the comments:
Calling all HuffPost superfans!
Sign up for membership to become a founding member and help shape HuffPost's next chapter
BEFORE YOU GO
PHOTO GALLERY
steve jobs bay area