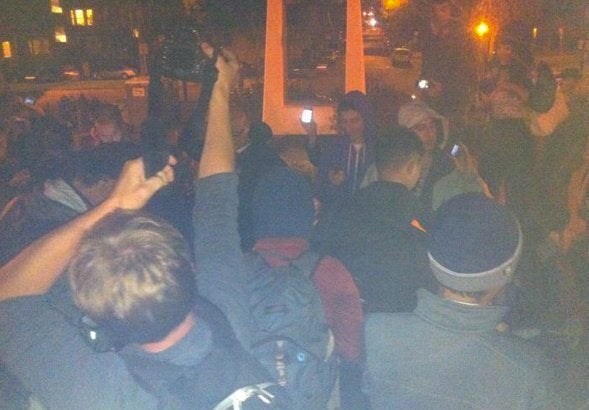 San Francisco's Dolores Park illuminated with the glow of dozens of iPhone screens Wednesday night as entrepreneurs, Apple employees and tech enthusiasts gathered to pay their respects to Steve Jobs.
"Come, turn up your brightness, and remember, together," an advertisement for the vigil read on Dolores Park's official Facebook page. "Consider it a celebration of innovation rather than of any one man."
The majority of the mourners were male, according to the New York Times, and remained quiet throughout the duration of the memorial. After a series of meditative exercises, the participants broke off into smaller groups to discuss the mark Jobs left on the world and on their own lives.
"He was one guy who stuck to a utopian vision his whole life -- a platform that helps people be creative, and worked on that a long time," Joe Edelman, a San Francisco-based tech startup employee, told the Times. "It's something a lot of us in the Bay Area can use more of -- that utopian vision."
"You can only hope to be half the entrepreneur he was," added Justin Wong, the founder of a local social media company.
Despite the outpouring of solemn enthusiasm, the event drew its share of critics, who accused attendees of being "transplants, hipsters, and wannabes."
"A candlelight vigil would have been better," Gerry Morales, a San Francisco resident, wrote. "Steve Jobs would call you tasteless and have you fired.
Elsewhere in the neighborhood, locals voiced sadness over the luminary's passing. "It's like Disney," Wendy Weiden told Mission Local. "It's an emotional bond. There's that comparison with Bill Gates - in their own ways, they've had a profound impact, but with Gates or Ray Kroc, or the guy who invented WalMart - you don't have that visceral reaction. Like I love my phone. I love my iPod."
Take a look at video from the "iVigil" below. What do you think of the iPhone memorial? Let us know in the comments.
Calling all HuffPost superfans!
Sign up for membership to become a founding member and help shape HuffPost's next chapter