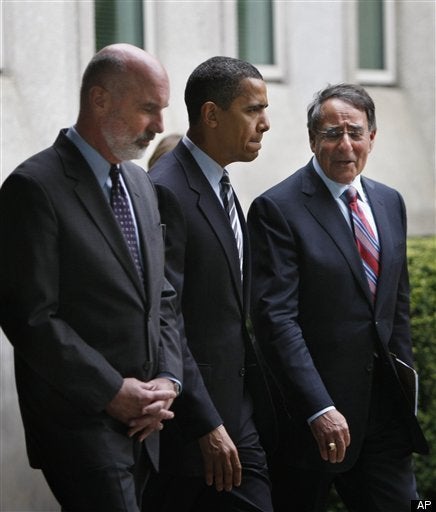 CIA Deputy Director Steve Kappes helped cover up the death of a detainee at a secret interrogation facility in Afghanistan, according to a profile in the Washingtonian.
The Washington Independent's Spencer Ackerman uncovered this nugget buried in "Inside Man", the lengthy profile by longtime national security correspondent Jeff Stein:
According to an internal investigation, [Kappes] helped tailor the agency's paper trail regarding the death of a detainee at a secret CIA interrogation facility in Afghanistan, known internally as the Salt Pit.

The detainee froze to death after being doused with water, stripped naked, and left alone overnight, according to reports in the Washington Post and Los Angeles Times. He was secretly buried and his death kept "off-the-books," the Post said.

According to two former officials who read a CIA inspector general's report on the incident, Kappes coached the base chief--whose identity is being withheld at the request of the CIA--on how to respond to the agency's investigators. They would report it as an accident.

CIA spokesman Paul Gimigliano vehemently denied the account, telling Stein that it was "shot through with errors and falsehoods." He added, "The agency's past detention practices have been thoroughly and repeatedly reviewed, inside and outside the CIA. These greasy insinuations of a coverup are not only utterly off the mark; they're totally below the belt."
Kappes, who quit the agency in 2004 after refusing to fire a deputy who got on the wrong side of Bush-appointed CIA director Porter Goss, was brought back to the CIA in the early months of the Obama administration at the request of Senator Dianne Feinstein (D-Calif.) For standing up to Goss, Kappes won the praise of Congressional Democrats who called him indispensable to the work of the agency.
But, as Stein notes in his piece, Kappes was an odd choice for an administration committed to making a clean break with the past and the controversial interrogation practices of the Bush-era CIA. Kappes, as deputy director and director of the CIA's Directorate of Operations, supervised some of the agency's most secret programs -- from extraordinary renditions to secret prisons to waterboarding. After Obama's election, he advised Obama's transition team to "retain the option of reestablishing secret prisons and using aggressive interrogation methods," according to the Washington Post.
Popular in the Community