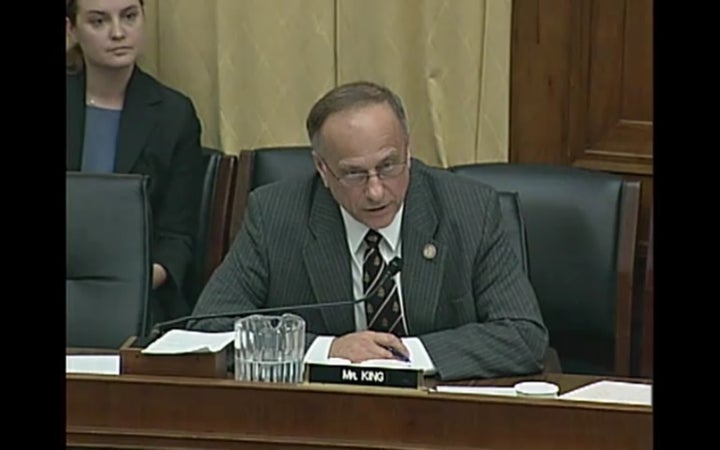 Rep. Steve King (R-Iowa) took a new step Tuesday in his campaign to limit abortion access, asking a witness testifying at a House hearing on H.R. 3, the No Taxpayer Funding for Abortion Act, to weigh in with her personal opinion following his graphic description of the process of "fetal dismemberment."
Here's how King explained the procedure:
"[T]he tool is used to dismember the baby, and pull the parts of the baby apart in utero dismemberment, and as they count the pieces up piece-by-piece, if it looks like you get down to the point where often the head is so well formed, and the bone is so well structured that it has to be crushed and then pulled out, collapsed, and then suctioned to make sure that the bone fragments don't bring about the high degree of hemorrhaging. And for me I can't see much different between partial birth abortion and dismemberment abortions."
King went on to ask witness Sara Rosenbaum, professor of health law and policy and chairman of the Department of Health Policy at George Washington University, if government should fund "a procedure like this?"
Rosenbaum questioned the merit of King's argument.
"I was focused on a bill that is dealing with what I don't consider to be government funding," she said. "As far as I can tell, there is no public funding for this procedure right now, except in those situations in which one of the three very limited categories has been satisfied under federal law. So my answer would be, we are not publicly funding these procedures now and the bill before us is not a public funding."
King didn't appear ready to drop his personal inquiry, however, first asking Rosenbaum if she had a "moral position" on "fetal dismemberment," then asking her if she would feel comfortable witnessing the procedure.
Rosenbaum said she would prefer to keep her own internal deliberations out of the discussion and maintained that she could find no evidence that there was public financing of the practice.
Popular in the Community