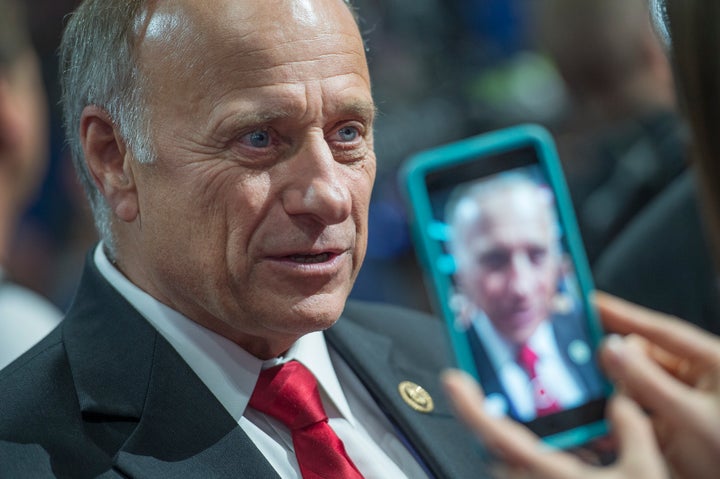 Add Islamophobia to Republican lawmaker Steve King's growing resume of ignorance.
The Iowa representative appeared on Newsmax Monday to spew hate at NFL quarterback Colin Kaepernick for protesting during the national anthem and inspiring other athletes to join him in denouncing police brutality and the oppression of black people in America.
Because Kaepernick takes a knee before football games, King linked him to one of the world's most infamous terrorist groups, the self-described Islamic State. On Newsmax's "Steve Malzberg Show," King said that Kaepernick's "activism is sympathetic to ISIS" and that the 49ers quarterback should be fired, Salon reports.
When pressed to explain his remark, King offered some flimsy, Islamophobic evidence.
"I understand that [Kaepernick] has an, Islamic girlfriend that is his fiancee," King said, referring to MTV personality Nessa Diab, "and that this has changed him, and has taken on some different political views along the way." 
Sadly, Kaepernick has already had to confront the idiotic idea that his relationship with someone of the Muslim faith affects his patriotism.
"I have great respect for the religion, I know a lot of people that are Muslim and that are phenomenal people," he said. "But I think that comes along with people's fear of this protest … as well as Islamophobia in this country."
While there's certainly no evidence that Kaepernick is a terrorist, we do have evidence that King is a racist, anti-American dunce.
Who's fighting against America now, Steve?
Calling all HuffPost superfans!
Sign up for membership to become a founding member and help shape HuffPost's next chapter