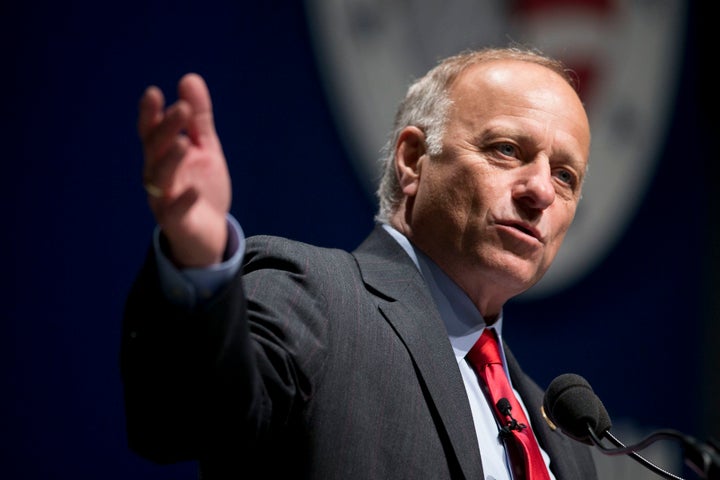 DENISON, Iowa ― Jairo Ramirez wants to move to Miami.
Sure, Denison, 8,300, is a lovely town, with a robust economy and nicely maintained homes set amid rolling hills and a picturesque main street running down the middle of it all. But there aren't a ton of ways for a 20-something to blow off steam.
Plus, the motorcycle scene in South Florida is more to his liking. Ramirez is a Suzuki guy, and Iowa bikers tend to prefer Harley-Davidsons. Some of his friends will ride their bikes on the gravel roads that crisscross local farms, but he's not so bold as to risk his prized possessions on such treacherous terrain.
But the thing that really has Ramirez looking for the exits is the racism. In Miami, he notes wistfully, hundreds of languages can be heard on the streets.
Ramirez's parents emigrated from Mexico before he was born, and he says he's endured a constant stream of intolerance. Ramirez, 22, was born in Minnesota and spent his adolescence in Iowa, and his accent possesses all the flattened vowels you might expect from a born-and-bred Midwestern boy. He says his customers often clam up when they see that the person whom they spoke with over the phone isn't the color they expected.
It's a dynamic that has nagged Ramirez for his professional life to date. He says he had to quit one job at a local restaurant and chastise employees at a UPS store he previously managed because of racist comments.  
"It's usually the older crowd," says Ramirez, recalling several incidents in the previous few weeks. In one, a poster on a local email list demanded some of the members stop "speaking Mexican." In another, Ramirez overheard a patron at an area gas station cursing about "fuckin' Mexicans."
Given Ramirez' experiences, you may not be surprised to learn Denison falls squarely in the fatty part of the 4th Congressional District, which stretches over the state's northwestern quadrant, jabbing a finger into the 1st Congressional District in the northeastern part of the state. The 4th is represented by Steve King, easily Congress' most vocal racist.
"Vocal" is an understatement: Steve King has forgone the traditional dog whistle in favor of a brass ensemble with kazoo accompaniment. This is the guy who went on CNN in 2017 and said that he'd "like to see an America that is just so homogenous that we look a lot the same"; who denounced immigrants for "undermining our culture and civilization," claiming most have "calves the size of cantaloupes because they're hauling 75 pounds of marijuana across the desert"; who pals around with a Dutch white nationalist and has denounced interracial relationships because, in his words, "We can't restore our civilization with somebody else's babies."
In this regard, King, whose office declined to cooperate for this piece, is doing the public a perverse kind of civic favor. Instead of forcing it to decipher veiled statements about law and order or welfare recipients ― a tactic so commonplace it's effectively the racist handbook's I formation ― King just lets 'er rip, allowing the electorate to divert its brain cells toward untangling other injustices. Even the most naive, both-sidesy observer can conclude that King is an unapologetic racist.
But the thing is, Steve King is still in Congress, and if identifying his racism is such a layup, why on earth do people keep re-electing this guy?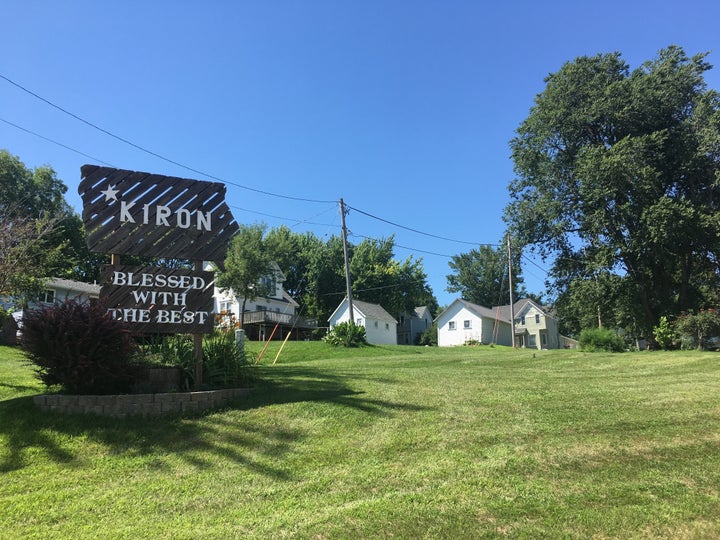 The short answer to King's political success is that the 4th Congressional district is ― like King ― pretty racist, owing in large part to being ― like King ― aging, white and isolated. Yet to end the story there is to oversimplify a surprisingly complex district and ignore trends that are diversifying some of America's rural areas and could turn them purple ― or at least less red ― far sooner than you might think.
For one thing, King isn't actually that isolated from people who don't look like him. The region is home to a growing number of immigrants, many drawn to jobs at the area's meat processing plants, such as the Smithfield pork plant that's five minutes from Ramirez's business. It's brutal work, some of the most dangerous in the country, and its wages have been effectively stagnant for decades, thanks in no small part to widespread deunionization. It's become the sort of first-rung job that would only be considered a lateral move or step up for people escaping worse conditions elsewhere.
Indeed, northwest Iowa has played host to a comparatively large number of refugees in recent decades, including those from Laos, El Salvador and the Sudans. Storm Lake, a town 50 miles north of Denison where King was born, has become the poster child for the region's diversification and status as a safe haven, having been profiled by news outlets ranging from The New York Times and PRI to Saveur and VICE.
A significant portion of Iowa's Hispanic population is clustered in this part of the state. Several of its towns and small cities, including Storm Lake, have declared themselves "sanctuary cities," meaning they won't aid federal efforts to crack down on undocumented immigrants.
There's the growing number of businesses featuring Spanish surnames or catering to Spanish-speaking customers. Taquerias, Hispanic groceries and clothing stores sporting brightly colored quinceañera dresses in their front windows are an increasingly common sight on local main streets. Among the most salient instances is Uribe Family Dentistry in Sioux Center, right next to a shrine to a previous era of immigration: the German Farmers Mutual Insurance Association.
And then there is Denison, where Steve King attended high school and from which his current home in Kiron is a 15-minute drive. To tour Denison is to survey a town that must drive Steve King absolutely bonkers, right up to and including the Civil War memorial in the town's courthouse square commemorating the area's Union dead. (King notoriously keeps a miniature Confederate battle flag on his desk even though the Hawkeye State never seceded).
Denison is the seat of Crawford County, which encompasses Kiron, and the county has Iowa's largest Hispanic population by percentage. St. Rose of Lima, the local Catholic Church, offers Spanish-language mass. La Prensa, the region's Spanish-language newspaper, is headquartered in Denison.
Its schools are majority or near-majority Hispanic, and Denison High School is staffed with English-as-a-second-language instructors and a migrant liaison. Just this year, the school approved a new bilingual curriculum. Denison High has a mariachi band made up of a diverse set of young musicians. The next time you're feeling down about the world, try thinking about the multiracial mariachi band at Steve King's old high school.
For Lorena Lopez, editor of La Prensa, it's notable that King harbors such animosity toward a community that isn't an abstraction or the subject of a sensational story on Breitbart, but one right under his nose. Lopez recalls seeing King exiting the 9:30 a.m. English service at St. Rose of Lima as Lopez and others filed in to the 11 a.m. Spanish one. Lopez notes that King regularly bears witness to a community that lives out so many of the values of faith and family that King's party trumpets.
"You go to [local] quinceañeras, and you'll see a beautiful white teenager girl dancing with a Latino adolescent guy, or vice versa, and it's beautiful," says Lopez.
Lopez's own story mirrors that of many of her readers. She came to Iowa from Managua, Nicaragua, in the early 1990s as part of an exchange program for journalists. Life in Iowa offered a level of peace and prosperity unavailable back home, which was recovering from decades of conflict (and where earlier this year violence once again erupted as Daniel Ortega's government cracked down on student protesters).
Lopez ultimately settled down in the district, raising three boys, founding La Prensa and becoming a fixture in the region's growing Spanish-speaking community, interviewing political heavy hitters like Barack Obama and Hillary Clinton as they campaigned for the presidency.
"Without immigration, Denison would not be what it is," said Jared Beymer, Denison's mayor. "Rural Iowa would be dying." Beymer abhors Steve King's politics of exclusion, but he wasn't always a staunch opponent.
Like King, Beymer belongs to the district's old guard: He grew up white and conservative in a place that for generations had been both things. The prevailing assumption ― and one that Beymer himself admits having subscribed to for a long time ― was that the social safety net existed for freeloaders mooching off of the government.
Two developments set Beymer on a different path. By the time he graduated from Denison High, in 2012, the demographics of his community had changed dramatically. The influx of foreign-born workers, arriving in increasing numbers as the economy recovered from the Great Recession and hiring picked up at area processing plants, put him in touch with families whose backgrounds were different than his own.
Second was Beymer's diagnosis of pseudotumor cerebri, which in his case manifested as a buildup of spinal fluid. This limited his mobility and forced him to drop out of college. Medicaid helped him pay for his mounting medical bills, and he quickly developed an appreciation for the role that the social safety net plays in keeping people from insolvency.
"It's easier to be afraid of something than to understand it," Beymer observed.
Now, Beymer is not only a champion of diversity, he is utterly beholden to it, both as a town executive reliant on his new neighbors' tax revenue and also as a politician whose career is dependent on their votes. It's a dynamic he's more than happy with, so much so that the town's offices share a workspace with La Prensa.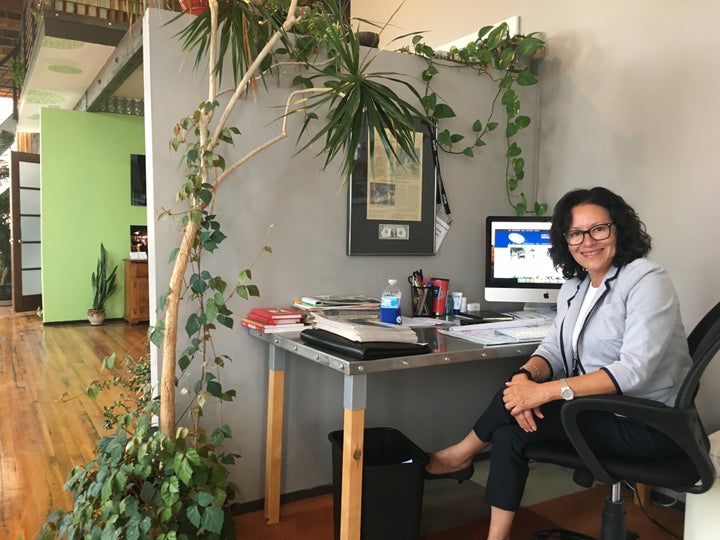 If you were to teleport to the 4th District, it might not be immediately apparent why it's Iowa's congressional black sheep. In addition to the district's growing immigrant population ― a common theme across the Hawkeye State ― agriculture is the driving economic and cultural force. Corn and soybean fields blanket the district, interrupted by small towns composed of modest residential plots. Attractions include a near-constant stream of county fairs and the world's largest popcorn ball in Sac City (weighing in at over 9,000 pounds and rising an imposing eight-plus feet off the ground). In July, the smell of manure is inescapable.
Yet the 1st, 2nd and 3rd districts are all classified as swing districts by the Cook Partisan Voting Index while the 4th District has a whopping 11-point Republican slant.
For one thing, the 4th District is very empty and very white, even by the standards of Iowa and the Midwest. Fifty percent of the district's population lives in rural communities, well above Iowa's other three districts. Travel northwest, and the state's road network grows more rectangular, defined less by unruly urban planning and more by the tidy geometry of farm plots, neatly laid out across the landscape like some kind of continental rebar.
"There's a particular breed of racist old white person here," quipped George Ensley, a photographer, small business owner and self-described local political troublemaker from Boone, Iowa. Ensley served as chair of the Boone County Democrats for a spell.
Owing to the farm consolidation of the last 30 years, depopulation and, subsequently, the 2010 Census that docked Iowa a congressional district, the area is growing only more remote politically. Abandoned farmhouses, sagging and overgrown, are an increasingly common sight. Just about the only thing that has grown more dense are the crops ― rows of genetically engineered corn stalks are now being grown as close as one foot apart. The good people at Archer Daniels Midland and Cargill have made sure that if Shoeless Joe ever decides to alight in an Iowa cornfield again, he'll need to bring a machete.  
The prevailing conservatism can be hard to escape. Churches abound, and the only businesses as numerous as places of worship in Kiron ― population 300 ― are seed supply stores. The Republican Party has a strong registration advantage, with 40 percent of voters belonging to the GOP compared to only 25 percent for the Democrats. It is in this part of the state where President Donald Trump received the most support. In the district's four northwesternmost counties, then-candidate Trump got around 80 percent of the vote.
Democratic campaign staffers rue the difficulty in getting billboards placed on farmland, the owners often objecting to the party's message. That said, you can't drive more than 20 minutes in the 4th District without passing a pro-life billboard informing passers-by at what week in its gestation a fetus has developed the ability to wink at you, or whatever it is they're claiming.
Yet even among Iowa's more rural areas, the 4th District's wide-open spaces stand apart. The district's proximity to Omaha, Nebraska, and Sioux Falls, South Dakota, means many of its communities fall in those municipalities' media markets. Des Moines is as far as 4 1/2 hours from Sioux Center, meaning the likelihood of rubbing shoulders with people involved with state government are as about as remote here as anywhere in the state.
This distance, literal and figurative, has fostered resentment. Des Moines has enjoyed an economic boom in recent years, drawing national attention to the economic gains of the various multinational agribusinesses headquartered in the state's capital. It is the fastest-growing city in the Midwest, according to the Census Bureau, and it enjoys an emerging narrative as the region's most promising destination for job seekers.
Des Moines' success, however, have left many in the western part of the state feeling moribund and neglected.
Among its Midwestern neighbors, Iowa has always been the least receptive to populist politics, dating back to the late 19th century, when farmers in Kansas and Nebraska rallied around the short-lived People's Party (better known today as the Populist Party), yet Iowans did not. A major reason for this was the responsiveness of Iowa's Republican legislators, who responded more ably to the era's shifting economics. That adaptability helped the party take root and thrive in the state through the 20th century, save for several brief periods of Democratic dominance.
J.D. Scholten, the Democrat running to replace King, is fond of mentioning those periods of Democratic success to dispute the notion that the 4th District is irredeemably Republican. Scholten recalls progressive Democrats like Rep. Berkley Bedell and Sen. Tom Harkin who achieved a degree of political success in the area.
Despite supporting unions and a slew of liberal policies like Medicare for all, Scholten doesn't describe himself as progressive. He frames his platform as populist, a branding approach he is pursuing all the way down to his retro-looking campaign logo and his unabashedly hokey throwback slogan, "Standing Tall for All!" ― a reference to his lanky, 6-foot-6-inch frame.
"You talk to these farmers, and they're anxious about tariffs, but they're also anxious about health care," said Scholten. "They don't have employer benefits. We talk as much [about health care] as we talk about row crops or pork prices."
There are other, more substantive political differences to Scholten's politics (he describes himself also as an "Iowa Democrat"). Scholten's website says he stands "in full support" of the Second Amendment, and though he supports the right to have an abortion, he says he personally opposes the practice.
A fifth-generation Iowan, Scholten grew up in Sioux City on the westernmost edge of the district, also spending time at the farm his family still owns outside Lake Mills, right near the Minnesota border. His path to political insurgency was somewhat less than traditional. After attending Morningside College in Sioux City, Scholten pursued a professional baseball career, playing semipro ball for a number of teams, including the Sioux City Explorers. After retiring, Scholten became a paralegal. Along the way, he volunteered for a number of Democratic political campaigns, and he traces his political activity back to protesting the United States' 2003 invasion of Iraq.
Scholten believes King's success has been bolstered by the almost total absence of Democrats offering a competing message. In an era of rising economic inequality and declining standards of living, he sees an opportunity to reframe the debate around the revitalization of America's rural areas as one of inequality and social justice and not of racial animosity.
However there isn't much Democratic infrastructure to help Scholten spread that message, so to take matters into his own hands, Scholten is driving a Winnebago around the district.
"Retail politics are alive in Iowa," says Scholten, who is nothing but optimistic about his chances. "Housing has gone up, tuition has gone up, health care has gone up. Wages have stayed the same. The amount of stress put on farmers is starting to pile up."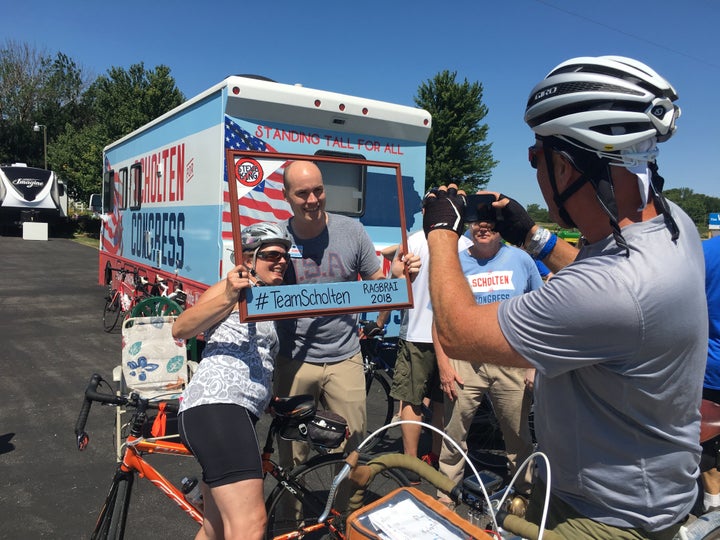 Visibility, or lack thereof, is a theme that is never far from Steve King's opponents' minds. The most common complaint among the politically disillusioned of the 4th District is that voters aren't being engaged by anyone other than Republicans and allies of King's agenda. If there is to be a political recalibration in the area, they say, people will have to start at square one and simply show up. They bemoan the untold number of state fairs that haven't had a Democratic Party booth and shudder at all the missed opportunities at dialogue that could have been remedied by a simple meet-and-greet at a local cafe.
Matthew Hildreth, founder and board chair of RuralOrganizing.org, spent much of his life in the area, growing up in eastern South Dakota and living for a time in Iowa's 4th District. He says the Democratic Party often finds itself stuck in a vicious cycle of not committing to an area because there is no Democratic momentum, precisely because Democrats have not committed to the area.
It's a problem that he says doesn't require a terribly large amount of resources to solve. He recalls hosting a Democratic Party booth at a county fair that was among the event's most popular, owing to the free face-painting on offer. Simply knowing that there is a Democratic Party to engage with, Hildreth and others told HuffPost, is often enough for people to come out of the woodwork. It may not win elections in the short term, but it's the kind of piecemeal party-building that does in the long term.  
That philosophy is one that extends to remedying some of the areas ingrained racism.
Vicenta Cardenas, a Mexican-born Denison resident who works at the Smithfield plant, doesn't mince words about some of her neighbors, saying a majority of the area's white residents are "very racist." Yet she does see room for positive growth, recalling her experience moving to the district in the early 2000s and witnessing the unease that existed between the town's Spanish-speaking population and the local Catholic diocese.
As she and her fellow Spanish-speaking parishioners got more involved in church affairs, the relationship quickly strengthened, so much so that one local priest, the Rev. Ed Murray, took a six-week crash course in Spanish to better serve his changing parish. When he died in 2009, he was celebrated by Cardenas and others as a champion of the Hispanic community.
Cardenas says it's imperative that her Hispanic colleagues and neighbors make themselves more visible, something that may prove difficult owing to lingering anxieties about deportation. Cardenas says there is a tendency in her community to keep one's head down. While most of the area's Hispanic residents are either citizens or documented, enough residents have friends or family who are undocumented that many are afraid of drawing too much attention to themselves or their social circle.
Rogelio Cabrera, owner of a local clothing store, is hesitant to comment negatively about Steve King or anyone else, despite having experienced racism himself. He even says he even donated money to Steve King's campaign after receiving a solicitation in the mail, not because he necessarily agrees with King, but just to be friendly.
"I just want everyone to get along," Cabrera said through an interpreter. "It's good to be nice to one another."
Cabrera's hesitance over not ruffling feathers is not completely unfounded.
The Obama administration's record number of deportations have made Cardenas and others weary of the Democratic Party's rhetoric about welcoming immigrants. It's a suspicion with origins that extend well past the Obama administration, back to when the party, in conjunction with organized labor, was often hostile to immigrants. It's easy to forget now, but as recently as a decade ago, a plurality of Democrats favored decreased immigration.
Yet many of the residents, both Hispanic and white, whom HuffPost spoke with believe that future generations will be more receptive to messages of plurality and inclusion, if only because of the increasing diversity of younger Iowans, who are growing up and attending school alongside people of different backgrounds.
However, it's not always that easy. Thanks to widely popular conspiracy outlets like Infowars and the tendency of Facebook and other social media platforms to bolster fringe and unfounded views, many younger people are subscribing to a kind of xenophobia that was once often associated with older, isolated people.
Jairo Ramirez recalls seeing the Facebook posts of former high school classmates in which they denounce immigrants and adopt much of the language employed by Steve King. For Ramirez, such posts are especially shocking coming from people who were friendly to to him, the son of immigrants, in person.
"I thought we were friends," said Ramirez, "but I guess not."