 WASHINGTON -- Rep. Steve King (R-Iowa) said Thursday that diversity has never been America's strong suit, so lawmakers should pass his bill to make English the official U.S. language in the name of unifying the nation.
"One of the great things about America is we've been unified by a common language. That common language, of course, is English," King said during a press conference on his bill. "Our language is getting subdivided by some forces of the federal government. It is time to speak with a common voice."
King talked to reporters just after the House Judiciary Committee's Subcommittee on the Constitution held a hearing on his measure, which would require all federal government communications, including voter and ballot materials, to be conducted in English. His proposal would also nullify a Clinton-era requirement that federal agencies provide interpreters for non-English speakers for certain activities.
The bill has no chance of becoming law, but it has come under fire from immigration activists who say it would isolate immigrant populations. Others have charged that groups pushing for the bill are racist.
King pushed back on both charges and said his bill is aimed at bringing the country together. After all, he said, diversity has never been America's strong point.
"The argument that diversity is our strength has really never been backed up by logic," King told The Huffington Post. "It's unity is where our strength is. Our Founding Fathers understood that. Modern-day multiculturalists are defying that."
The Iowa Republican called it "offensive" that anyone would say his bill has racist overtones, particularly when talking about a society "as inclusive as America."
"They should be specific about that rather than just hurl that out there," he said of people who make racist claims about his bill. "That divides people."
During the committee hearing, Democrats questioned whether King's bill would violate the Constitution and impede voting rights.
"Having already spent an extraordinary amount of committee time and resources in an effort to roll back the civil rights of women, persons with disabilities, gay and lesbian Americans and other minorities, our majority colleagues are now using the last day before the House adjourns until September to highlight a bill that would place at risk the 24.5 million people in the United States who need language assistance from their government in some situations," said Rep. Jerrold Nadler (D-N.Y.).
Rep. John Conyers (D-Mich.) gave his opening remarks entirely in Spanish -- with imperfect pronunciation -- to make the point that the country has always been a multilingual one. Subcommittee Chairman Trent Franks (R-Ariz.) and other Republicans looked amused, then bored, as he continued talking, with Franks at one point fiddling with his cell phone.
After Conyers was finished speaking, Franks said his remarks showed why English needed to be the official language.
"I would ask the gentleman in the interest of fairness, here, and certainly to Mr. Nadler's district, that would you repeat that in Yiddish and Vietnamese and French as well?" he said to laughter and a joking promise from Conyers that he would.
"Nothing would make the point better [than] if we conducted all of our debates in a different languages, and I suppose that makes the case for this bill better than anything else," Franks continued.
"I appreciate the gentleman's gesture, but it does indicate why it would be more confusing in this place than ever if all of us spoke a different language."
Despite his insistence on the need for the bill, King told reporters that he kept it limited to the federal government because of his "great respect for the private sector and for the decisions made by individuals."
If it helps a corporation "to have an ATM just down the street" that allows people to select what language they want to use for their bank transactions, that is "their choice," King said.
He added, though, that if he knew of an ATM that didn't make him choose which language he wanted to use, "I'm likely to stop there first. That's just me."
Before You Go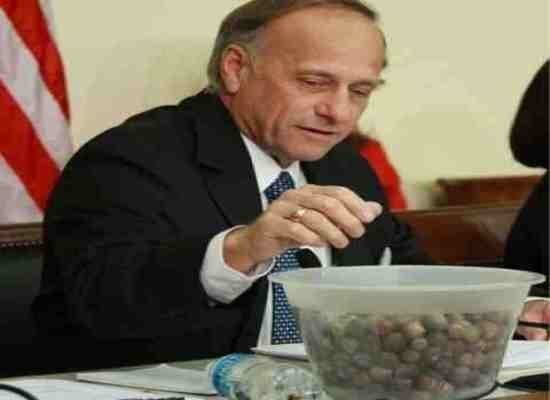 More Crazy Examples of Congressional Theatrics
Popular in the Community