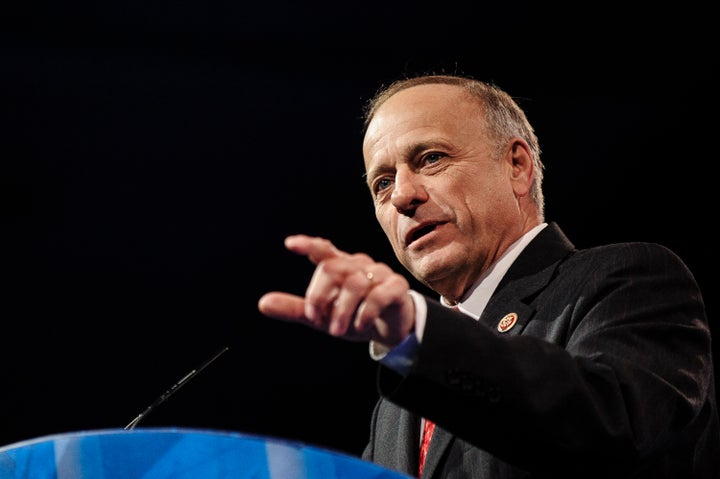 Rep. Steve King (R-Iowa), a relentless opponent of comprehensive immigration reform, on Saturday outlined a simple solution to the complex issue: build a better border fence.
"I supported the fence," King told Eagle Forum President Phyllis Schlafly on her radio program, according to Right Wing Watch. Building a fence along the approximately 2,000 mile Mexican-American border would not "be too much of an engineering marvel," King argued.
"We can do the Panama Canal 100 years-plus ago and I've been over there to take a look at the Great Wall of China that was built more than 2,000 years ago, and that's 5,500 miles long," King said. "So building a fence is not that hard; I'll just show you how to do it if it's too complicated for our public policy people to get their mind around."
Later in the program, King spoke with a caller named Meryl, who claimed undocumented immigrants had allegedly trespassed on her property. King warned her that if the United States continued to have "open borders" it might go the way of "Third World countries" like "Mexico" and "places in the Caribbean or in Africa where there's no law or very little law."
"If lawlessness prevails then the more wealthy build a better, more effective barrier around their own compounds," King cautioned.
King's comments came in response to a set of recommendations published last week by the Republican National Committee, which called for a modernization of the GOP's platform on immigration in order to stay competitive within America's evolving electorate. To gain support among Hispanic voters, the report said, the GOP "must embrace and champion comprehensive immigration reform."
King's resistance to his party's changing politics is not surprising considering his position as one of Congress's staunchest immigration hardliners. During his recent address to the Conservative Political Action Conference, King called immigration reform a "deconstruction" of the rule of law.
REAL LIFE. REAL NEWS. REAL VOICES.
Help us tell more of the stories that matter from voices that too often remain unheard.
BEFORE YOU GO
PHOTO GALLERY
Controversial Immigration Laws