Election officials across the country have found almost no cases of voter fraud in the 2016 election, but Rep. Steve King (R-Iowa) is convinced that 2.4 million people voted illegally.
Citing "sample data from certain counties," King told Jackson he had done his own calculations and determined it was "plausible" that 2.4 million people could have voted illegally.
"I ... did an extrapolation calculation on how many illegals could have or could be voting in the United States," King said, using an offensive term for undocumented immigrants. "The number I came up with off of that extrapolation was 2.4 million. So it's plausible ― the number 3 million sounds like it's a plausible number to me."
A New York Times survey of election officials in all 50 states found that there were no documented incidents of voter fraud in 26 states, and that eight additional states reported one case each. Some states are continuing to review fraud claims, but so far, none have reported widespread fraud.
Still, when Jackson pointed out that claims of widespread voter fraud had been widely debunked, King said his own math showed otherwise.
"Well, sometimes the fact checkers have a political agenda. And I don't want to have a whole term about alternative facts," he said, referring to a remark from Trump adviser Kellyanne Conway that was widely ridiculed. "But I can say, I read those facts from the sample counties and I thought, huh, I wonder what that could mean for America. Got out my calculator, ran the numbers, I came to 2.4," he said. "I just believe that 2.4 million is a plausible number based off of an extrapolation."
King's office did not immediately explain how the congressman made his calculation. It's worth noting that his claim still falls significantly short of Trump's outlandish estimate.
Republicans on Tuesday distanced themselves from Trump's claim that 3 to 5 million people voted illegally. Former Arkansas Gov. Mike Huckabee said he wasn't sure why Trump was focusing on it, and House Speaker Paul Ryan (R-Wis.) said he hadn't seen evidence to support Trump's numbers.
Sen. Lindsey Graham (R-S.C.) went further, saying that such a claim by the president of the United States was undermining faith in American democracy.
How will Trump's first 100 days impact you? Sign up for our weekly newsletter and get breaking updates on Trump's presidency by messaging us here.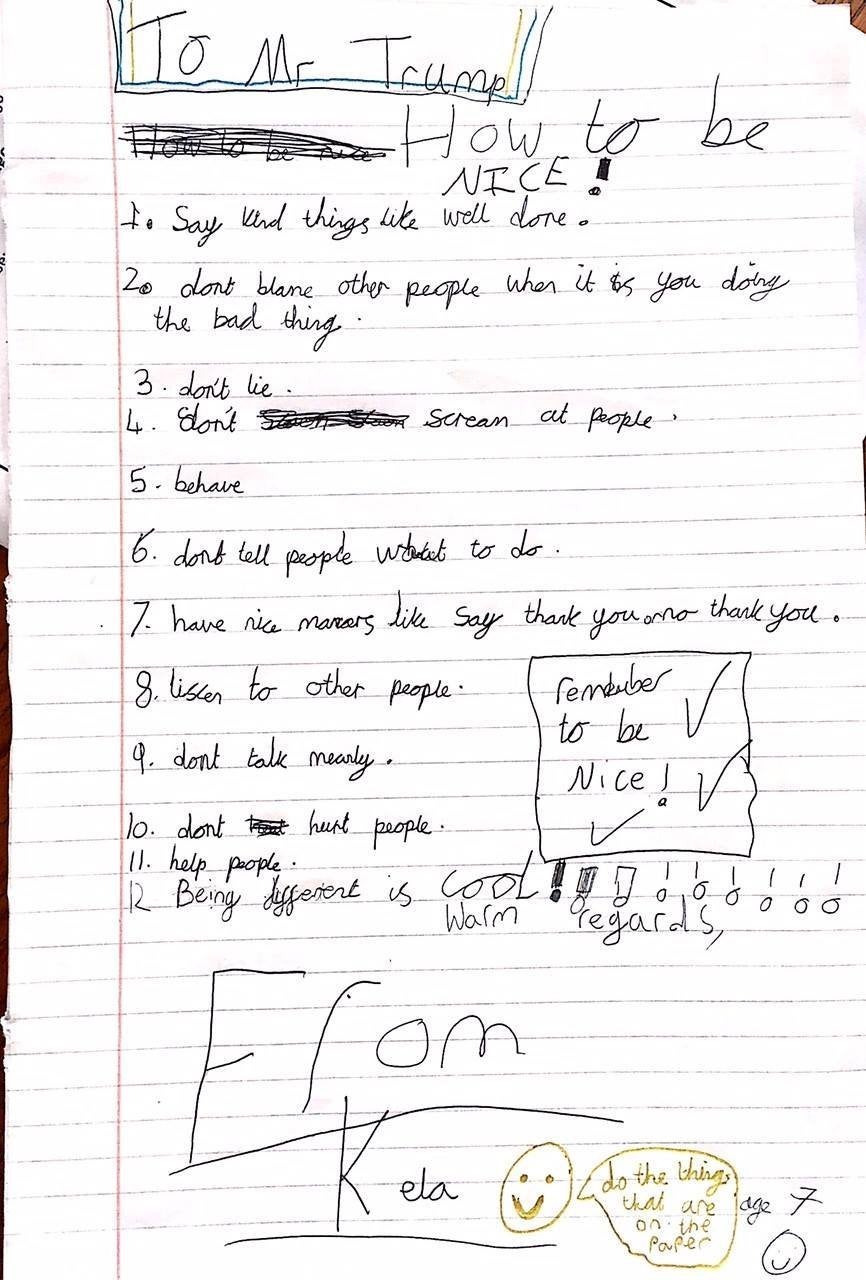 Kids Across America Send Letters To Donald Trump