 Rep. Steve King (R-Iowa), a conservative firebrand known for taking controversial positions on a variety of issues, picked up an endorsement from GOP presidential candidate Mitt Romney on Friday, a move that drew a quick response from an Obama campaign seeking to paint its opponent as an advocate for antiquated policies.
Speaking at a campaign event in King's 5th Congressional District, Romney excitedly expressed his support for the 5-term congressman.
"I'm looking here at Steve King," Romney said, according to BuzzFeed. "He needs to be your Congressman again. I want him as my partner in Washington!"
BuzzFeed reports that the comment quickly made the rounds on Twitter, and within the hour Obama campaign spokeswoman Lis Smith was out with a statement targeting Romney's endorsement.
"And, if his speech today praising Rep. Steve King -- who has questioned whether women get pregnant from rape and incest and said hateful things about immigrants -- is any indication, we know he wouldn't stand up to the most strident voices in his party," Smith wrote. "Bringing back the failed policies that crashed the economy and pandering to the most extreme voices in his party isn't a recipe for strength and it won't move us forward."
King, one of Congress' most fervent anti-abortion hardliners, injected himself into the flare-up over Missouri GOP Rep. Todd Akin's "legitimate rape" remark last month when he accused detractors of engaging in "petty, personal attacks" against his Republican colleague. He then went on to say that he was personally unaware of any widespread issue of women becoming impregnated by rape.
King's harsh stance and comments on immigration have also frequently arisen as a point of contention. During a debate with Democratic challenger Christie Vilsack on Thursday, King claimed that his past comparison of immigrants to dogs was, in fact, a compliment. This argument was perhaps made more confusing considering King's prior breathless defense of dog-fighting enthusiasts.
Regardless of King's past, the congressman appeared eager to initiate his newly formed partnership with Romney by vouching for the presidential candidate's religious conservative credentials.
"Don't doubt this man's faith. Don't doubt his convictions," said King, according to the Des Moines Register. "Do not doubt his patriotism or his faith and his love for Jesus Christ our savior."
King bolstered his assertion by recounting a personal discussion with Romney about God and politics.
"When you're in the White House, in the Oval Office, and you've heard from all of your advisers, all of the smartest people that you can put together –- it's [the] toughest decision that a man can make. A mortal can make in this life. And you know that some people are going to live –- maybe live better. And some people are going to die as a result of the decision that you make. How do you make that decision when it's time to kick all of your advisers out of the room, and close the doors, and turn down the lights?" King started. "And Mitt Romney said to me, and America, 'I get down on my knees and I ask God.'"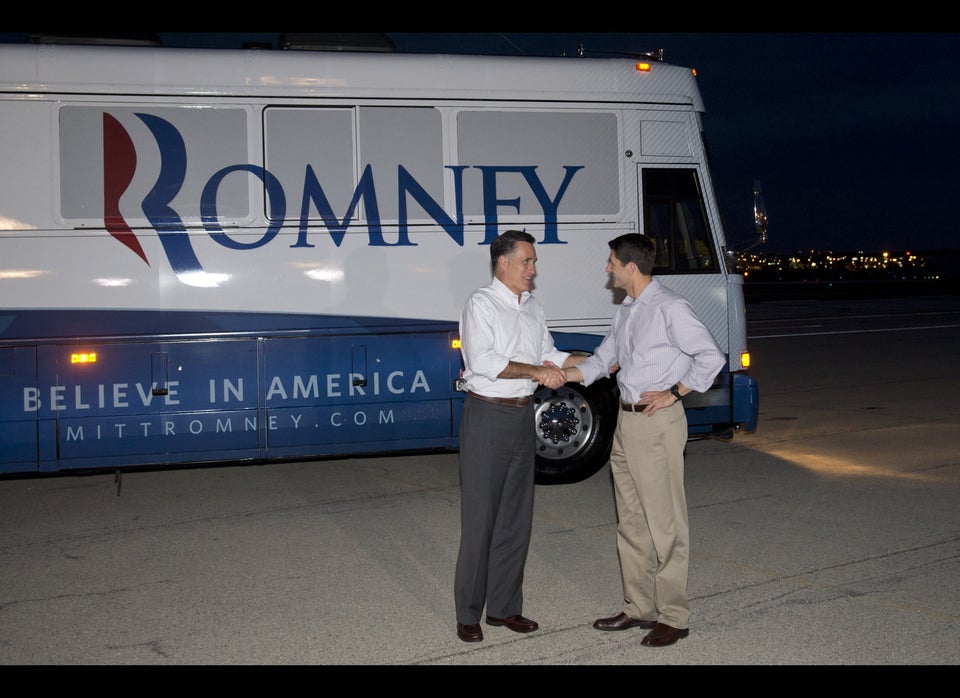 Romney-Ryan 2012 Soundtrack